Flowers are blooming, birds are singing, the days are getting longer… Spring is just around the corner!
Spring is the perfect time to update your bedroom decor and freshen up your interiors. Creating pastel accents, decorating with bright accessories, and adding greenery are all simple ways to liven up your room and create a brighter, more cheerful space.
Welcome the new season with these spring bedroom ideas…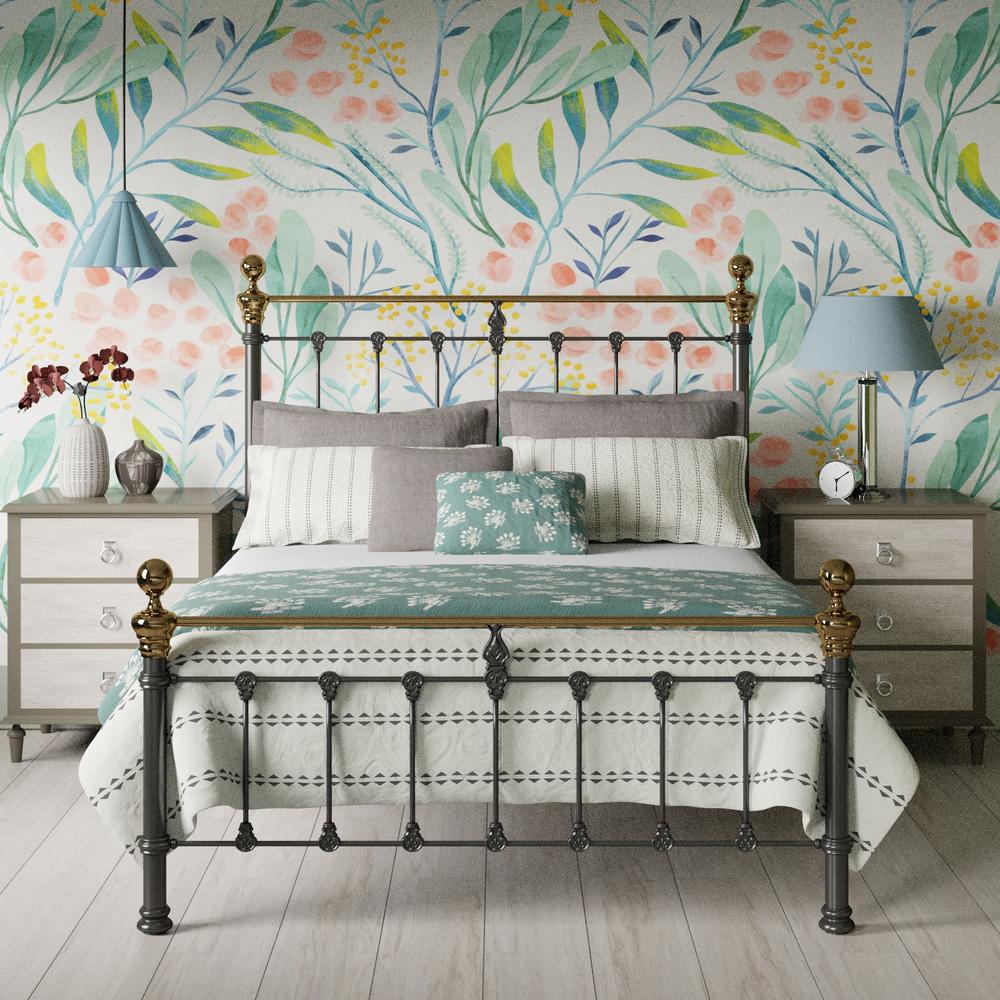 bed: Hamilton Low Footend Iron Bed
Refresh your bedroom with Easter pastel hues
You've probably noticed that Easter eggs are often decorated with soft pastel colours. Springtime hues of pale yellow, pink and green remind us of chicks, fresh grass and colourful flowers.
Pastel shades are popular in bedrooms because they open up the space and help the room appear bigger and brighter. You may think pastel tones will only work in the spring, but these muted shades are perfect for making your home feel light and airy all year round according to Ideal Home.
Painting an accent wall is a great way to bring pastel shades into your bedroom and liven up the space. You can also refresh your bedroom with accessories in pastel hues. Decorate using colourful scatter cushions, throws, bed linen, wall art, or other bedroom accessories.
Here's another fresh bedroom bedroom idea that's been decorated with pastel hues.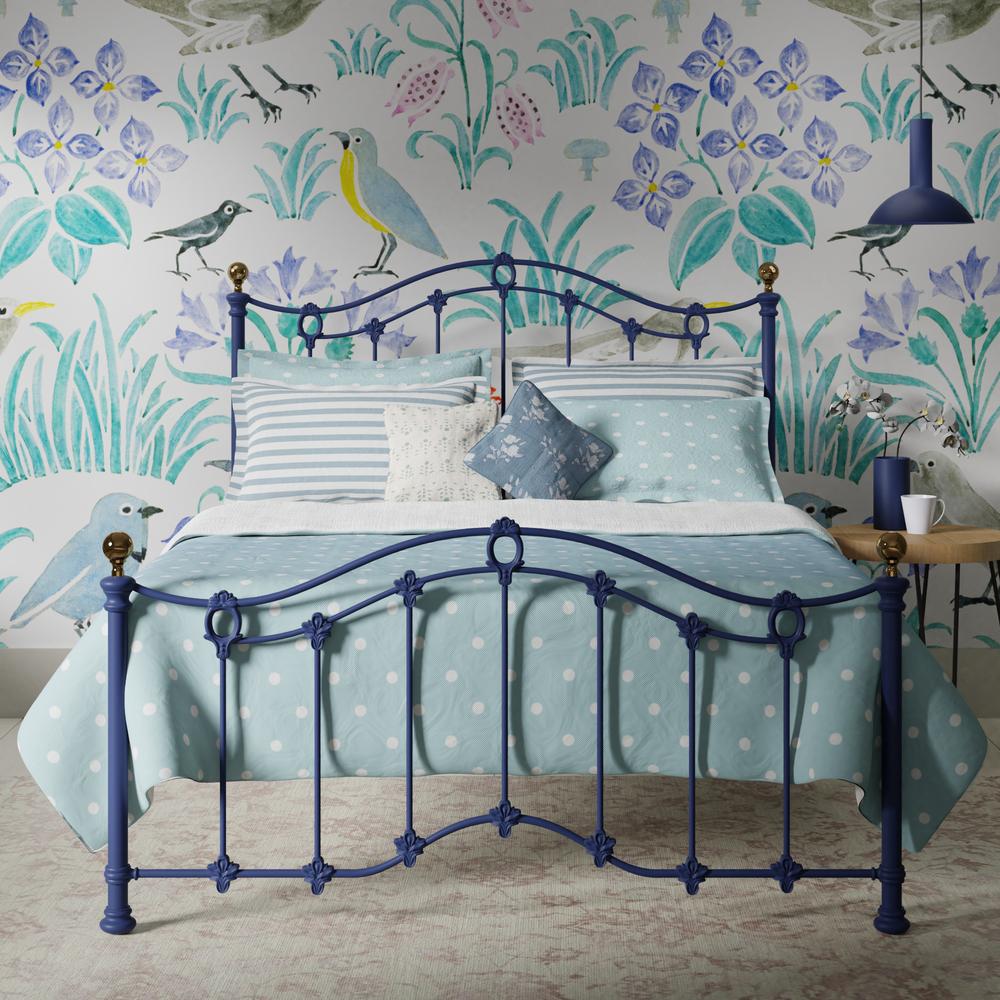 bed: Clarina low footend iron bed
Offset dark furniture with light elements
Spring decorating is all about bringing light and warmth into your bedroom. Changing wall colours and furniture can be time-consuming and costly, but we've got a few handy tricks to help you brighten up dark elements in your bedroom.
Decorate with bright accessories to add some radiance to your bedroom.
Place mirrors opposite windows to bring more natural light into your room.
Use ambience lighting to make the space feel warm and inviting.
Offset a dark bed frame with light, colourful bedding.
Check out the picture below to see how crisp white and blue bedding can give your bedroom a springtime feel without making any major changes to the decor.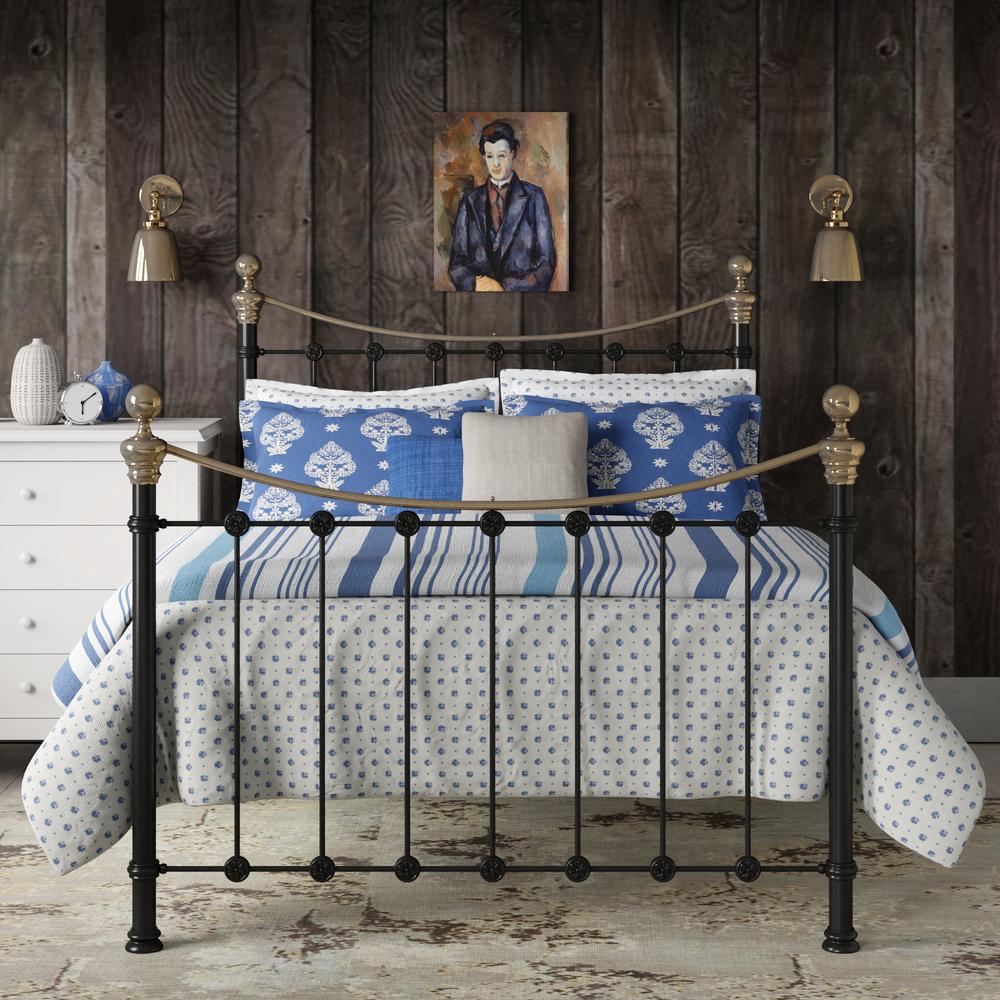 bed: Selkirk Iron Bed
Read this blog by Homes and Gardens for more interior design tricks to brighten a dark bedroom.
Use mood-boosting yellow shades to light up your room
Yellow has uplifting properties and it's the perfect shade to bring positive energy into your bedroom. This sunny hue contrasts beautifully with white and grey colour tones to create warm, cheerful interiors that will wake up your home this spring.
How stunning is this yellow and grey bedroom?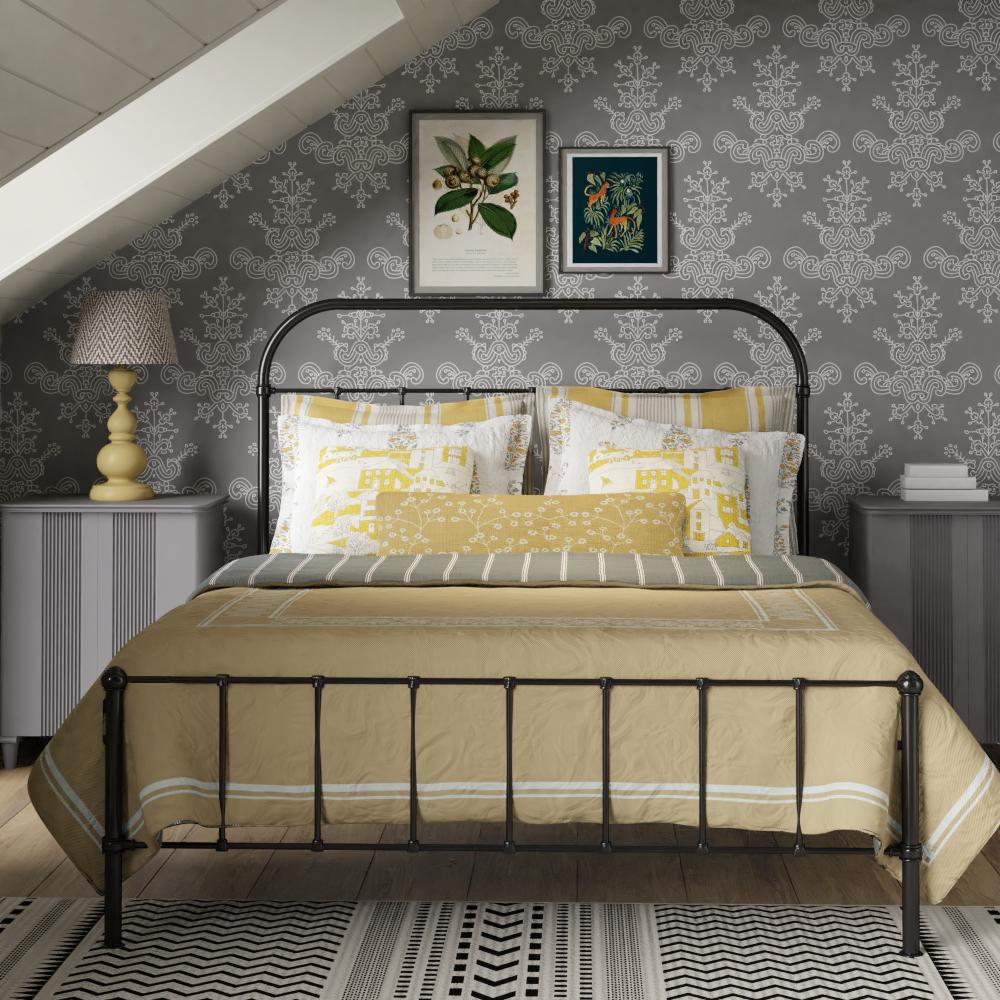 Decorate your space with floral wallpaper
Nothing says spring like florals! Decorating your walls with floral wallpaper can have a big impact and completely transform the look and feel of your bedroom. Bold floral wallpaper will bring your room to life and promote feelings of happiness and joy.
You might go for a vintage-inspired floral wallpaper like the one shown below or choose a bright, quirky design. There is a huge variety of floral patterns to choose from - find a design that will inject your personality into the space.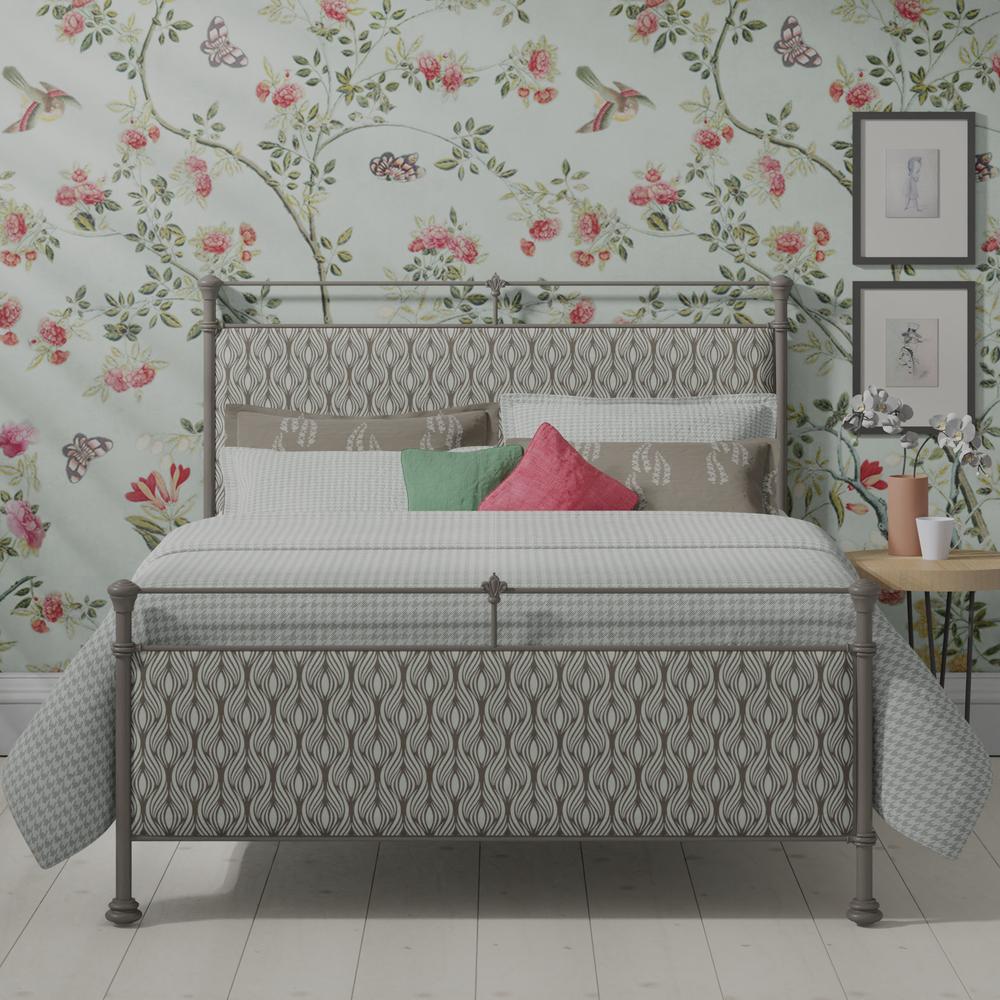 bed: Nancy iron bed frame with fabric upholstered panels
Bring natural elements into your bedroom
Adding natural elements to your bedroom will bring the outside in and instantly liven up your space. Nature has some amazing mental health benefits in addition to the aesthetic appeal. Did you know that being in nature can improve your mood, reduce stress, and help you relax?
There are plenty of ways to add greenery to your space. You could buy some house plants, display fresh flowers in a vase, or choose bedding and soft furnishings that feature natural prints like florals.
We love this nature-inspired bedroom decor and natural bedrooms.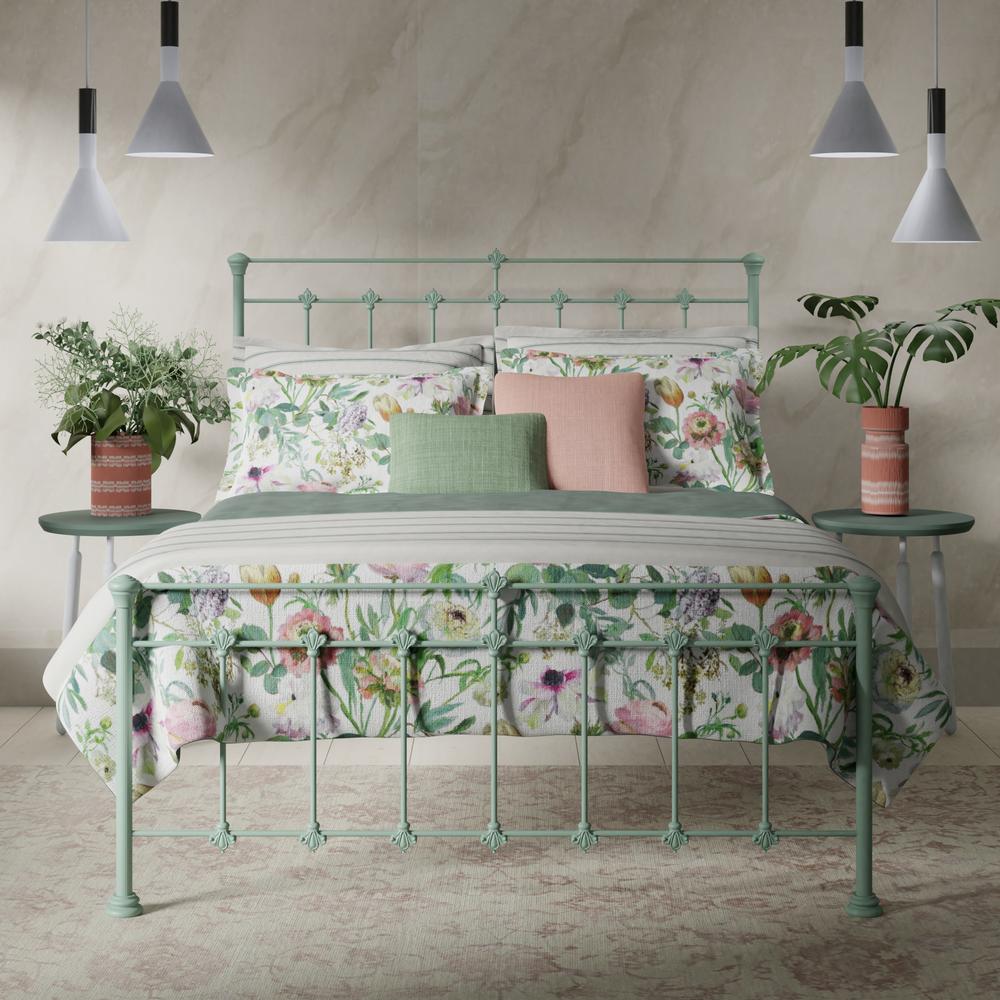 Freshen up your bedroom this Spring!
Spring is the ideal time to freshen up your interiors and bring some warmth into your bedroom. You'll be pleased to know that redecorating doesn't have to be time-consuming or expensive. There are lots of simple ways to create a brighter, more inviting space that will look great in spring and all year round.
Check out our range of metal beds, wooden beds, brass beds, upholstered beds and mattresses.
More bedroom ideas