Whether it is food or interior design, mustard is ready to spice things up a notch. Unsure about using this gorgeous tone in your bedroom decor? We are here to give you some inspiration to add mustard hues to your bedroom in subtle or exquisite ways. Read on to get inspired with mustard bedroom ideas.
The colour mustard is lively, warm and sunny. It's a favourite among designers who love to go bold and use it as their anchor colour. Else, mustard can add necessary contrast to a more muted central colour scheme of your bedroom and create a balanced look.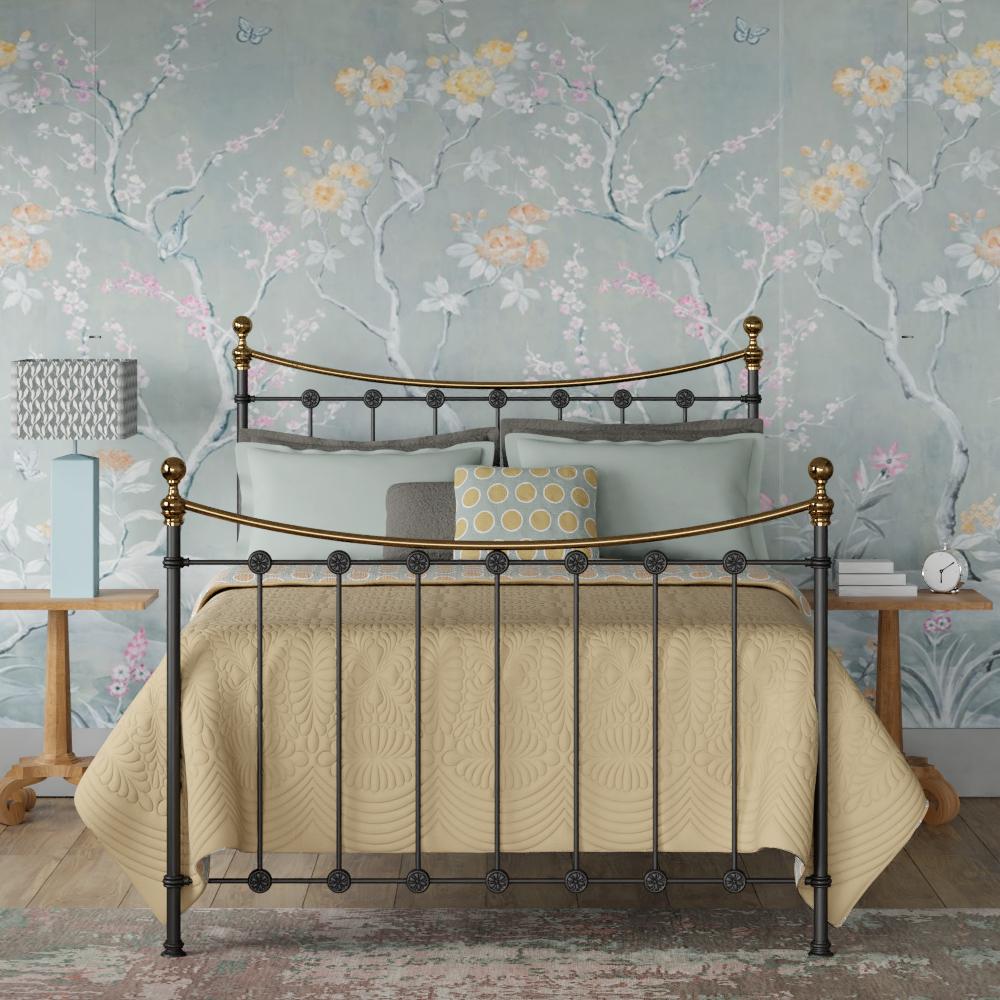 bed: Carrick Iron Bed with mustard bed linens
Choose the right shade and colour for your mustard yellow bedroom
Mustard looks great with a variety of colours, but it is very important to choose the right shades and tones of both mustard and the colour you want to pair it with.
For example, if you are using a bright mustard tone, black will work well with it. If using a lighter mustard tone, better switch black with some other colour which compliments the lighter shade of mustard.
If you pick the right tone, mustard can be both inviting and bright or subdued and earthy. Grey and mustard bedroom shades have the right balance and have a relaxing ambience.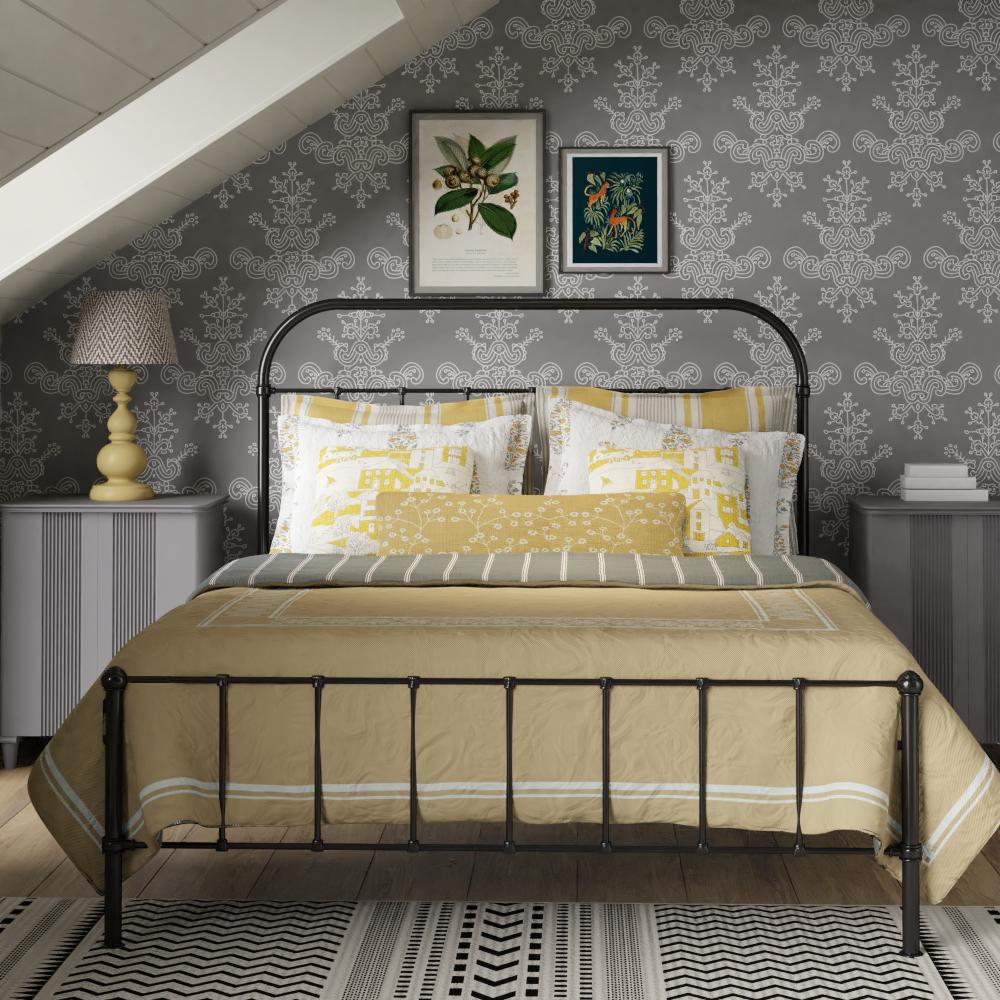 bed: Solomon Iron Bed
Just the right amount of mustard in a bedroom
As a general rule, mustard should be used sparingly to add a bright spot to your bedroom. Overdoing this colour will take away its highlighting properties. It shouldn't detract from the other colours used in the bedroom.
If you are using mustard for the first time, it is a good idea to introduce it into your space through small elements like picture frames, plant pots, blankets or other bedding, lamps, decoration pieces etc.
This way you can get a feel of the mustard and see if you want to go ahead and make bigger changes like doing a mustard accent wall or adding mustard coloured furniture.
Pro tip: Don't paint the wall facing sunlight mustard, as mustard reflects the sunglight and adds a yellow hue to the whole bedroom interior; suppressing other colours.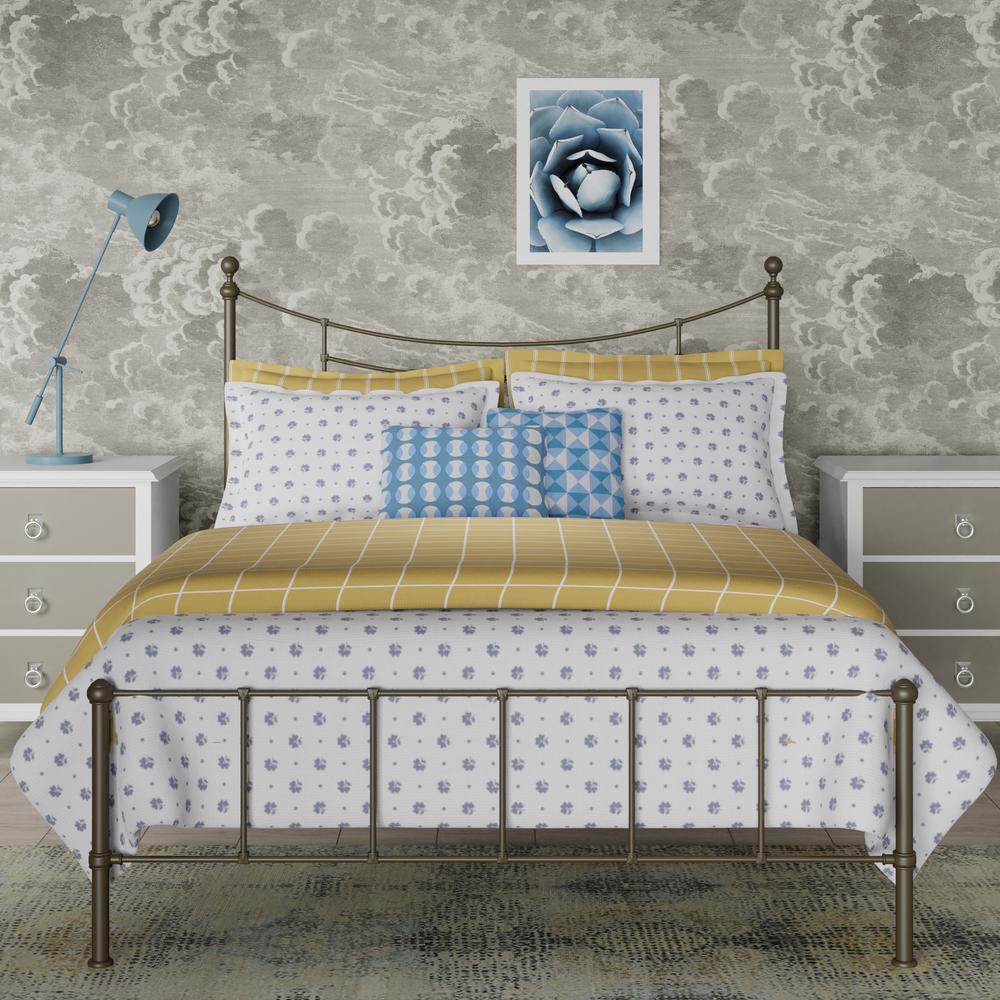 bed: Isabelle Iron Bed
What colours go with mustard in a bedroom?
Mustard pairs naturally with whites, greys, pastels. A really good way of placing mustard into your bedroom setting is through the main element, your bed. A mustard yellow painted wooden, metal or upholstered bedstead can be a good choice for a white backdrop.
Mustard also pairs well with pastel hues of pink and acts as a focal point.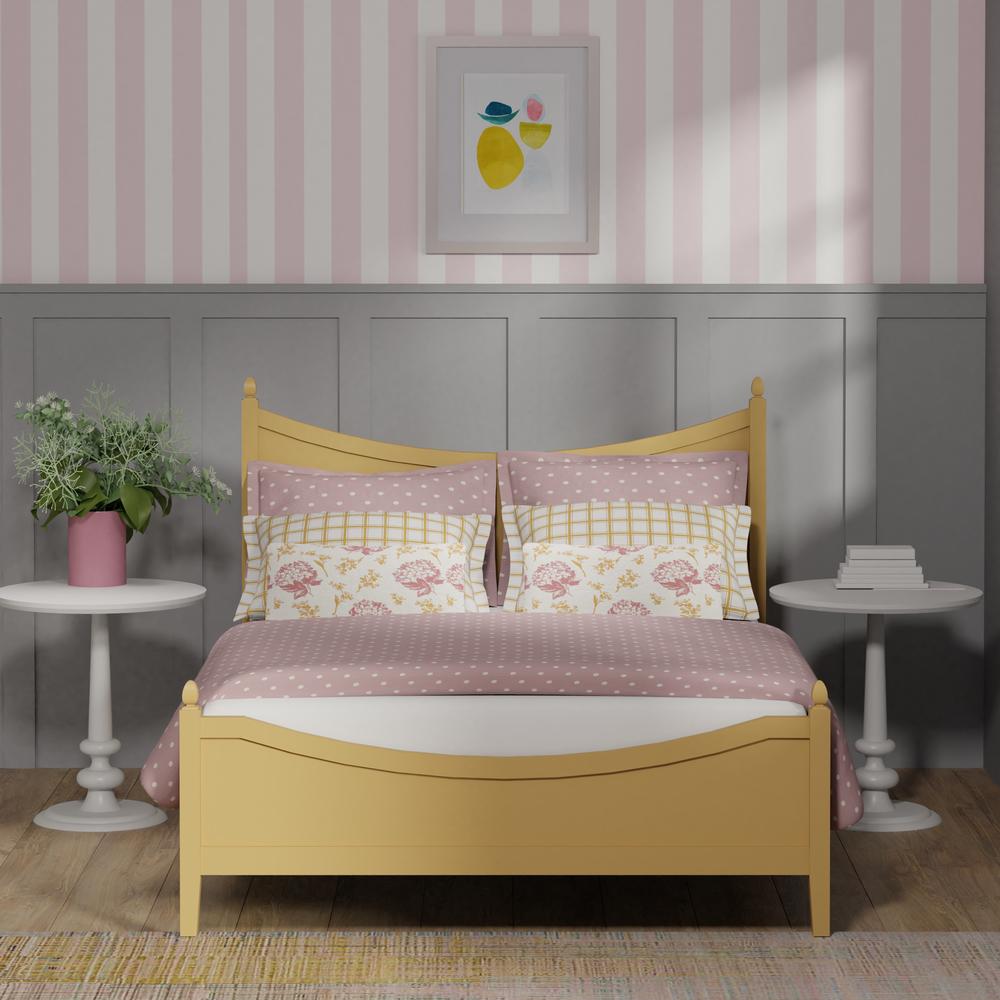 bed: Blake Wooden Low Footend Mustard Bed
Mustard and blue bedrooms
Want a luxurious feel to your bedroom? Combine mustard with blue tones. Blue and mustard yellow compliment each other very well.
Just like we mentioned before, darker the mustard, darker the blue tone. The result is a bedroom with drama and intensity. Emerald green and navy blue with mustard are other good choices for a mustard bedroom.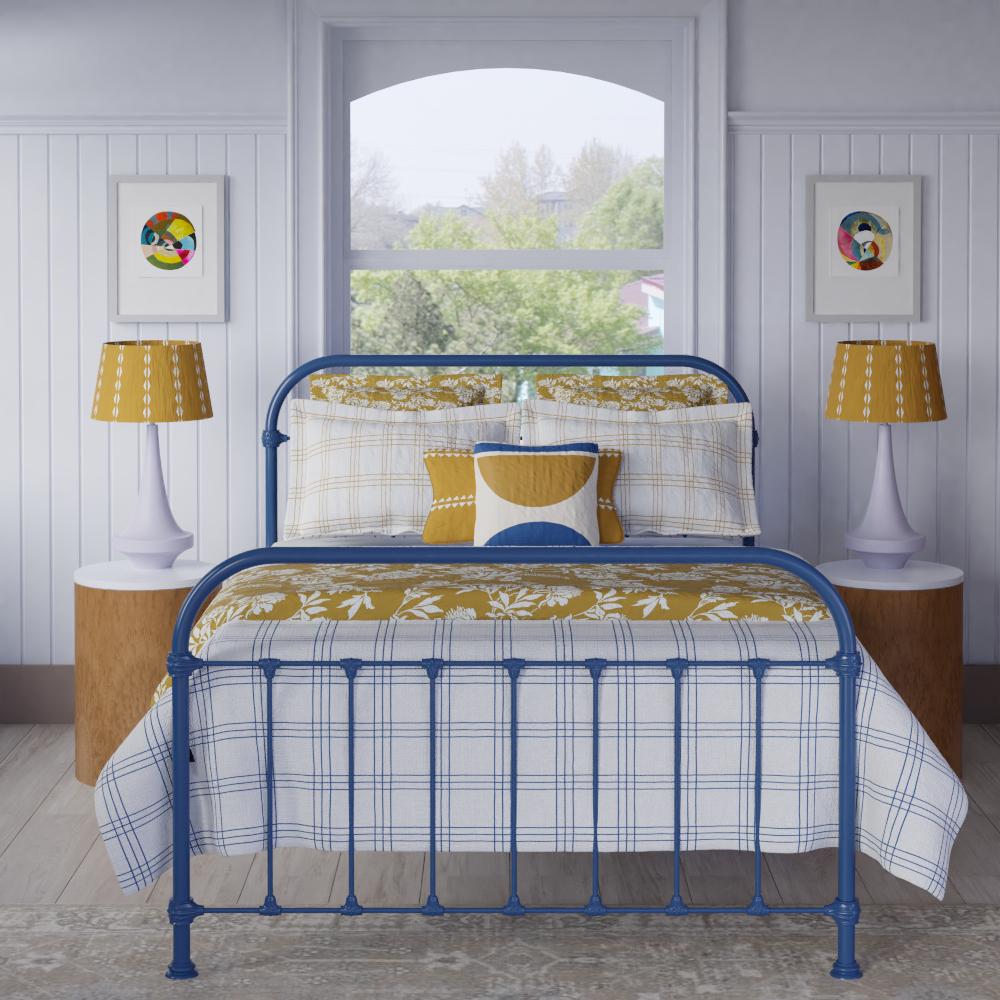 bed: Timolin Iron Bed
Mustard and neutral bedroom ideas
Beige and tan shades tame the mustard from becoming overpowering. Accent walls with beige wallpapers or paints can be combined with a mustard painted bed or simply bedding in the said colour.
Upholstered beds can add patterns and textures to the decor. Floral, geometric or any suitable fabric design in a green and mustard combination are calming to the eyes.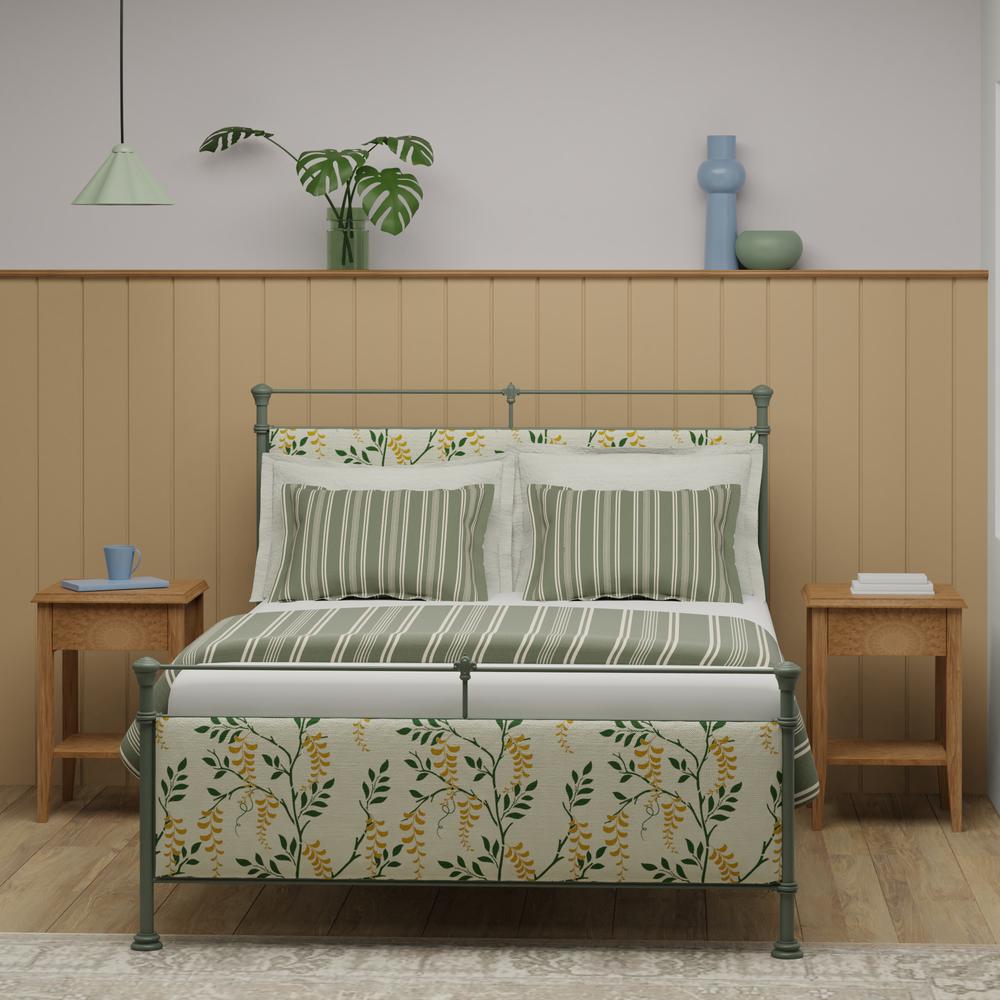 bed: Nancy Iron Bed
Mustard can really transform your bedroom from monotonous to edgy when used in the right concentration and tones. A brass bed is another great means to add dimension and regality to your bedroom paired with a darker mustard elements like cushions or even a plant pot accessory. Sage green and mustard make for a natural look.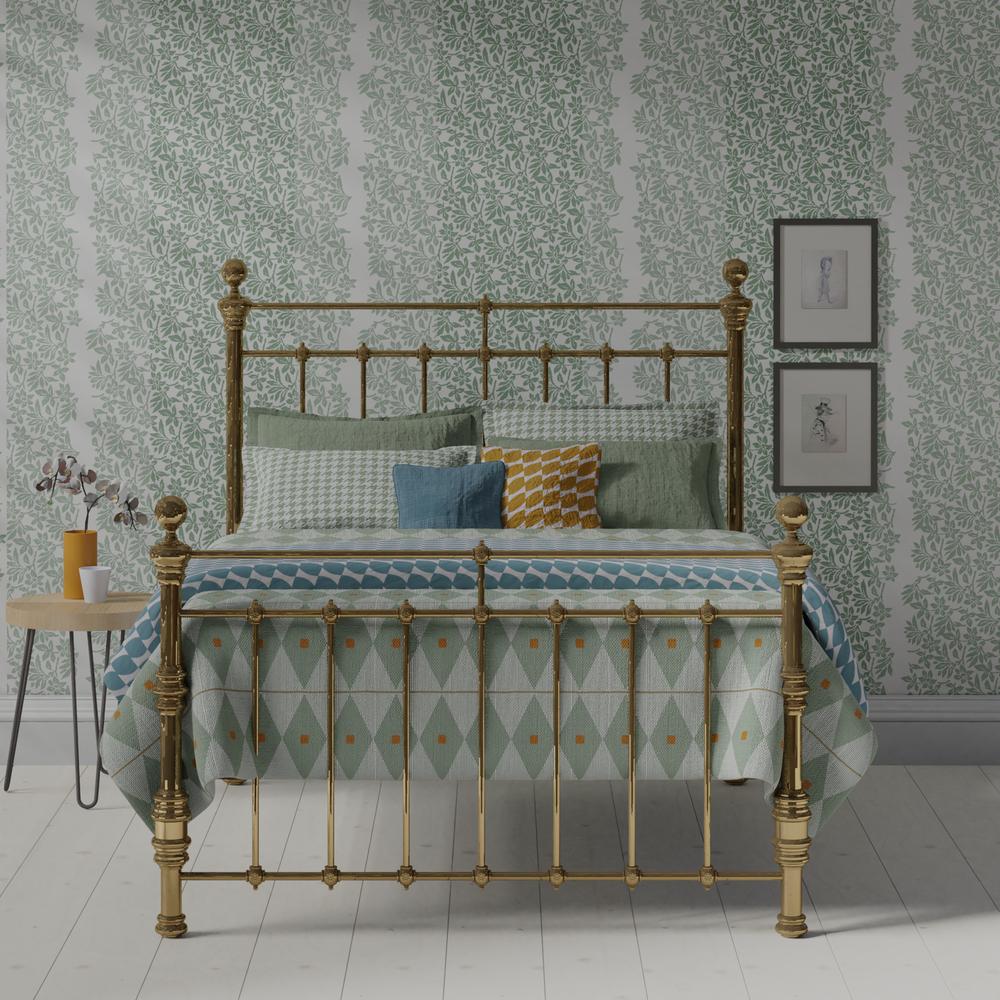 bed: Waterford Brass Bed
We hope this article on mustard yellow bedroom ideas provides enough information to get you started with the idea of mustard yellow in your bedroom. At The Original Bed Company manufacture beds ranging from metal, brass, upholstered to wooden.
You can customise the colours and even provide your own fabric for upholstery so that you get a bed that is truly unique to your taste and preference. Mustard yellow frames, no problem!
Get in touch with us for any questions. We will be happy to help!
More bedroom ideas