Green and gold are a classic colour combination that will give your bedroom a lux hotel feel. There is something magical about rich green paired with glimmering gold – these shades are a match made in heaven!
If you're looking for inspiration, check out these beautiful green and gold bedroom ideas: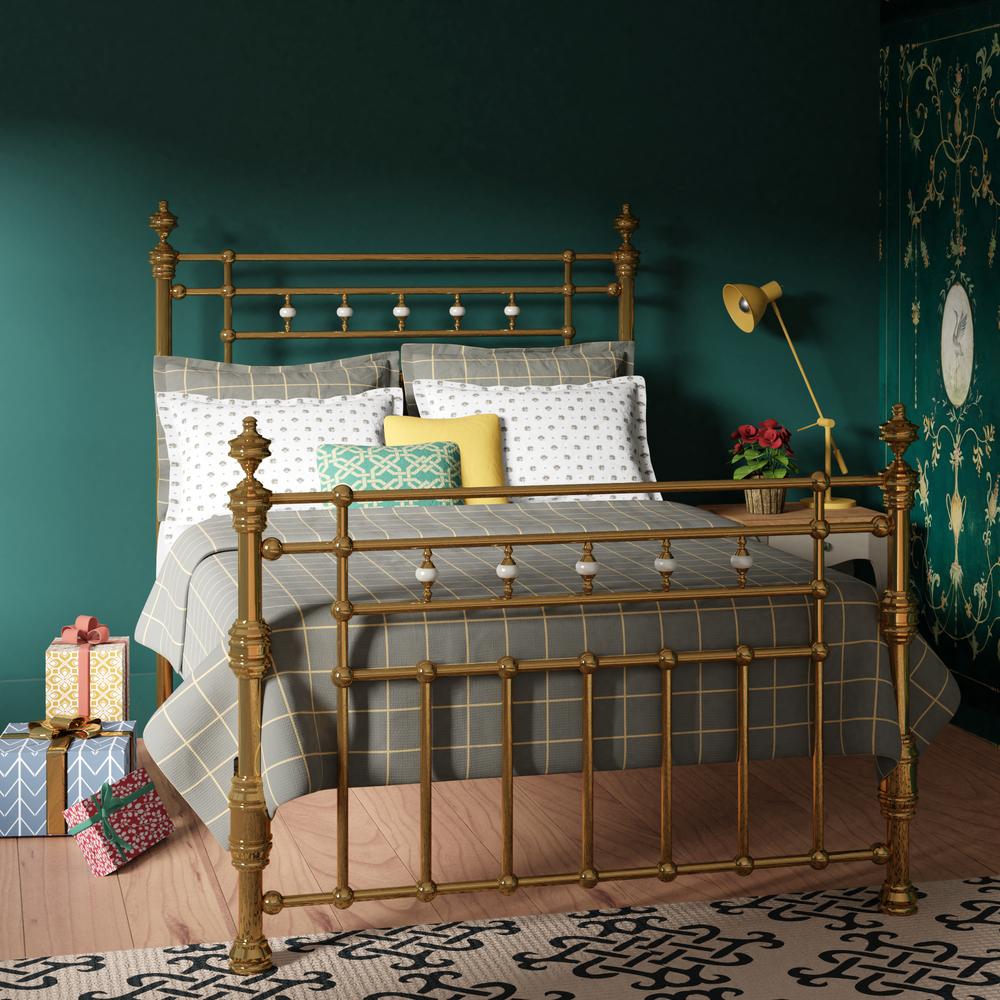 bed: Boyne brass bed
Emerald paired with gold and grey
Emerald is a deep, rich shade of green that is closely connected to nature. Emerald green is a great choice for bedrooms because it creates a feeling of both relaxation and clarity.
In the bedroom above, bold emerald walls have been offset with gold, grey and white elements. Green and grey combine beautifully to create a fresh colour palette. You can then add pops of colour and shimmering gold to create a cosy and luxurious feel.
TIP: A gold metal bedframe is a perfect choice if you want to add a touch of elegance to your bedroom.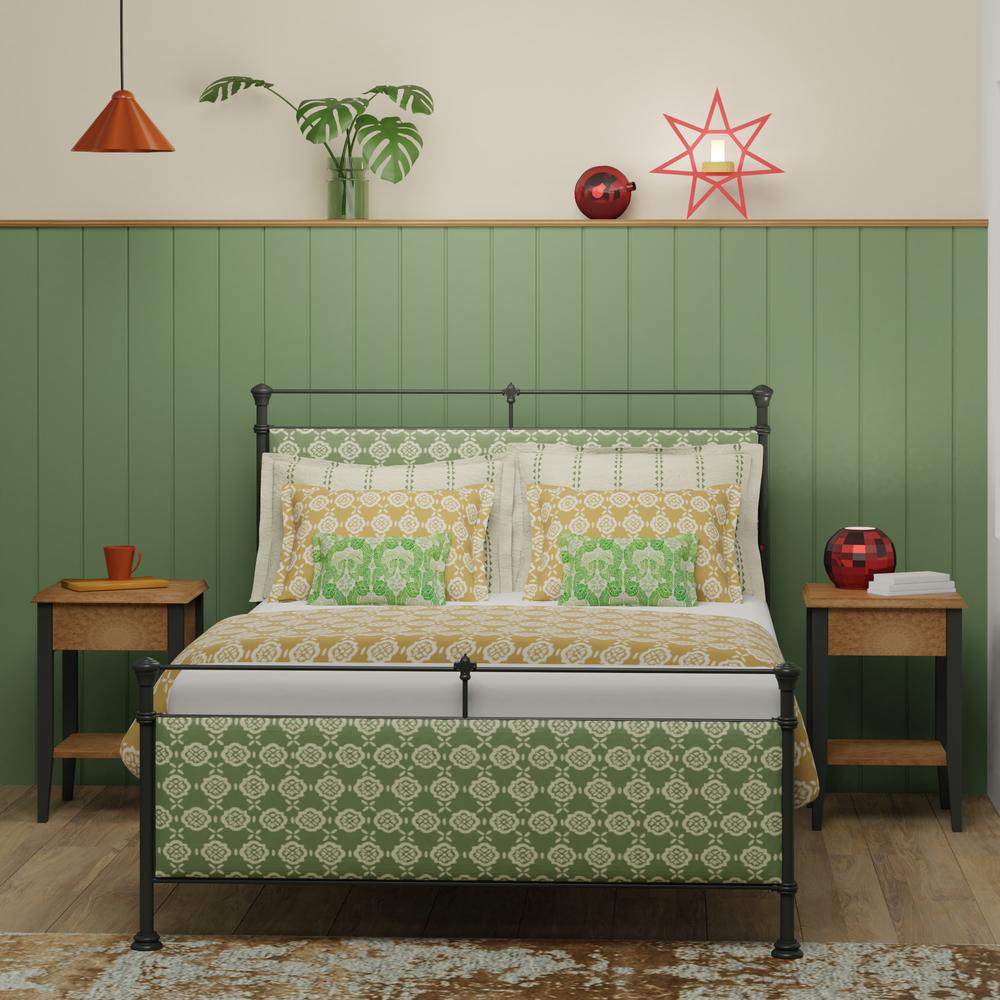 bed: Nancy iron upholstered Bed
Calming green pastels shades
Pastel shades of green are perfect if you want to create a relaxing bedroom environment. These soft tones will calm your mind and body and help you find your inner peace. In fact, a recent study by Dulux found that people with green bedrooms sleep better at night.
In the picture above, a soft green shade has been combined with yellow and red to create a stylish and soothing space. Spot the gold velour rug that adds a touch of luxury!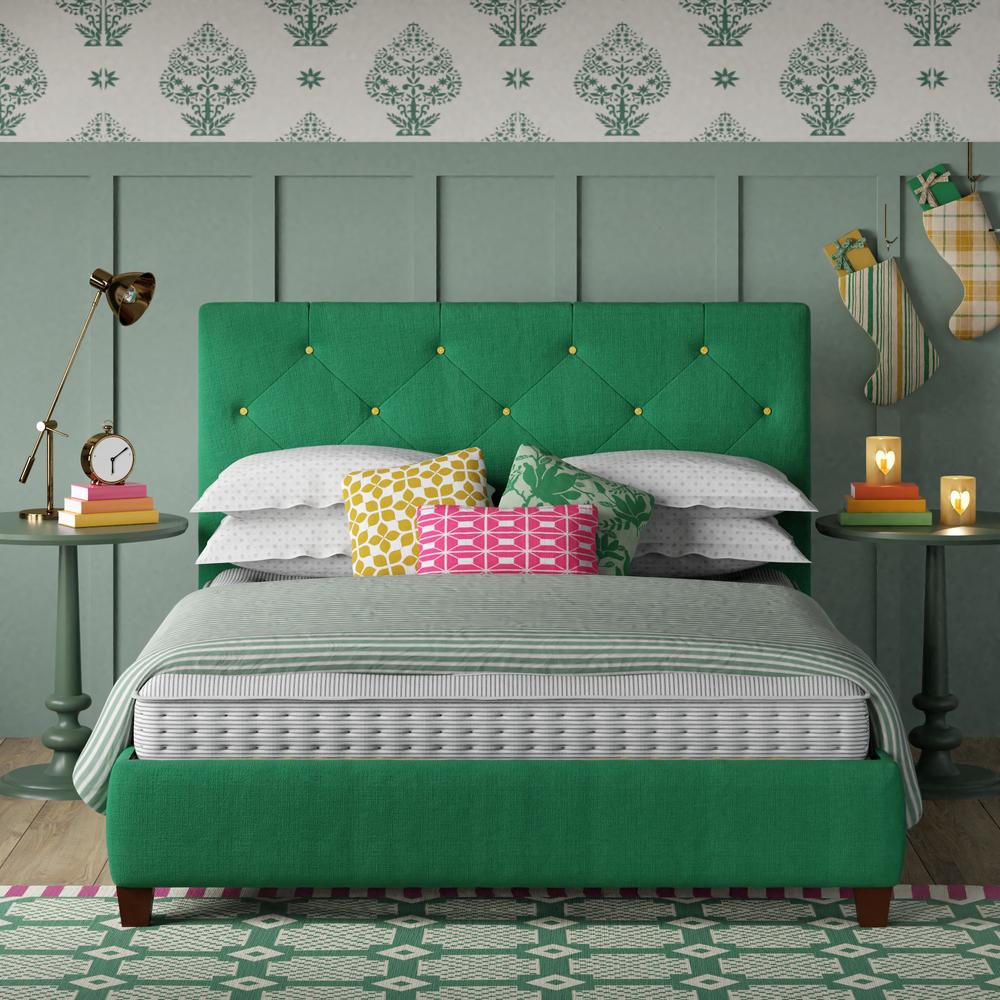 Green paired with vibrant colours
Muted shades of green pair particularly well with vibrant shades – just look how beautiful this combination looks in the bedroom above.
We love placing green shades next to bright colours like fuchsia, mustard and tangerine. This colour combination will add fun vibes to your bedroom and help you create an eye-catching décor. You can also add subtle gold elements (like the lamp and clock in the picture above) to add a touch of sparkle and opulence.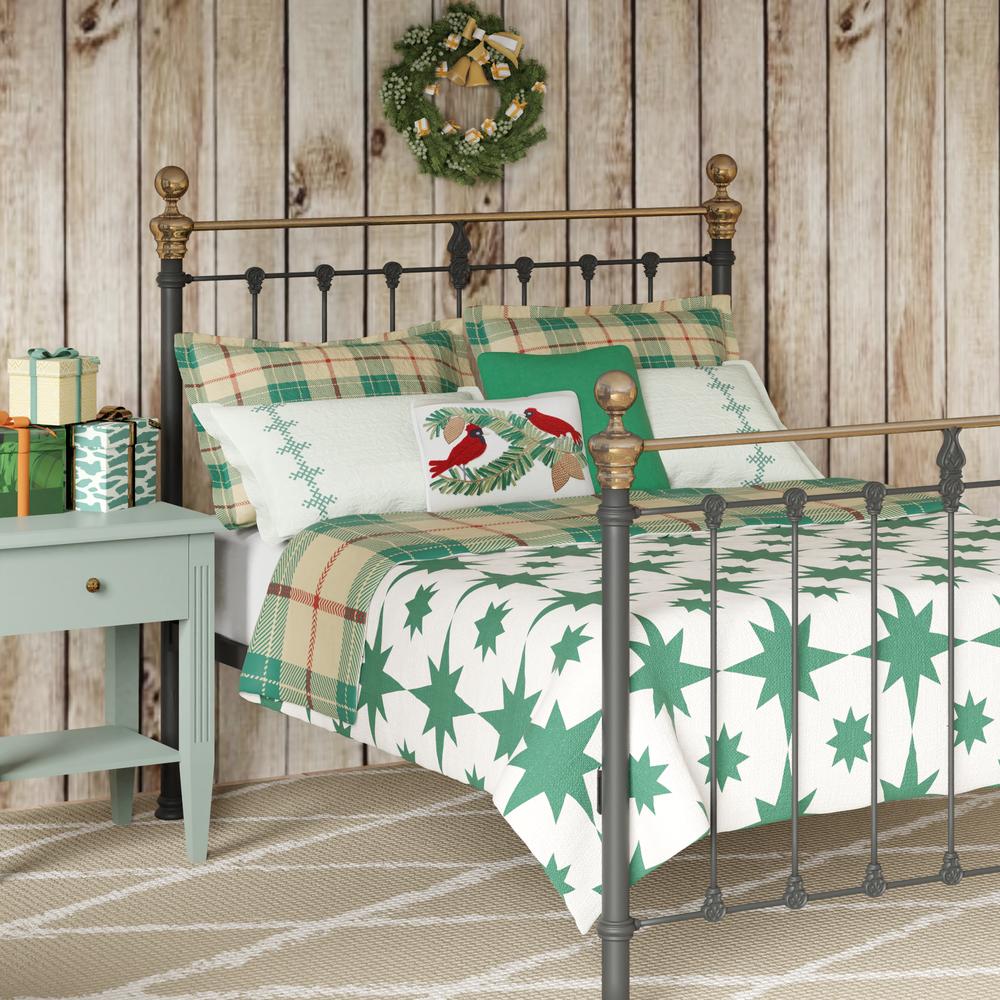 bed: Hamilton Iron Bed
Festive green with decorative patterns
Green is a popular Christmas colour and the shade evokes a special festive mood. A cool green shade works particularly well with various shades such as white, red, and grey. Patterns can be used to create a cosy and subtle Christmas theme that will look great all year round.
Green is also associated with the outdoors and pairs well with natural elements like the wooden floors or wall panels. Gold decorative elements (like the bedframe and table handles in the picture above) can then be added to give your bedroom a luxurious look and feel.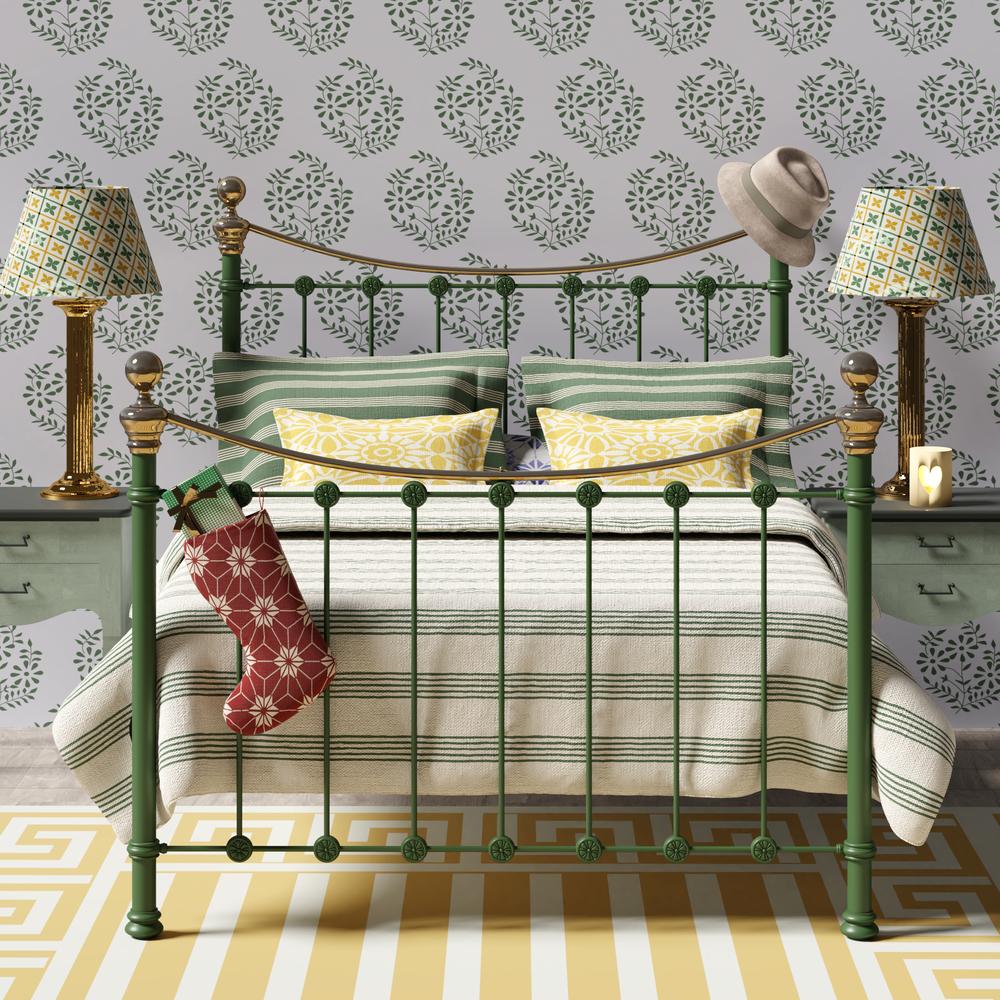 Cool green offset with yellow
Cool green shades look beautiful next to brighter shades like yellow. In the picture above, various patterns have been used to add interest and create a stunning bedroom that is both soothing and fun. Again, glimmering gold decorative elements have been added to give the space a luxe feel.
Why we love green and gold bedrooms
Green and gold complement each other perfectly! We think green and gold is the best colour choice if you want to transform your bedroom into a relaxing oasis and create the wow factor. There are so many ways you can introduce beautiful shades of these colours to create a green and gold bedroom colour scheme.
Check out our range of metal beds, wooden beds, brass beds, upholstered beds and mattresses.
More bedroom ideas