This is part of our complete mattress buying guide – check out the full guide here.
We all know the struggle of purchasing a new mattress very well. Open coil, foam, pocket sprung, latex and even more options to choose from!
The type of mattress you decide to buy for your bedroom is a personal choice and depends on a lot of factors like budget, materials used, comfort etc.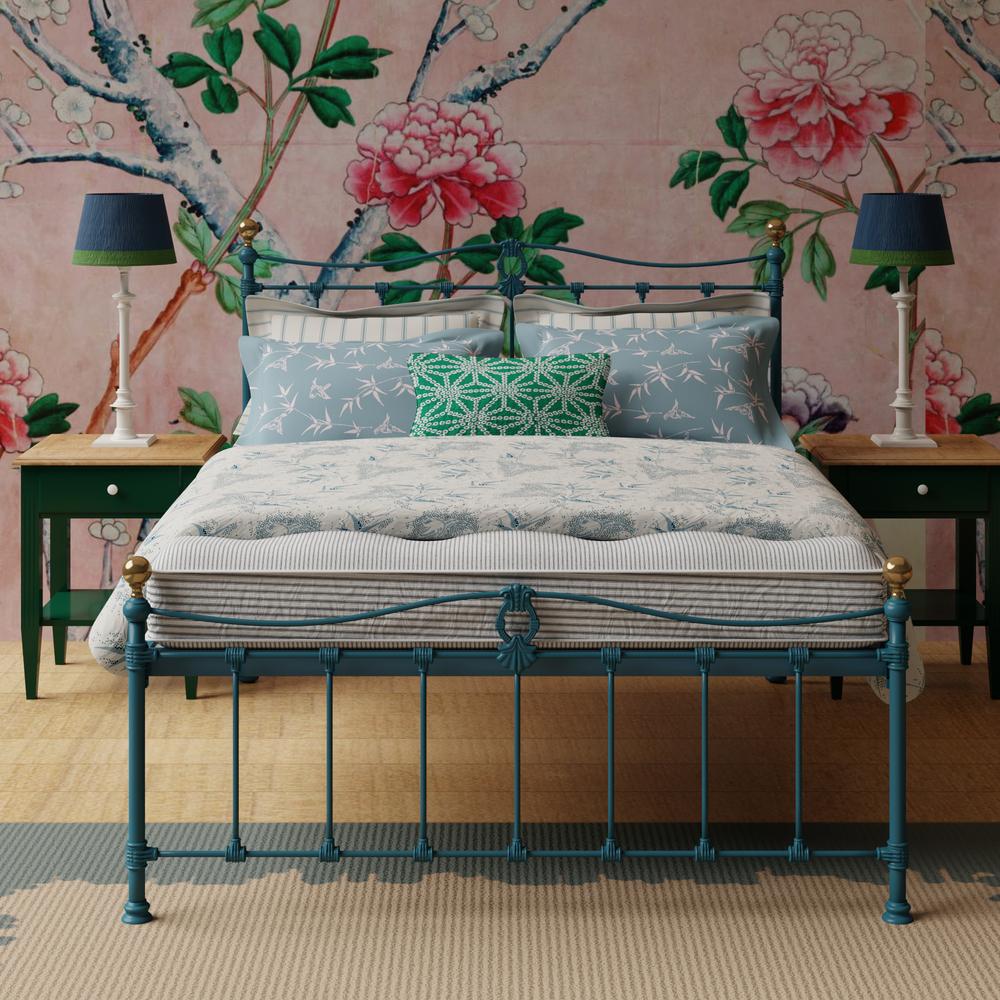 Don't worry though, we are here to make things a bit simpler.
Pocket sprung mattresses are one of the most popular types of mattresses in the market because of their 'all-rounder' quality. In this article, we are going to explain why you should consider getting a pocket sprung mattress.
To provide you with a complete overview, we will also talk about situations when you might want to look for something else. This will enable you to decide if pocket sprung mattresses are the right fit for you.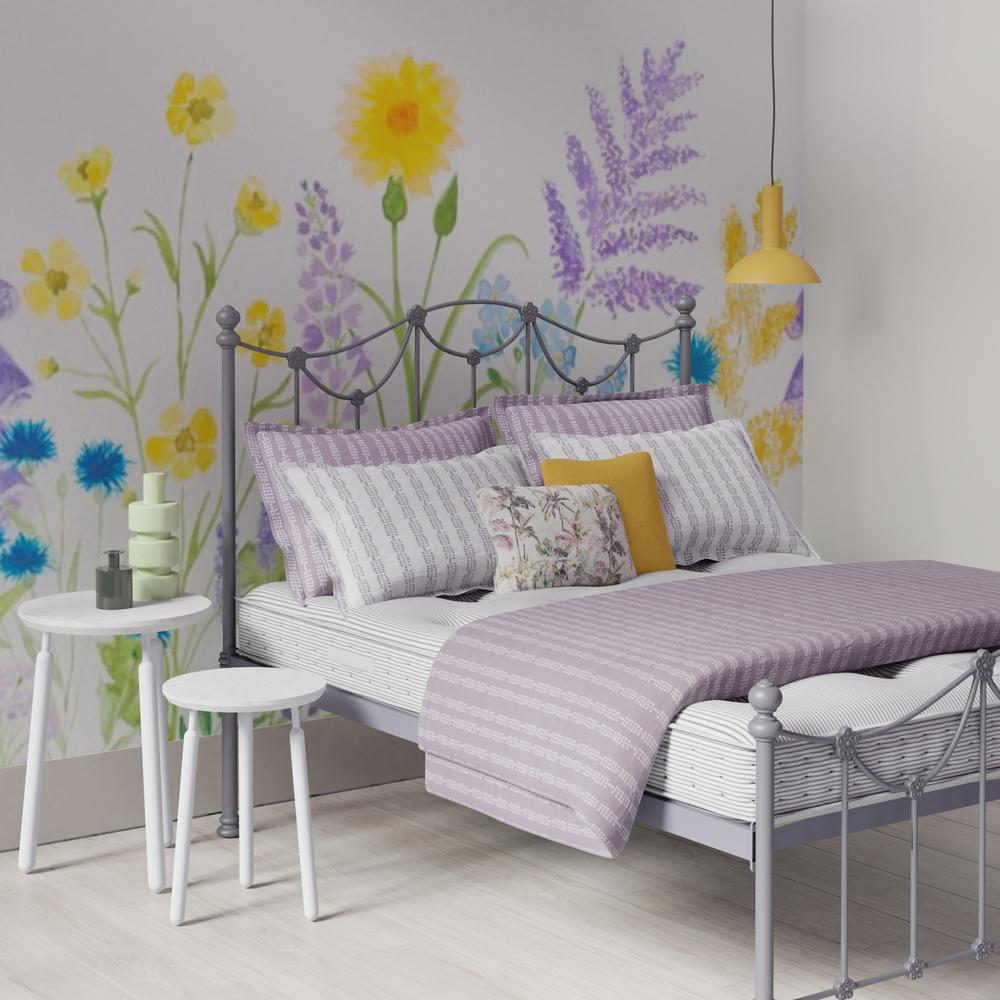 Before we begin talking about the pocket sprung system, let's take a brief look at the history & origination of spring systems in mattresses.
Origin of spring mattresses
Who invented the pocket sprung mattress?
Berliner Heinrich Westphal was the first known inventor of the innerspring mattress in 1871. He was a German furniture maker and held a patent for this creation. He used the springs used in chair seats and enclosed them in cloth that was sturdy enough to hold them in place.
Although an invention that would revolutionize the 'sleep industry', spring mattresses didn't become popular until 1930. Sadly, Heinrich Westphal died in poverty, never benefitting from his creation.
When did pocket sprung mattresses start becoming popular?
Pocket sprung mattresses started becoming popular just before WWII, with the springs sewn into fabric bags linked to each other. Since then, not much has changed.
The differences in the mattresses then and now are the quality of springs, fillings and protective covers which have become more durable, safe, comfortable and sometimes more exquisite.
What is a pocket sprung mattresses?
Pocket sprung mattresses have springs sewn into individual pockets of fabric. Natural fillings like cotton, wool, bamboo fibres, horse hair or man made fillings can be used to provide varying levels of comfort, durability and ventilation.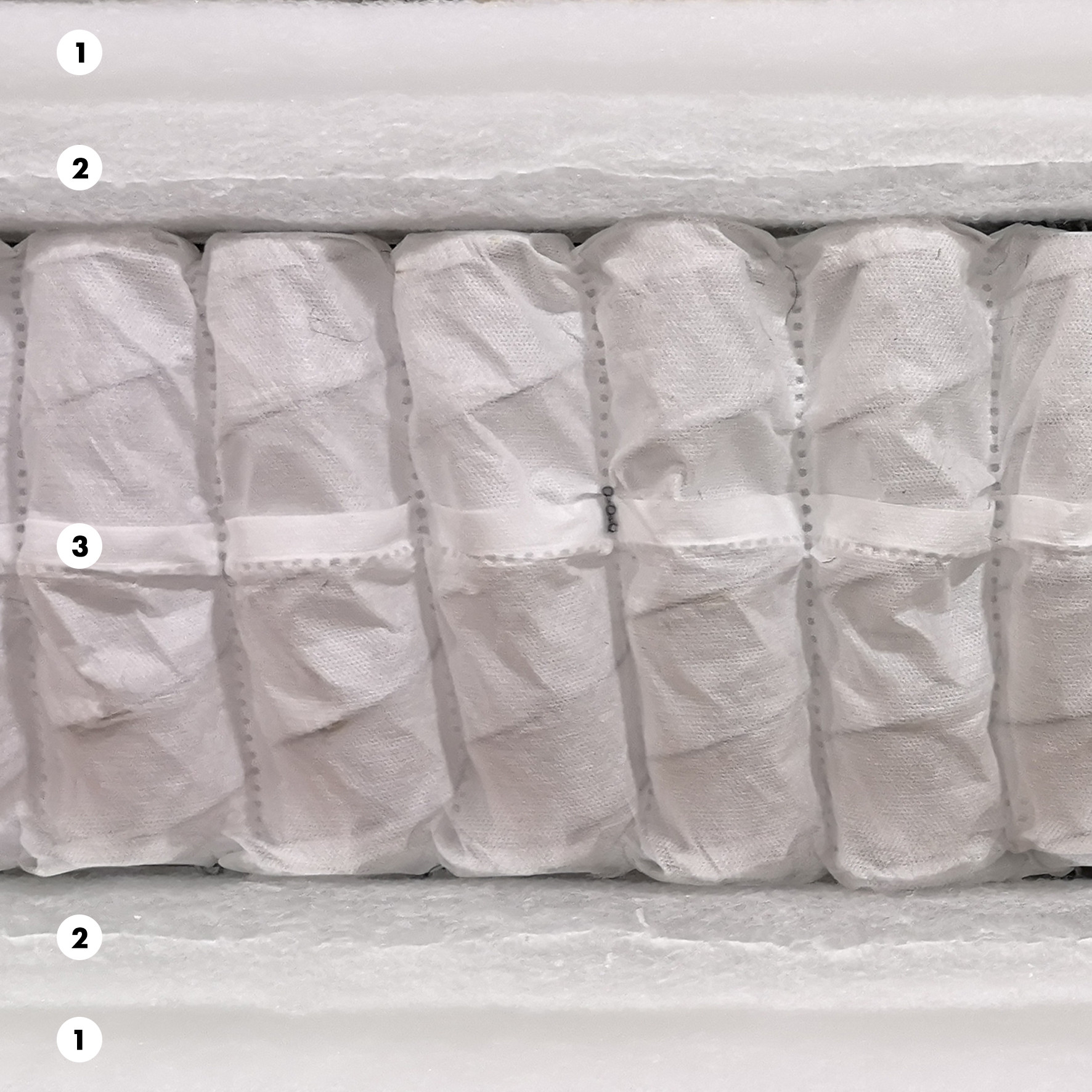 mattress: Juno original pocket sprung mattress
What benefits/advantages do pocket sprung mattresses have?
INDIVIDUAL SPRING SYSTEM
Pocket sprung mattresses have individual springs that function independently of one another. This means there is no transfer of motion between different points.
This can especially prove beneficial for couples. There is no disturbing movement in the mattress when either partner twists or turns, which means both partners can sleep peacefully without interrupting each other's sleep.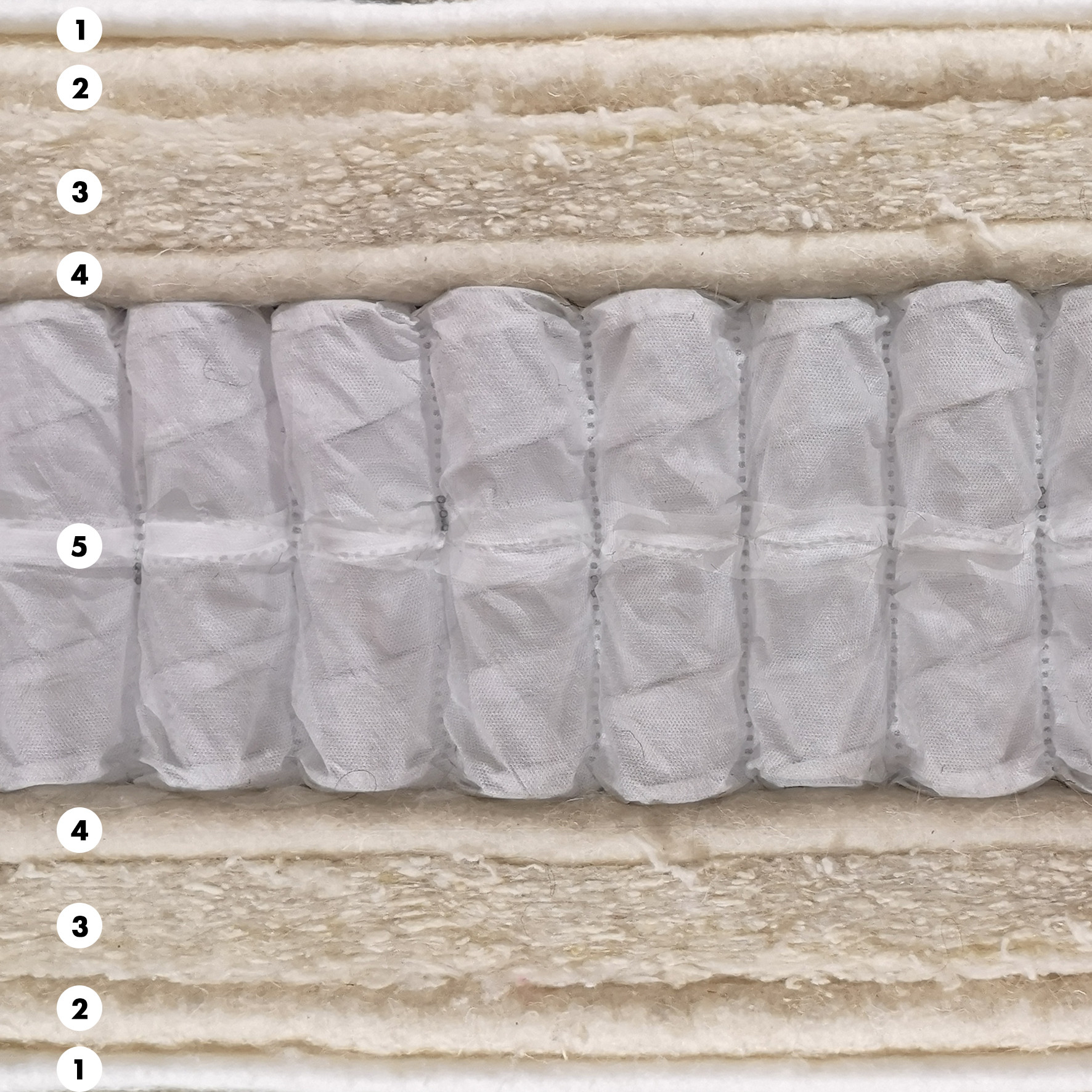 mattress: Juno wool pocket sprung mattress
GREAT SUPPORT
The individual springs also mean that the mattress contours according to different pressure points on your body, giving adequate support to each part of the body as you sleep. People with back and joint pain can sleep comfortably on a pocket sprung mattress.
BETTER AIRFLOW & VENTILATION
Do you find yourself getting too hot at night? The problem might lie with your mattress. A softer mattress like memory foam usually moulds with the shape of your body. This can cause you to become warm since the airflow and ventilation might get obstructed. Pocket sprung mattresses are generally cooler and 'breathe' more.
BUDGET FITTING
Pocket sprung mattresses come in a variety of sizes. They also come with different fillings which can range from polyfills, natural fibres like cotton, wool, horse hair , bamboo fibres and more. This makes them fit into diverse budgets.
Pocket sprung mattress sizes
The size of your mattress depends on the size of your room and also the size of your bed frame. It also depends on how many people are going to sleep on it.
We have various pocket sprung mattress sizes available to fit your needs. These include single, small double, double, king and super king mattress. You can check out the measurements here.
Are pocket sprung mattresses firm?
As a rule a pocket spring mattress is not inherently firm or soft. With a combination of spring tensions and fillings it's possible to make a pocket spring mattress which is quite soft or a firm pocket spring mattress. The better question to ask is which level of firmness is best when buying a pocket spring mattress.
Which level of firmness is the best?
The level of firmness you desire really comes down to your personal preferences. We recommend the medium level of tension as it can accommodate most body types comfortably and provides both support and cushioning.
Some may prefer firmer mattresses and as long as they're not too firm it's best to go with your preference. Most manufacturers either have a firmer range of mattresses or will customise a mattress to be firmer for you.
We do not recommend special orthopedic mattresses as the term is often mis represented and the premium you pay is not justified.
Is a pocket sprung mattress good for a bad back?
Good pocket spring mattresses are suitable for people with a bad back, however, it's definitely possible to buy a poor quality or badly designed pocket spring mattress which will aggravate your back pain.
If you have a bad back, it's best to buy a good quality mattress which will not sag over time. Also, you must make sure the mattress is suitable for your body in terms of tension and support.
Which fillings are best for pocket sprung mattresses?
Pocket sprung mattresses come with a wide range of fillings from man made, cotton, wool, horse hair to silk, cashmere etc. Depending on your budget, you can go for cheaper options like man made fibres, cotton or premium fillings like cashmere, bamboo fibres etc.
You can easily find very comfortable and durable mattresses at most price points. Some pocket sprung mattresses can have foam rubber or memory foam layers.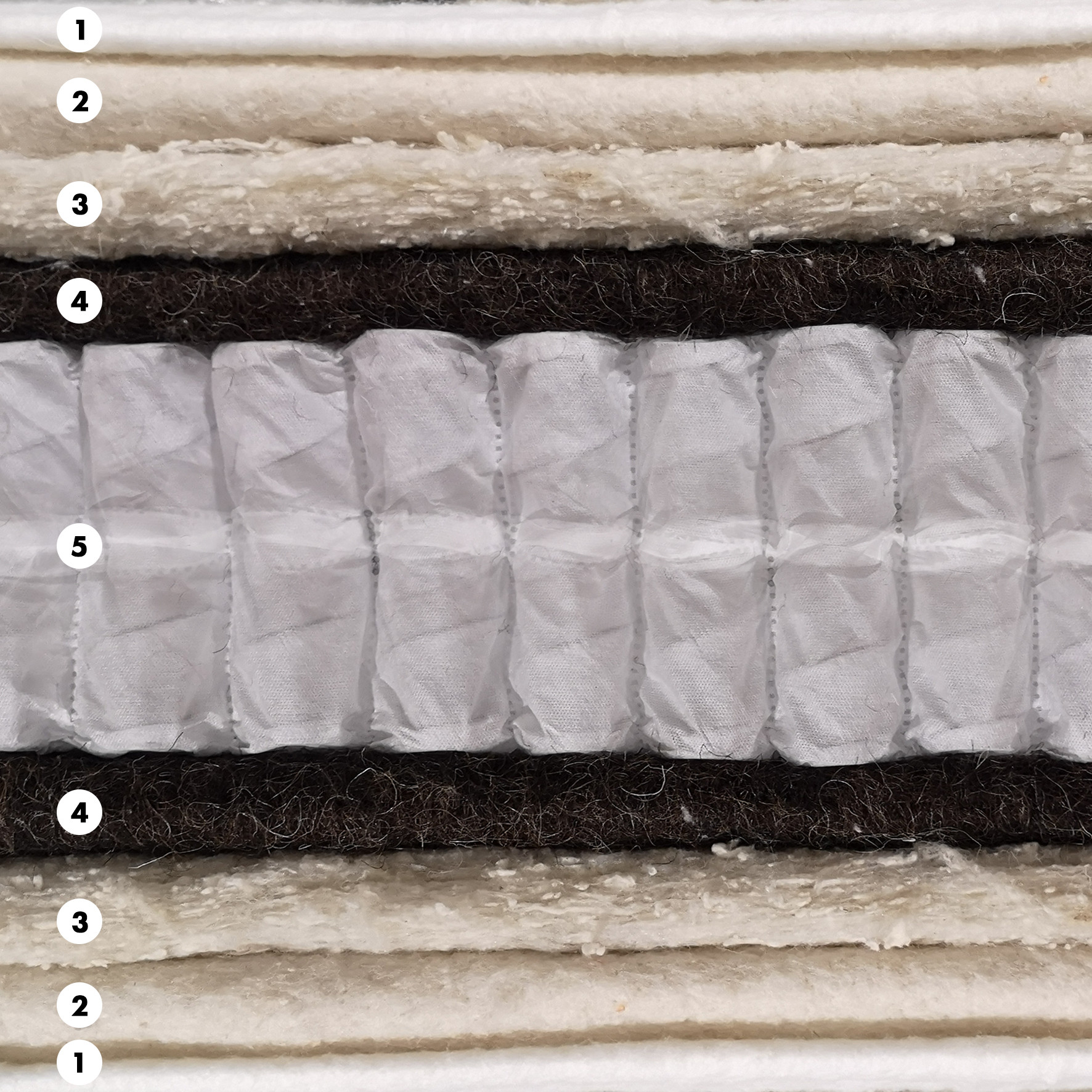 mattress: Juno Cashmere pocket sprung mattress
What are the differences between a pocket sprung mattresses and memory foam mattresses?
Pocket sprung mattresses provide a springy feeling while memory mattresses give a sinking feeling as they react to the heat of your body.
Memory foam mattresses feel comparatively firmer than pocket sprung mattresses, although both can be customised to different levels of firmness. This is because of the softer and more plus layers of comfort filling often used in pocket sprung mattresses.
The important thing to note is the support provided by pocket spring mattresses is as good or often better than memory foam mattresses.
Why are memory foam mattresses good?
Memory foam mattresses are good for joint relief as they mould around your body shape. Pocket sprung mattresses, however, are great for all types of sleepers.
Why are pocket sprung mattresses good?
Pocket sprung mattresses are better for ventilation. They are extremely breathable, especially ones containing natural fillings. With natural fillings a pocket sprung mattress will regulate your body temperature well.
Whereas, you often get a sinking feeling with a memory foam mattresses and they can feel very hot while sleeping. Memory foam mattresses aren't good for temperature regulation.
What are the differences between a pocket sprung mattresses and open coil mattresses?
Pocket sprung mattresses provide far more support than open coil mattresses as pocket springs work independently in their own fabric pocket.
Open coil mattresses are known to dip in the middle after prolonged use. Pocket sprung, on the other hand, doesn't give that roll together effect.
You don't feel the movement of your partner in case of pocket sprung mattresses.
However, if you're on a extremely tight budget, an open coil mattress may be your only option.
What should you keep in mind when buying pocket sprung mattresses?
It is important to ensure that you purchase a good quality pocket sprung mattress. There should be a fine balance between support, comfort and durability. When choosing a mattress you're trying to find the best pocket sprung mattress for you and that may not always be the most high tech or most expensive. Find something you (and your body) is happy with.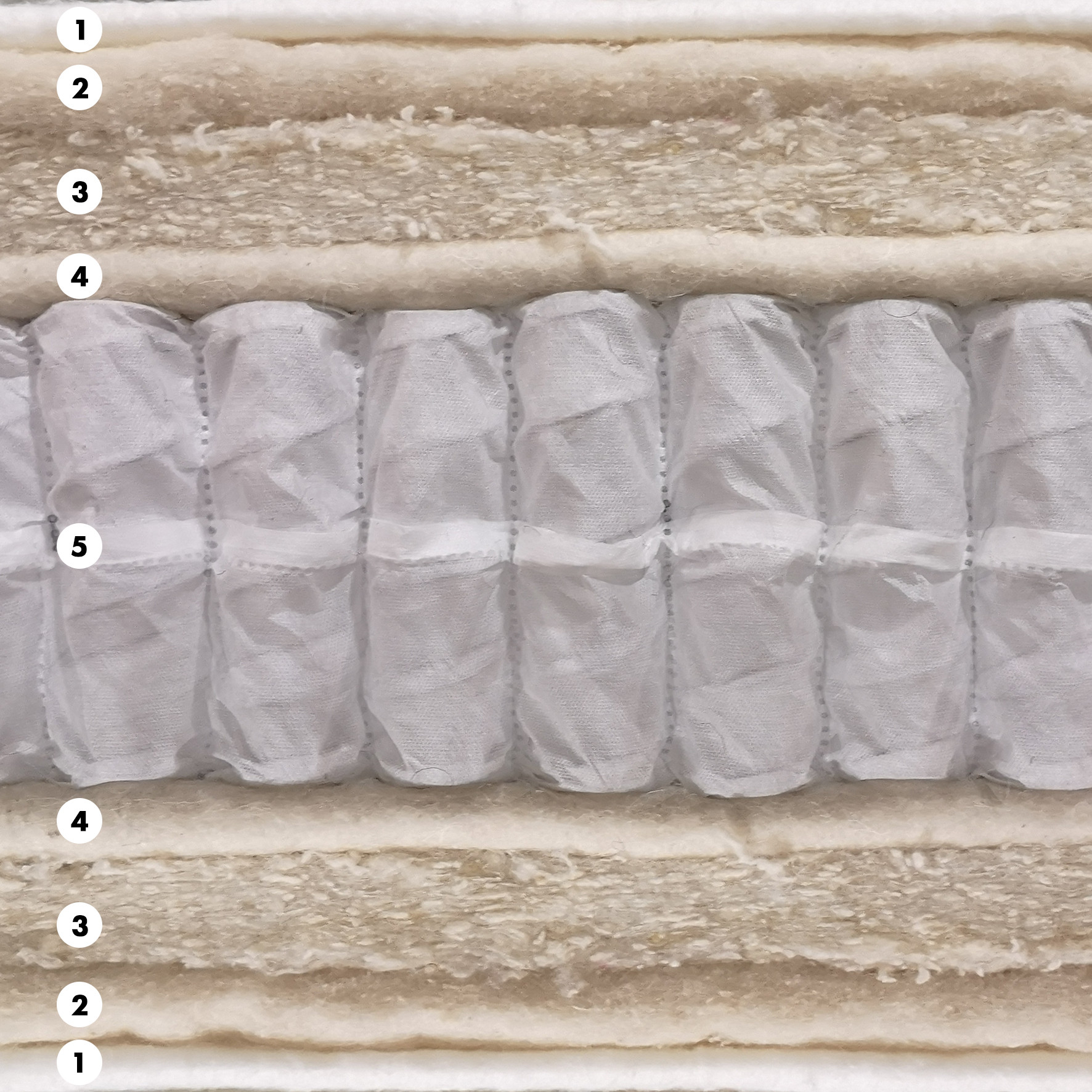 mattress: Juno Silk pocket sprung mattress
Coming to the number of pocket springs, usually anything between 1000 – 1500 springs is what we recommend. The more pocket springs, the more independent each point in the mattress conforms to your body.
If you suffer from any allergies, make sure you check the fillings used in the mattress. Mattresses will often specify if they use materials which are specifically anti-allergens.
What is pocket spring count?
We've indicated the number of pocket springs or pocket spring count of a mattress should be around 1000 – 1500 springs. But what is the pocket spring count? How is it measured. This is important to understand when comparing different pocket spring mattresses.
Pocket spring count is the number of springs of the main pocket spring unit. In these units, the springs can be divided into two springs to inflate the pocket spring count but not the comfort benefit.
Also, sometimes manufacturers nest springs which has the benefit of giving two tension rates in a mattress. But, increasing spring count by nesting doesn't add to the relative independence of springs so isn't really very useful to include when comparing between mattresses.
Are more pocket springs better?
After a certain number of springs, increasing the number of springs doesn't have much effect. In our comfort and support tests, anything over 1500 springs didn't show any measurable difference in the comfort or support of the mattress. It's also very difficult to compare spring counts between mattress brands as they way a manufacturer fits the pocket spring inside the mattress also matters.
Rather than focusing on the number of springs, when buying a mattress you should try and focus on the comfort and whether the mattress is comfortable for your body.
We've written a more in depth article on how many springs should be in a pocket sprung mattress if you'd like to know more about how the number of springs affects the comfort of a mattress.
Are pocket sprung mattresses noisy?
A general concern of buyers is if spring mattresses are noisier than other types. If you get a good quality pocket sprung mattress, it is not going to be noisy.
However, noise after prolonged use can be an indication that you might need to replace your mattress.
How are pocket sprung mattresses delivered?
Pocket sprung mattresses can be delivered unrolled or rolled. Rolled ones might take upto 48 hours to fully rise to their size and shouldn't be kept rolled for more than 1 month as the quality could start to suffer.
We deliver our pocket sprung mattresses without rolling them up. We add two protective layers to protect your mattress from damage during transit. They are delivered straight to your door and are ready to sleep on instantly.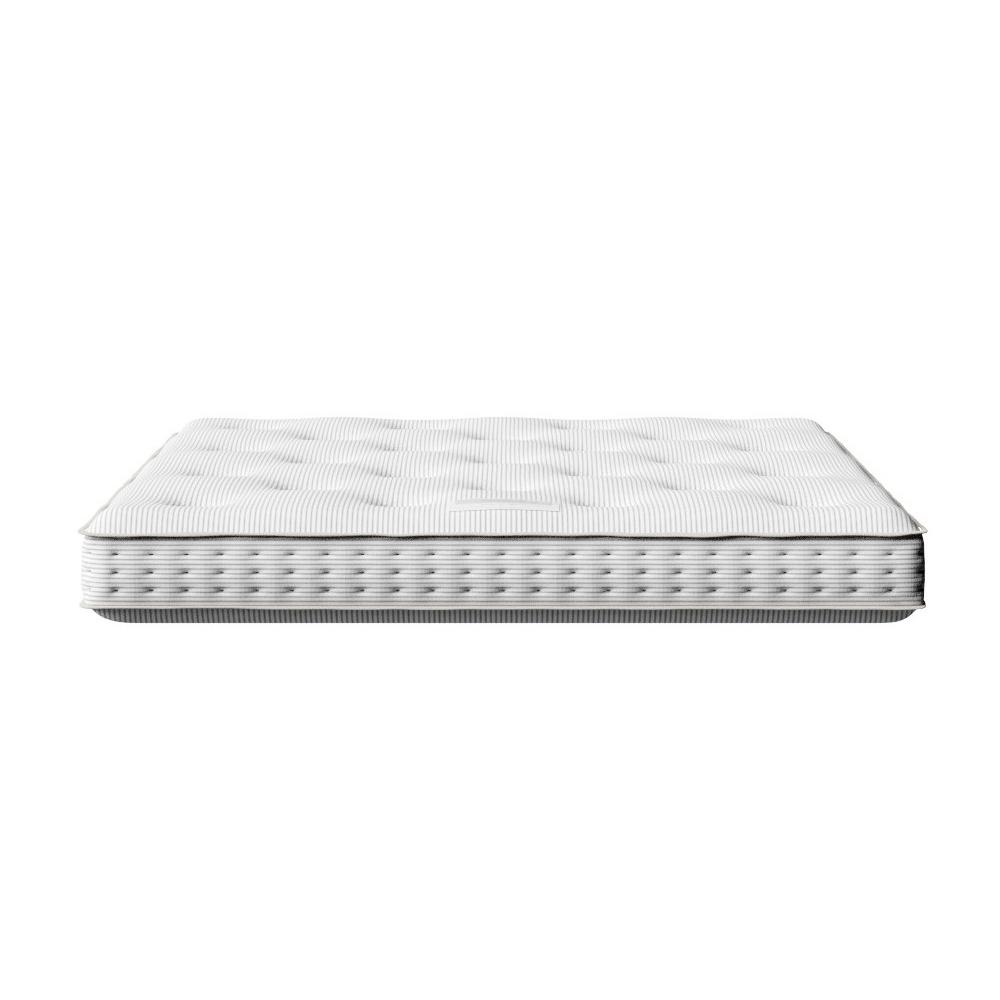 Our best selling pocket sprung mattresses
Our collection of handmade pocket sprung mattresses has been created in order to combine comfort, affordability, durability with a luxurious feeling. We provide a range of pocket spring mattresses so that you can choose the best pocket sprung mattress for yourself.
Our mattresses are hand tufted to prevent fillings and springs from moving over time. We designed this range keeping in mind the diverse budgets of our customers and have something for everyone.
The five mattresses in our Juno collection are:
Juno Original – Affordable comfort made with durable man made fibres
Juno Cotton – Engineered to utilise the best benefits of both natural and man made fibres
Juno Wool – All natural alternative to the Juno Cotton
Juno Silk – Includes more lush fibres than the Juno Wool and has a slightly more lush feel
Juno Cashmere – Made with horsehair and cashmere fibres this mattress has the best resilience and support
You can check out our collection of pocket sprung mattresses.
Related articles