This is part of our complete mattress buying guide – check out the full guide here.
Mattress buying has always been mired by marketing confusion and it's not getting any better. There are so many models which are just variations of each other, that it makes it really difficult for a customer to differentiate between them. Each minor variation is a small change in specifications whether it be foam density, fillings, spring count or some other metric like hardness, firmness, softness, gauge, tension, or some other synonym.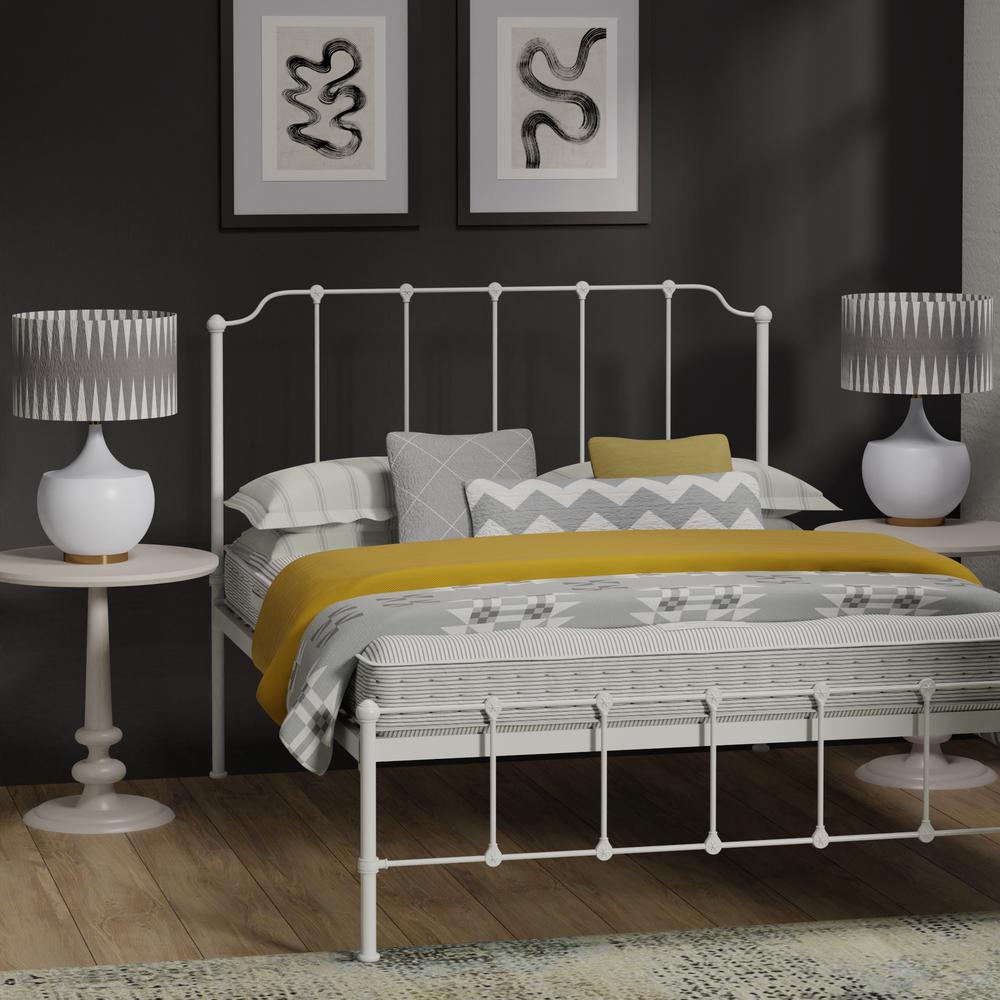 How do you choose a mattress with so much noise out there? Which mattress out of the many is the best? Are all of them good enough with the cheapest option being the best to go with? Or the one sold by the company with the best service?
What to look for in a mattress?
So how do you decide what a good mattress is? What should you be looking for in a mattress? Number of springs? Foam densities? Comfort layer thickness? No. The most important feature should be comfort. If you don't get a comfortable sleep on a mattress, you're not going to sleep well nothing else really matters in a mattress.
The second most important factor to look out for in a mattress is how well the mattress materials suit you. Are you allergic to any of the materials? Does the off gassing keep you awake at night? Lastly, you should make sure that the mattress you buy ticks certain values, like is renewability important. Would you like all natural?
One important point that isn't brought up often when choosing a mattress is the fact that a mattress is quite individual. You have to find a mattress that suits you. As a mattress manufacturer we can give you guidance which should help you get started but you have to figure out what you're used to and what your body needs. We're all different. It's more important to find a mattress that matches your comfort preference.
What specifications should I look for?
It helps to look at the basics specification, like whether to buy a pocket sprung mattress or coiled springs mattress. What the spring count of a mattress should be? What types of fillings are in a mattress? However, it is really easy to get either confused and overwhelmed if you go down the rabbit hole of specifications. It's best not to buy a mattress only on specifications as they tend to be curated more for marketing purposes than for function.
How do I choose the right type of mattress?
There are a lot of different types of mattresses which all have their own unique characteristics and pros and cons. We list the pros and cons for each mattress here to make it easier for you to understand what the differences are for each type of mattress so that it's easier to narrow down to a type of mattress that suits your budget and comfort requirements.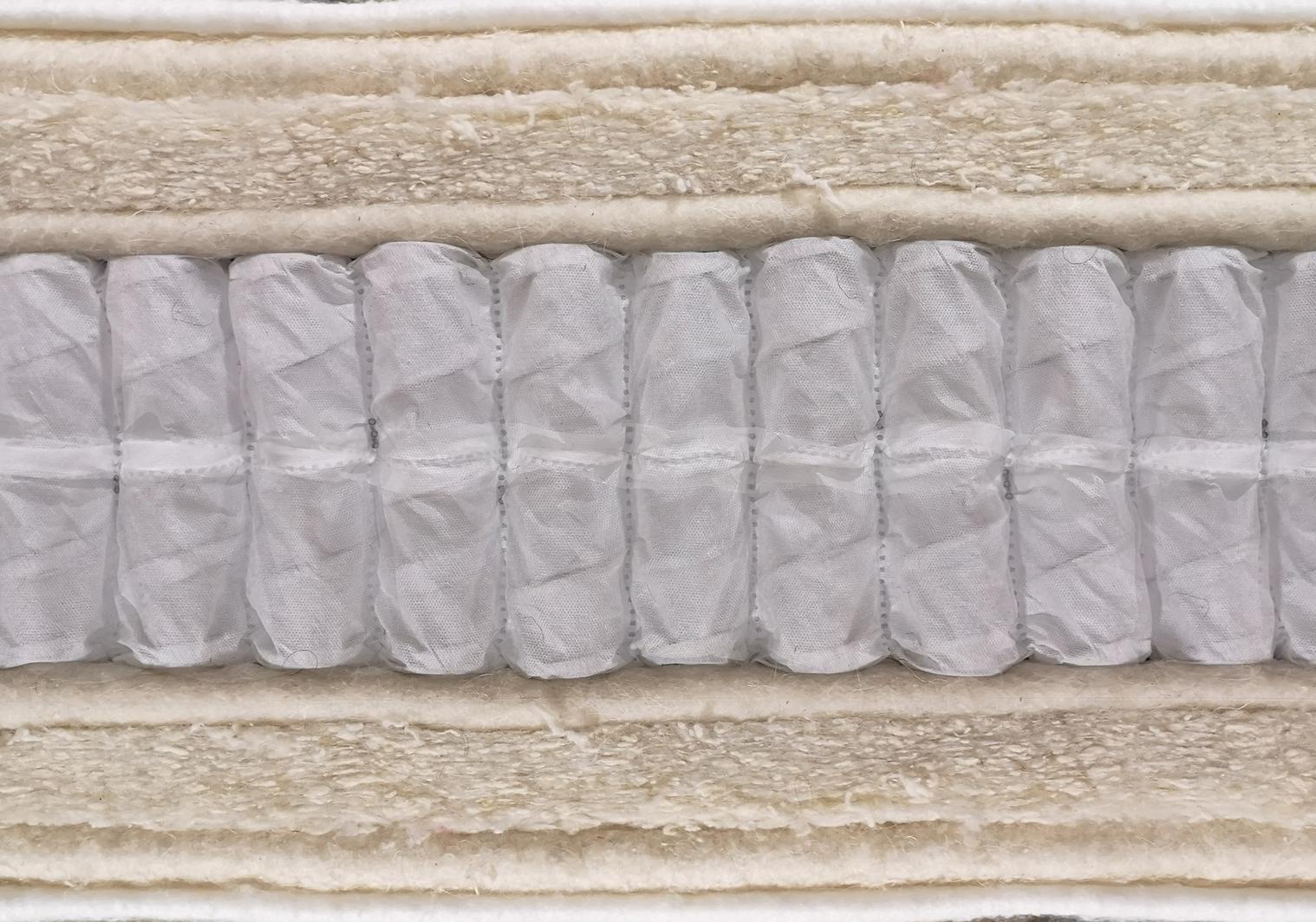 The internals of a pocket sprung mattress
Open coil mattresses are usually the cheapest mattress and are only recommended if you have a very tight budget. We do not usually recommend them in most situations.
Pocket sprung mattresses are our recommended mattress to buy. You can buy a pocket sprung mattress up to £50,000 but realistically their budget should range from £250 to £5000 depending on their specification. The comfort fillings used can be man made foams and fibres or more expensive fully natural fillings.PROS

Can be designed for comfort at an affordable budget
Can be made with all natural materials
Most materials can be recycled
Bouncy feel
No harsh chemical odour
Good air circulation

CONS

Heavy and bulky makes for more difficult delivery

Foam mattresses are made with man made materials of various densities and types of foam. Some use specialty foams that can be gel infused, have memory properties, or more natural latex.PROS

Lighter and roll packed for easier delivery
Less likely to attract mites etc. than natural materials

CONS

Poor breath-ability can result in the sleeper becoming very warm
Chemical smells can be off putting
Not easily recycled
Less bounce
How many springs should a mattress have?
In our 20 year experience, we've found there is very little difference in support when spring counts go over the 1500 mark. The fillings over the springs "dampen" the effect of more springs. Be wary of very high spring counts, as manufacturers will often just layer springs on top of each other to boost the numbers, without making your mattress more comfortable. However, if you find a mattress with a high spring count and you find it comfortable we certainly wouldn't recommend against buying the mattress for yourself.
Are mattresses with natural materials better?
We certainly see the benefit of natural materials in mattresses. Not only are natural materials usually more sustainable, mattresses made using them also tend to be more comfortable, last longer and have no harmful chemicals in them.
In all of our natural mattresses, we use a blend of wool and cotton which is fire resistant, a natural temperature regulator and offers excellent support and resilience to a mattress. Moving up through our range we also incorporate more luxurious materials such as silk, cashmere, mamboo and horse hair which all have their own unique properties and work well in combination with each other to provide aid with deep sleep and recuoperation.
Returns and Warranties
It's always nice to know that if you do make the wrong decision, you have a way to either return or replace your mattress. Always factor in a retailers mattress trial period. 30 nights is usually reasonable to figure out if you have a mattress which suits you, but look out for retailers who do 100 nights. This allows you to sleep on it and get a proper understanding of whether it's right for you. Many will think that going into a shop and lying on one for five minutes fully clothed is enough; it simply isn't.
Additionally, warranties for mattresses can be difficult to understand. Often they'll only have the full warranty on certain parts. You should try and find a mattress which covers the springs and the fillings for as long as possible.
What firmness mattress should I get?
The firmness or tension of a mattress is a measure of how it responds to your body when laying on the mattress. A firm mattress should not be hard, like many believe, and a soft mattress shouldn't be mushy. Both should have the correct amount of support for your body and should cushion your body to prevent pressure points.
Firmness does not translate between mattress manufacturers so it is very hard to compare within brands, sometimes even within ranges of the same brand. But it is important to understand what to expect from a mattress when finding the right mattress for you.
We usually recommend a medium firmness mattress, which is a good balance. It provides good support and comfort and is the best firmness mattress for most sleepers. For those weighing over 16 stone (100 kg), we would recommend a firm mattress tension for the added support.
| Weight | Description |
| --- | --- |
| < 100 kgs | Medium or Soft mattress |
| > 100 kgs | Firmer mattress |
A mattress which is too hard usually results in an uncomfortable nights rest and aches/pains. You should be able to tell if a mattress is too hard by a pressure point in the lower back and shoulders. A mattress which is too soft will feel like you're sleeping in a hammock, and your muscles will feel sore through trying to compensate for the lack of support.
If you're use to sleeping on a firmer mattress then in all likelihood you'd prefer firmer mattresses. Similarly, if you're used to softer mattresses it is usually wise to go for a softer mattress.
Firm mattresses are good for heavier people or back sleepers. It's not always the case that the firmer a mattress is the better for a bad back or back pain.
Should your mattress cause you persistent back pain, it is advisable to consult your GP to ascertain any underlying causes.
How to decide which mattress size to choose?
We have a mattress guide for UK mattress sizes. Our advice to most customers is to get the biggest mattress that you can comfortably fit in the room. The most popular sizes in the UK are the king sized mattress (5'0") and the double mattress (4'6″) if there are two sleepers. For children or smaller rooms we recommend either a single mattress (3'0″) or small double mattress (4'0″).
How do I know I've chosen the right mattress?
When you've made a decision what specification mattress you like and before making a final decision on a mattress, we recommend doing the following.
If you're buying online, make sure the company you're buying from has a generous sleep trial.
If you are uncomfortable buying online, go to a shop and try a number of mattresses. You should lie on a mattress for at least 10 minutes but 15-20 minutes is better. Still make sure the mattress can be easily returned though.
Read the warranties and understand what is covered. A lot of warranties only cover springs and some only cover a certain percentage of the cost of replacing your mattress.
How much should my mattress cost?
In the UK, aim to spend between £500-£3000 for a king size mattress. Mattress prices range from £250-£50,000. Cheaper mattresses usually don't last as long and if there's an issue it's harder to get warranties honoured. Above a certain price point there's very little you can do in terms of materials, so the high cost usually comes from the way the mattress is put together; often by hand using traditional techniques which are time consuming.
For example our range is from £449 to £949 for a mattress and we differentiate our products with the materials we use in each mattress. Our cheapest mattress is made with man made materials and our most expensive mattress is made with the most premium natural materials.
| Model | Description | Price (King 5'0″) |
| --- | --- | --- |
| Juno Original | Comfortable, man made fillings | £449 |
| Juno Cotton | Comfortable with man made and natural fillings | £549 |
| Juno Wool | Comfortable with all natural fillings | £749 |
| Juno Silk | More luxurious fillings with more comfort | £899 |
| Juno Cashmere | The best in natural comfort | £1099 |
Mattress delivery
When you get delivery of your new mattress thouroughly inspect it for marks, dirt or any other defects. Warranties and trials often have clauses that a mattress need to be in a perfect condition to be claimed. Notify customer services immediately if you see any issues or defects with the mattress.
Mattress recommendations
It's really important to shop around with mattresses. We can recommend looking at our range of pocket sprung mattresses. Our mattresses are differentiated by the materials used, from a mattress with only synthetic fillings to mattresses with all natural mattresses. We have one of the most affordable horse hair mattresses which are just as comfortable as the most expensive horse hair mattresses.
Related articles