---
Bedsteads, or bed frames, are the platform onto which you place a base and/or mattress. Usually a bedstead includes a headend, footend and something to connect them. It is possible to use a number of systems to place the mattress onto the bed frame. Often some sort of slat system is used, whether it be sprung slats or flat slats. All bed frames that we sell include a sprung slatted base system.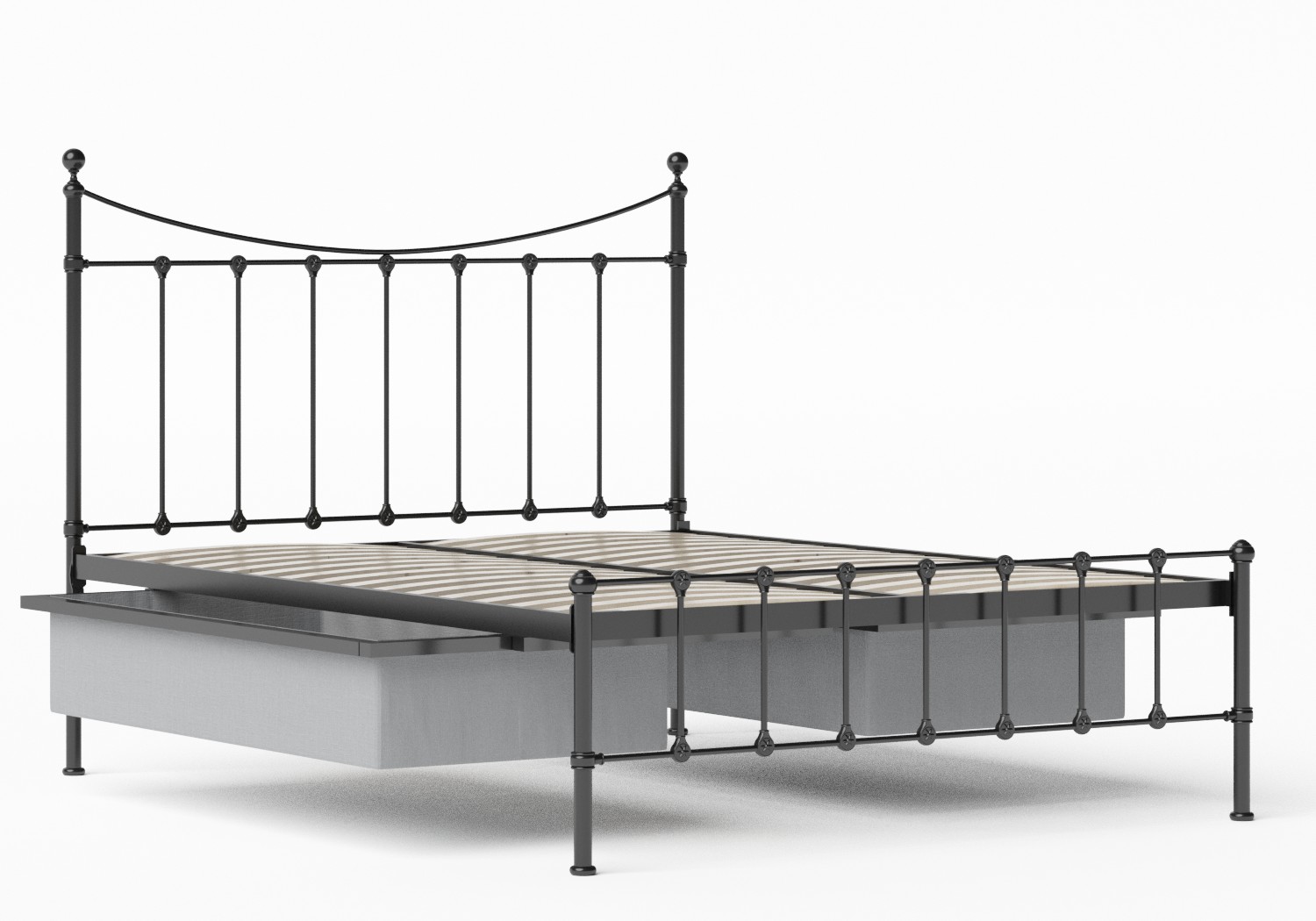 bed: Olivia iron bedstead with slatted frame
What is the difference between a divan and a bedstead?
The alternative to a bedstead is a divan, also called a box spring in some countries. The divan may be a fully sprung divan which has a system of springs to give additional support to the mattress. You could also get a basic platform divan which only has a rigid flat surface onto which you can place your mattress. It is possible to add a shallow box frame, whether sprung or not, to some of our bedsteads.
How is a bedstead better than a divan?
We think bed frames have advantages to themover a divan that make them a better option in certainfar more suitable in certain circumstances.
1. Bed frames provide more variety
Whether you're looking to build a room around a centerpiece or looking for a bed to blend into a specific look, there are a wide range of traditional and contemporary bedstead designs available. Divans are available in a more restricted range of designs and materials, even though you can attach headboards to them.
Bedsteads can also be made in a variety of materials.
2. Bed frames are easy to maintain
Wooden and metal bedsteads in particular are very easy to keep clean. They don't stain so you're not worried about spills, as tend to happen. Cleaning bed frames usually only involves the use of a damp cloth and or even just a duster wiping the whole frame downto wipe the frame down.
Divans on the other hand are usually fabric and any spill would usually mean trying to clean things up with bleach or other productsspecialist cleaning products, despite which you can usually see the stain.. They are also prone to stains, which won't budge no matter how hard you try.
Dust and odours don't get absorbed into bed frames. This is reduces the amount of cleaning you have to do and is good for those of us who have to live with allergies.
3. Bed frames make keeping your bedroom clean and dust free easy
In all bedrooms, dust and lint builds up over time, particularly under divan bases. Bedsteads tend to have sufficient clearance to allow a vacuum to easily get under the base and keep your room fresh, clean, and dust free.
4. Bed frames are easier to get up tight stairways
For those old world cottages, or tight renovations, a divan base can be anything from extremely difficult to physically impossible to get up the stairs and into a room. With a bedstead, the items come flat packed; allowing everything to be placed in the room first, and then assembled.
5. Sprung slat system for added support in bedsteads
Rather than a flat base, most bedsteads include a sprung slat system, where the slats are curved upwards. This provides an added layer of comfort and support to your sleep as the slats adjust to your weight. They are also easier on your mattress, as they absorb any shock and pressure on your mattress as you get into bed or move at night.
Tips when buying a bedstead
1. Avoid centre support legs
Avoid bedsteads with centre support legs under the base. Essentially, if a base requires them it is a good indication that the materials used aren't strong enough. These legs will only take the strain for so long, and the base will buckle over time (often, quite a short time).
2. Look for mattress compatibility
Look for beds with bases where the gap between each slat is no more than 7cm. Many mattress manufacturers require this for a warranty to remain valid, as it ensures the mattress and its contents are well supported.
3. Make sure they adhere to standards
Make sure the bed is going to be sturdy and hold your weight. Check to see if the bed has passed any strength tests to gain BS1725 certification by an appropriate third party like FIRA. Also check to ensure there is a decent warranty on the bedstead (5 years).
Related articles