---
Buying a bed is a big decision and it takes time and effort to find the right one!
From divans to slatted, upholstered to metal. You're faced with endless choices — so how do you pick the best option?
If you're looking for advice, you've come to the right place! We've put this bed guide together to explore the different kinds of bed frames available, with tips on how to choose a bed that suits you.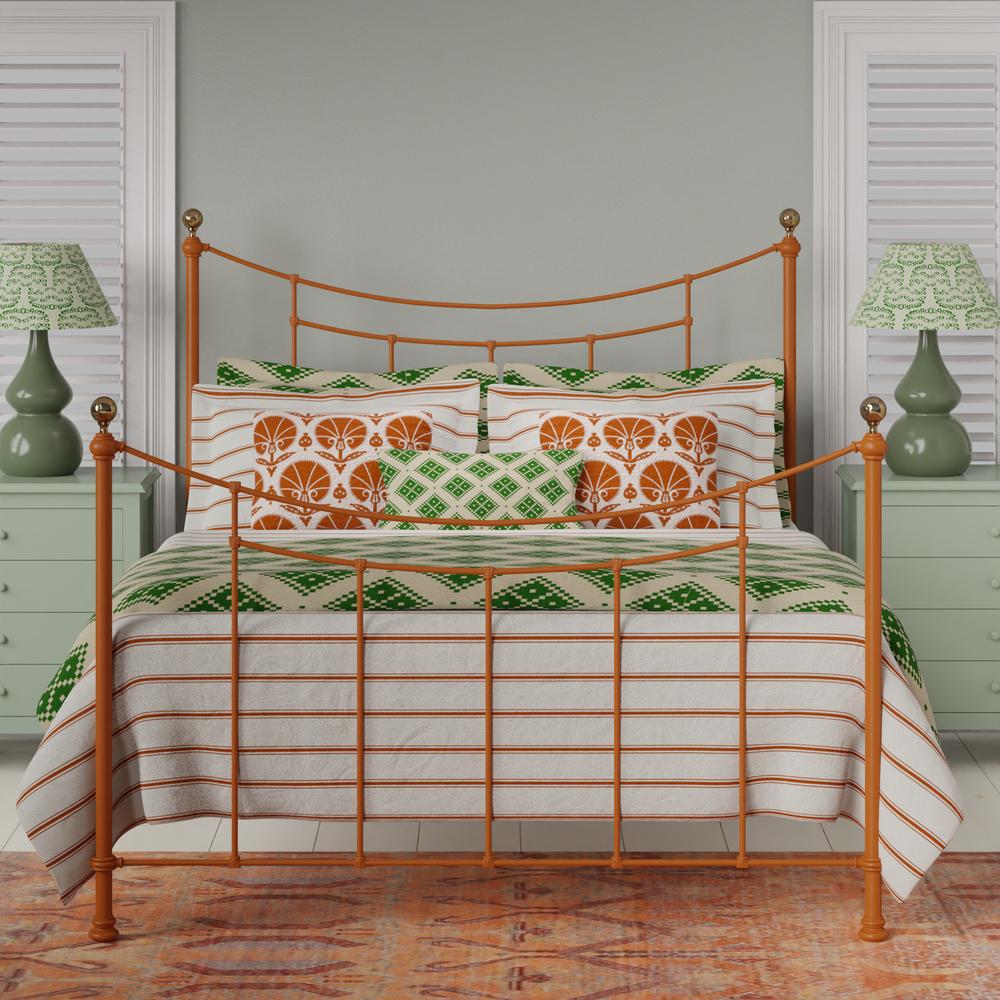 What Size Bed Should I Get?
You can find bed frames in several sizes including single beds, small double beds, double beds, king beds, and super king beds.
A double is the most popular option for adults living alone and couples, although many couples prefer kings or super-kings because they provide extra sleeping space.
In our experience, people are usually more disappointed if they buy a bed frame that is too small rather than one that is too large, so we always recommend going with the biggest option for your room.
TIP: As a general rule, you should make sure that there is at least 2 feet of space around all sides of the bed so that you can move around your bedroom easily.
Check out our blog What size bed should I get? for more info.
What is a Bedstead?
A bedstead, also known as a bed frame, is the platform on which you place a base and/or mattress. A typical bedstead includes a headend, footend and something to connect them, usually slats made from wood or metal.
In our opinion, a bedstead is better than a divan bed base for the following reasons:
There is a wide variety of bed frames available in various sizes and designs.
Bed frames often come flat-packed which means you can easily put them in your room of choice before assembling them.
Most bed frames feature a sprung slat system which provides an added layer of comfort and support while you sleep.
Bed frames are easy to maintain and keep clean.
Check out our blog What is a bedstead or bed frame? For more info.
What is an upholstered bed?
Do you prefer the look and feel of an upholstered bed frame ?
Upholstered beds have become extremely popular thanks to their style and comfort. A plush upholstered bed can make a beautiful statement in your bedroom and add a sense of warmth and luxury to your sleeping environment.
If you're considering buying an upholstered bed frame, here are a few things you should know:
Bed upholstery is the process of adding cushioning or padding to a bed frame.
Various types of materials can be used to create an upholstered bed frame including velvet, leather, cotton and linen.
Pros of upholstered bed frames: versatile, attractive, comfortable, and durable.
Cons of upholstered bed frames: require regular cleaning, attract pet hair, and take up more floor space.
Check out our blog What is an Upholstered Bed? for more info.
What are Bed Frame Slats?
Slats are long planks that sit horizontally inside the width of a bed frame to support your mattress and keep it off the ground. The purpose of bed slats is to support your mattress and keep your body weight evenly distributed while you sleep.
If you decide to opt for a slatted bed base, you'll need to choose between sprung slats or rigid slats. So what's the difference?
Solid slats are straight and fixed to the bed frame. They will give your mattress a firmer feel and tend to be cheaper than sprung slats.
Sprung slats are curved and flexible. They give your mattress a "springier" feel which can increase comfort and support.
Check out our blog What are Bed Frame Slats? for more info.
Are Metal Beds Strong?
Metal bed frames have always been popular thanks to their style and versatility. There is a huge variety of metal bed frames available — from sleek and modern to gothic and extravagant.
If you're considering buying a metal bed frame, you might be wondering: Are metal beds sturdy enough? The good news is that a well-made metal bed frame can withstand continuous use and last a lifetime if it is well looked after.
Our strong metal bed frames are made from heavy gauge materials that are sturdy enough to withstand regular use without needing a fifth centre support leg. This means you benefit from increased durability and don't have to worry about squeaking noises — more on this below.
Check out our blog Are Metal Bed Frames Strong? for more info.
Do Metal Beds Squeak?
A metal bed frame is a great option for most people but you may be asking yourself: Do metal beds squeak?
We all know how annoying those squeaking sounds can be when you turn or just lounge on your bed. The good news is that a quality metal bed shouldn't make any squeaking noises.
So why do metal beds squeak? This is usually because they have been built to a lesser standard or the bolts haven't been tightened fully during assembly. Beds which have support legs at the centre of their side rails or even in the middle of the bed tend to start squeaking over time.
You can have confidence knowing that we design & manufacture our metal beds so that there is minimal chance of squeaking. We also offer a 30-day no-questions return policy for extra peace of mind.
Check out our blog Do Metal Beds Squeak? For more info.
How to choose a mattress?
Choosing a bed frame isn't the only important decision you'll make when buying a bed, you also need to consider what mattress is best for you.
There are lots of different mattress types — from pocket sprung to open coil and memory foam to hybrid — so it's easy to become overwhelmed!
Here are 5 things to ask yourself when choosing a mattress:
How much do you want to spend a mattress? – You should expect to spend between £100 and £500 on a budget mattress, £500 and £1000 on a mid-range mattress, and £1000 and £2000 on a luxury mattress.
Do you prefer pocket sprung or memory foam? – These two popular mattress types have various pros and cons. For instance, memory foam is long-lasting and comfortable while pocket-sprung mattresses offer better support and air circulation.
Do you suffer from back pain? – Make sure you choose a quality mattress that offers the correct level of support. An orthopaedic mattress may be a good option if you suffer from back pain.
How firm do you want your mattress to be? – Mattress firmness typically ranges from soft or extra soft to firm or extra firm. Choose a mattress that suits your individual needs and personal preferences.
Does the mattress come with a warranty? – We recommend buying a bed from a reputable retailer that offers a generous mattress warranty.
Check out Select Your Best Mattress: Mattress Buying Guide if you want help narrowing down your choices and selecting the best mattress for you.
Final thoughts
Buying a bed can be difficult when you're faced with so many options. The bed frame and mattress you choose can have a big impact on your sleep quality and overall health, so picking the right one is crucial!
We hope this bed buying guide has given you useful tips on how to choose a bed that's right for you!
Visit our website to browse our collection of high-quality bed frames and pocket-sprung mattresses, or get in touch if you would like help buying a bed. We're always available to help!
Related articles