It's one thing to daydream about every beautiful bedroom you see in magazines and advertisements. But committing to memory or jotting down all things wonderful for your bedroom list directly may spell the classic case of too many butlers spoiling the broth.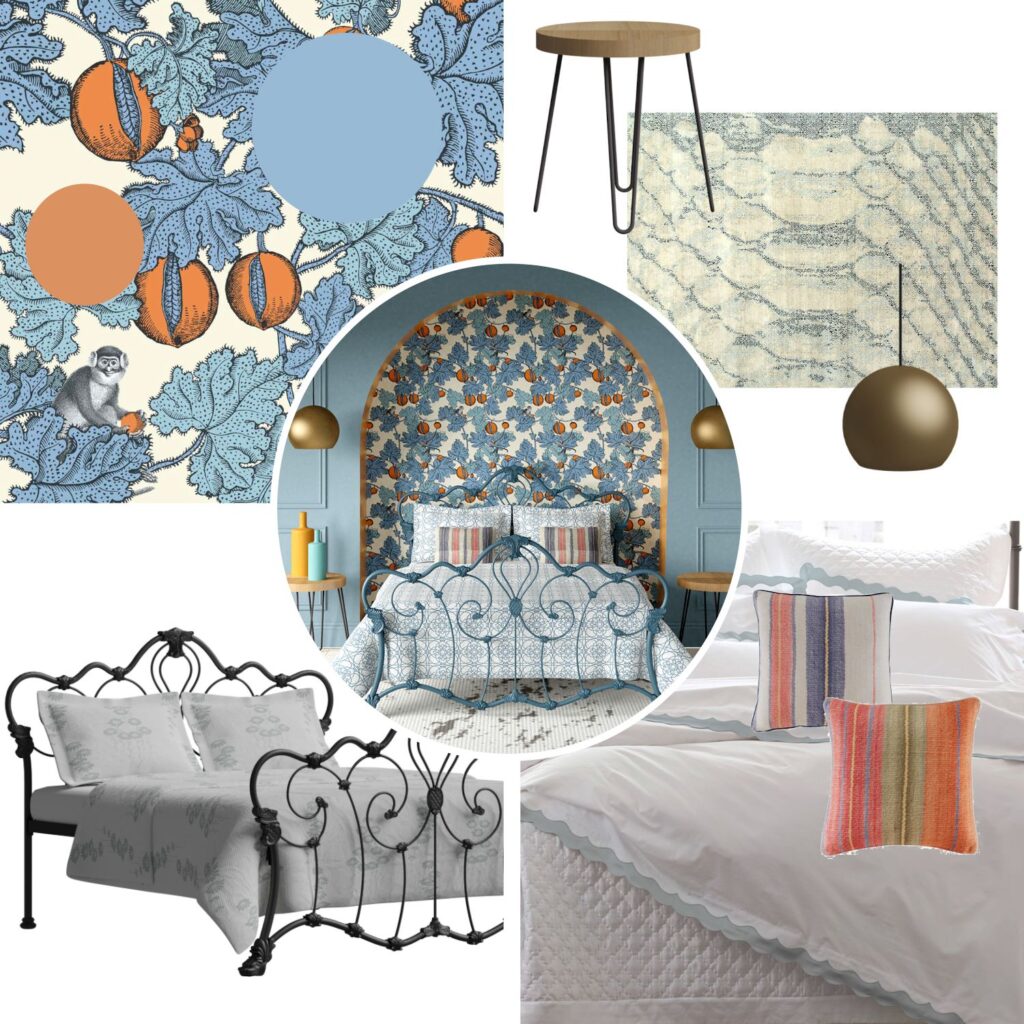 Wallpaper: Frutto Proibito by Cole and Son
Your bedroom is your haven – that sacred place you call your own in mind, body and spirit. Whether you intend for a maximalist or minimalist space, you want to harmonise it while retaining your own signature. It is easy to shop too much or too little when you're putting together a bedroom – whether in a new house or while redecorating. A great way to organise ideas – whether on trend or classic – into your own signature bedroom is to use moodboards. They come in handy to mould your creativity and shape your vision for the perfect space for your repose.
Here's a lowdown on how you can set out to create moodboards lest your bedroom should run the risk of feeling disconnected, a mere show of the money you spend, or worse still, end up wasting!
What's in a moodboard?
A moodboard is a collection of images, patterns, textures, colours, swatches and products that come to your rescue when you set out to decorate your bedroom. The sheer possibilities and inspiration on what you can do with your bedroom are infinite. So much to choose from and everything looks appealing. But imagine the wrong products and accessories coming together and wreaking havoc. Moodboards are a sensible way to channel your creative energy and create a picture of the bedroom you'll love retiring to night after night and even sleep in a little longer some of the mornings!
Why make a moodboard?
Moodboards aren't just a time-killing activity for boring lunch breaks or Sunday afternoon siestas. They are a vitally important part of any design process, especially so in such a visual medium like interior design.
Moodboards help communicate ideas
Unless you are going to be working on decorating your bedroom entirely on your own from scratch (which is virtually impossible unless you're a contractor yourself), communication is going to be key. Moodboards make communicating with others about your ideas easy.
Moodboards give creative direction
But more importantly, moodboards help you truly see your ideas. "Royal" to your partner may mean red silk, and purple violet to you. It helps to put it in visual form in your moodboard so you can both thrash it out. Even before you enter the first hardware store or sit together to order material online, your moodboard will serve as a place to funnel ideas and arrive at consensus on the space you both will treat sacred and yours alone.
Whether you're a professional or amateur, moodboards come in handy to collect all your ideas in one place. What's more, if you're going to be sharing your space with someone else, they serve as a base to begin discussions on what you want and what they might like or want to add. Moreover, moodboards are also useful to communicate with contractors and shop vendors when you know what you want but don't know the market jargon. After all, a picture is worth a thousand words!
Inspiration & research for your moodboard
When an interior designer gets a contract, she or he will spend some time conducting research. This research includes the client's temperament, personality, likes and dislikes, what they're seeking from the space, the climate, dimensions of the space, materials and products available and applicable, etc. You are your own client, so you can directly jump to the colours that appeal to you, the fabrics, their textures, materials, and products available to you.
A great way to begin looking for ideas for your bedroom is to create sub-folders as you find various things. If, for example, the central piece of your bedroom is a charming mid-century cast iron bed, then you can begin with looking for "cast iron bed styling". As you sift through the various platforms we suggested, you will begin to find inspiration to put in other objects in complementing colours, patterns, and styles. Here's a quick list of keywords you could use to start your moodboard:
Colours: colour palette, paint samples, colour schemes
Fabrics & patterns: fabrics for linens, fabrics for throws, bedroom carpet ideas, bedroom rugs, wallpaper design, wallpaper patterns, carpet patterns, bedroom decal patterns, bedroom wall ideas
Texture: this one is oft neglected and best collected – look for samples of wood, stone, tiles, glass, metal, etc. for furniture, flooring, fittings and accessories. Also, look for ideas to combine textures. After all, the bedroom of your dreams doesn't have to be a nightmare for your bank!
Products: side tables, bed frames, dressers, consoles, mirrors, lamps, chest of drawers, etc.
Lifestyle: Minimal, plush, gypsy, bohemian, classical, mid-century, plant-themed, calming, casual, kids, vintage, farmhouse, country, sporty, sexy, luxurious, natural materials, understated, an occupation (garden, astronomy, literature, fashion, etc.) among others.
Mood shots: Inspiration is everywhere. Don't just look for direct references, observe what really appeals to you – nature, art, architecture, music, clothes, typography, stationery, cultures, history, coffee table books, and more.
Where to create moodboards?
Inspiration isn't just an anytime occurrence, it's also an anywhere occurrence. While social media platforms let you save posts in private virtual folders, bookmark blogs, online catalogues and magazines too.
Pinterest & Instagram
On your browser bookmarks folder
Offline, in a separate images folder on your computer
Separate folder on your phone gallery
Physical folder of picture cut-outs from magazines and newspapers
A folder with punched plastic envelopes to preserve all the material samples
How to organise your moodboard?
There's no point trying to be all neat and KonMari about keeping moodboards. Let those moods really swing and don't worry about injecting structure at this stage. That said, you might want to definitely include some of these:
The Star: Zero in on a focal point for your bedroom. This could be a colour, a theme, a piece of existing furniture, or a statement wall. Heck, it could even be a large plant, an art or heirloom piece, or a skylight.
Colour: A good place to start your moodboard is picking a colour palette – it could be a single colour around which some secondary colours add character, or a varied proportion.
Textures: Fabrics and materials come a close second. The dimensions of your space and the mood you want to induce into your bedroom will govern the colours & textures. Look for reflective surfaces and shares of pastel or white if your room is really small. You can break up the expanse of a large room by looking for ideas on rough or matte materials
Include inspiration visuals about your lifestyle
Perfection is not so much the point of a moodboard as gathering ideas is. It is meant to constantly evolve and expand.
Have a bedroom decorating checklist for essentials or must-haves and look for styling ideas.
Don't try to put together a moodboard all at once. Take some time, from a few days to a few weeks or even two or three months.
Having said that, do set a deadline. At some point, you'll want an actual bedroom!
It's a visual brainstorming session, so don't limit yourself. You can eliminate, combine, mix, and match items in your moodboard and have your dream bedroom come together seamlessly.
Related articles