Properly made and assembled metal beds should not squeak. If you buy a bed frame from a reputed retailer or manufacturer squeaking is not something you should worry about. If the bed does squeak right out of the box or starts to squeak within a year of buying the bed, then you should definitely consider getting in touch with the retailer you bought your bed from to see if they can help you fix your bed.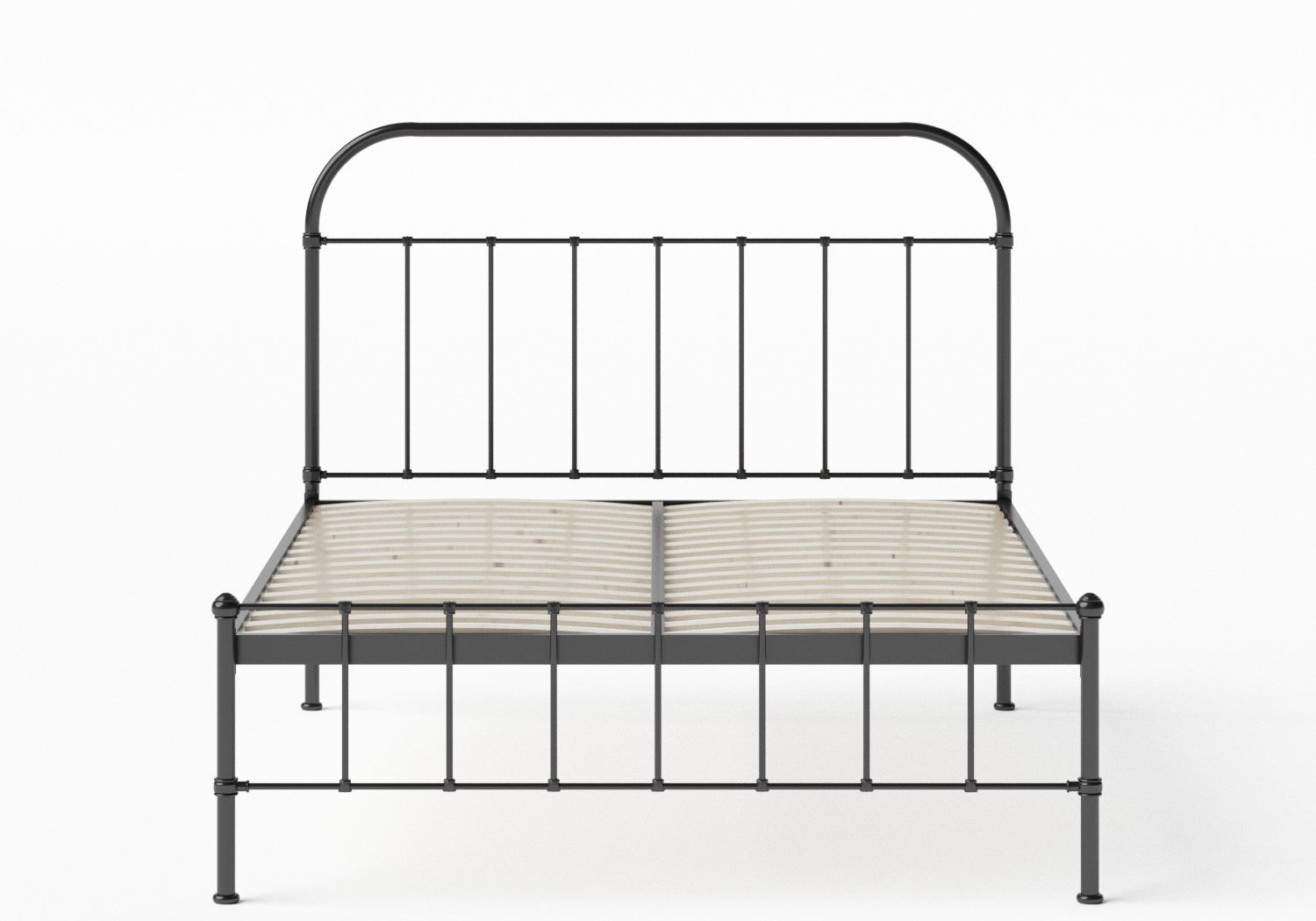 bed: Solomon iron bed with slatted frame
Why do beds squeak?
Iron beds, or for that matter any type of bed, squeak when there is some movement between joints. The metal on metal rubbing is what usually causes the squeaking. This could happen because your bed hasn't been tightened fully during assembly. There could also be a defect in the bed which prevents a bolt from being tightened or for there to be some slack in the bed. We design & manufacture our metal beds so that there is minimal chance of squeaking.
Beds which are are built to a lesser standard are usually less rigid. Thich means there is more chances of movement in the frame which translated to noise. We've had a number of customers who loved the design aesthetic of a cast iron bed but we're always afraid of the noise because they'd only ever used a lower quality bed frame from a generic manufacturer. Once they came down to our showroom they could see the quality of our beds and with the satisfaction of our 30 day no questions return policy bought without any doubt. We've yet to have one of those customers come back to return their bed.
Beds which have support legs at the centre of their side rails or even in the middle of the bed tend to start squeaking over time. The reason they need these legs is because their rails are not designed to be strong enough as it's more expensive to make and ship. But in our experience these legs do tend to wear out after some time which leads to a frame which is stressed to beyond which it is designed. This leads to a frame which can move around and it starts becoming noisy.
How to stop a bed from squeaking or making noise?
If you find your iron beds are squeaking then we have some recommended fixes for you.
Loosen all the bolts on your bed frame. After all the bolts are loose, start tightening the bolts up. If you have the beds assembly instructions try tighten the bolts as per the order of the instructions.
Add a little oil between all joints of your bed frame. For our beds this usually means between the headboard/footboard and the side rails.
If your bed has a centre support (our beds do not) then check that the supports aren't loose or moving around. If this is the case then you'll have to retighten and make sure they are in the correct place. If it is not possible because they've broken or for any other reason then you might have to get in touch with the retailer where you bought your bed. As a last resort you can DIY a solution to hold the rails of your bed in place.
For The Original Bed Co. metal beds, the head end leg extensions may have come loose. It's best take them out and reseat them. If the noise continues then take them out again, put some tape around the unpainted portion and reseat the legs. Either plumbers or electrical is recomended but any tape will work.
If you have a slatted frame, then delamination of your slats can cause some noise. Move each slat slightly with your hand and make sure there is no noise. If there is then that particular slat will have to be changed.
If none of these recommendations help then it's best to get in touch with the retailer who you bought the bed from. They should be able to help you if it's within the warranty period. We have a generous 5 year warranty for these kinds of issues, but even if you're past your warranty period get in touch with us (sales@obc-uk.net) and we'll try to help.
Related articles