Most people spend lots of time considering what size mattress they want or how firm they want it to be. But have you ever given thought to the material inside your mattress?
The material in your mattress will impact your comfort at night and could even cause allergic reactions, so choosing the right option is key!
Cotton has been used in mattresses since the 18th century because of its resilience, availability, and softness - and it's remained one of the most popular mattress materials today.
This blog will look at the pros and cons of cotton mattresses and the things you should consider before buying one.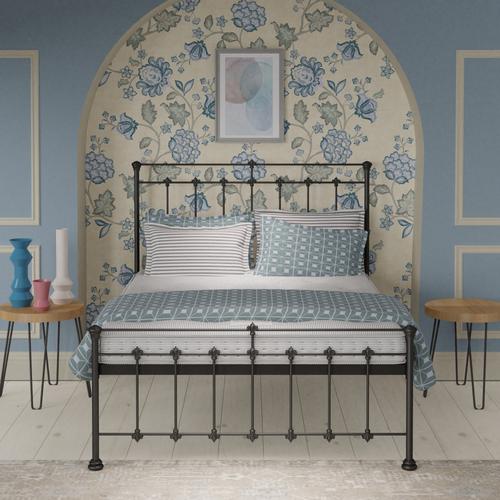 Edwardian bed with Juno Cotton mattress
Pros and Cons of Cotton Mattresses
Pros of a Cotton-Filled Mattress
Comfortable: One of the biggest benefits of cotton is that it's comfortable and soft to the touch. It remains one of the most comfortable mattress materials available today.
Natural: Cotton is a natural fibre that is also hypoallergenic. An organic cotton mattress is a healthy choice that may reduce allergies.
Moisture absorption:Cotton is a breathable material that absorbs moisture. This helps sleepers stay dry and comfortable during the night.
Good air ciculation: A cotton mattress also offers good ventilation and air circulation, making it especially good in warm climates.
Durable: Cotton is an extremely durable and long-lasting material. You could expect a good quality cotton mattress to last between 10-15 years.
Cons of a Cotton-Filled Mattress
Dust mites: Cotton mattresses can be affected by dust mites and bed bugs. This may harm your quality of sleep and lead to allergies and other health conditions. This can be prevented by keeping your mattress clean. Look at our blog post on how to clean your mattress for more information on this.
Fire hazard: Cotton is a natural material that can catch fire easily. This is why even our base cotton mattress has some wool to improve fire resistance.
Pressure points: Improperly designed cotton mattresses can cause pressure point pains in some people and may not provide adequate support while you sleep.
Sagging: Cottons short fibre length makes cotton mattresses more prone to sagging and flattening over time. The mattress may become hard due to ageing.
Types of Cotton Mattresses
Cotton is one of the most widely used mattress materials today. You can find cotton mattresses in a huge variety of sizes, designs, and firmness levels.
Check out one of our most popular cotton mattresses…
Juno Cotton Pocket Sprung Mattresses
The Juno Cotton is a pocket-sprung mattress with 1,500 individual cased springs. The mattress features top comfort layers made of cotton and wool to ensure optimal comfort, temperature regulation, and fire resistance.
A cotton and wool mattress is a great option if you want to reduce the fire risk associated with cotton and maximise comfort while you sleep. Our Juno Cotton mattress is handmade in the UK and provides good support with medium tension to suit most sleepers.
TIP: We're committed to helping you find the best mattress, which is why we offer a 100 nights comfort trial. If you have any doubts about the comfort of your mattress within this timeframe, we'll take it back no questions asked!
Buying a Cotton Mattress
You should consider the following when buying a cotton mattress:
Mattress size: Choose a mattress size that suits your needs. For instance, you may find a king-size mattress more comfortable if you share a bed with your partner or have children sleeping in the bed with you.
Budget: Make sure you have a budget in mind before you start shopping for a new mattress. We would always recommend going for the best mattress you can afford.
Mattress firmness: Choose a cotton mattress that suits your body weight and personal preferences. Do you prefer a soft or firm sleeping surface?
Mattress warranty: Buy your mattress from a reputable company that offers a generous warranty e.g. 5 years. If the company offers a sleep trial so you can test your new mattress, even better!
Suggested reading: What is a Mattress Warranty & What Does It Cover?
How Much Does a Cotton Mattress Cost?
There is a wide variety of cotton mattresses available, from budget options to luxury mattresses. Cotton mattress cost will be influenced by several factors such as the mattress size, the materials used, and the country of manufacture.
To give you an idea, you can expect to spend roughly:
£200 to £600 on a budget mattress
£500 to £1000 on a mid-range mattress
£1,000 to £2,000+ on a luxury mattress
Remember that the average person spends roughly a third of their life sleeping - so you must have a comfortable and supportive bed. Buying a good quality mattress is a great investment that will improve your health and well-being in the long run.
Cotton Mattress Alternatives
There are several other natural mattress materials besides cotton. This includes:
Silk: A silk mattress is a luxury option that will give you a smooth, silky feeling when you lie down. It's an ideal choice if you want to truly pamper yourself and enjoy an indulgent night's sleep.
Wool: A wool mattress is comfortable, fire-resistant, and eco-friendly. Wool contains no toxic chemicals and is ideal for allergy sufferers.
Cashmere: A cashmere mattress is the most luxurious option available. Cashmere combines the softness of silk with the resilience of wool.
TIP: We will explore the pros and cons of each of these mattress materials in future blogs, so keep a lookout for our next posts!
Final Thoughts
Cotton is one of the most popular mattress materials today thanks to its comfort, durability, and availability. There are some pros and cons of cotton mattresses to consider but a cotton-filled mattress remains a great option for most people.
Check out our extensive range of high-quality bed frames to go with your new cotton mattress. If you would like help choosing the best mattress, get in touch with our friendly team. We're always happy to answer any questions!
Related articles