This is part of our complete mattress buying guide – check out the full guide here.
There are several things to keep in mind when choosing a mattress, including mattress firmness, size, and type. If you are buying a new mattress, or plan to buy one in the future, it's also important that you understand mattress warranties.
If you're looking for advice, you've come to the right place! We've put this blog together to tell you everything you need to know about mattress warranties, including how they work and why you need one.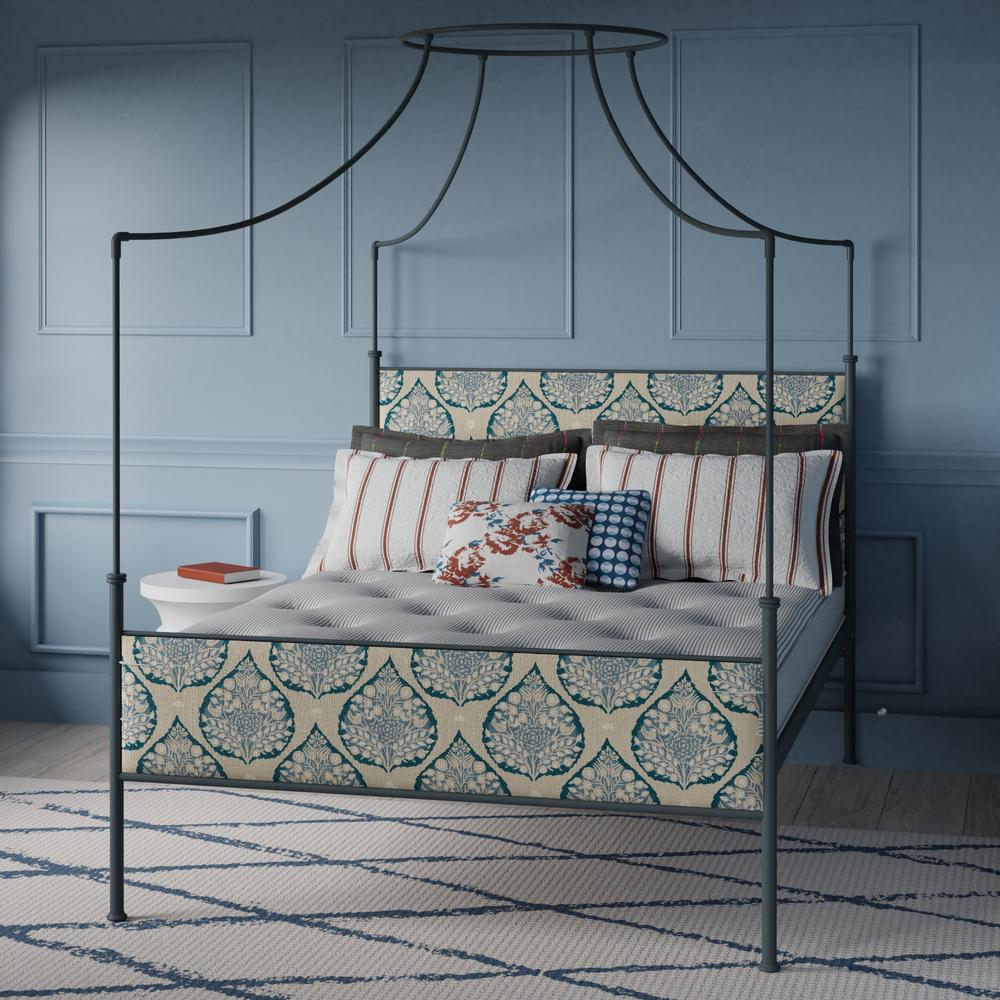 Waterloo bed with Juno mattress
What is a mattress guarantee?
A mattress guarantee, also known as a mattress warranty, is a commitment from a company to repair, replace, or refund your mattress if there are any issues with it within a set timeframe.
Not all guarantees are created equal and certain conditions must be met for the mattress warranty to be valid. For example, warranties last for different periods of time and some warranties may cover one defect while others don't.
What types of mattress guarantees are available?
There are several types of mattress warranties available and it's crucial that you understand what type of guarantee you are getting. Warranties tend to fall into one of three categories:
Prorated warranties: You are responsible for paying a certain percentage of the cost when repairing or replacing your mattress to account for general wear and tear. The percentage typically goes up the longer you have the mattress.
Non-prorated warranties: You will not have to pay any money if your mattress needs to be repaired or replaced within a set timeframe. This type of mattress guarantee is superior to a prorated warranty.
Combination warranties: Some mattress guarantees include both types of warranties. For instance, your new mattress might be covered by a non-prorated warranty for the first few years and then a prorated warranty for the remainder of the warranty period.
Difference between a limited and full warranty
You also need to check whether you are being offered a full or limited mattress warranty. Full warranties cover all defects to the mattress whereas limited warranties only cover certain parts and defects.
What is the difference between a mattress guarantee and a sleep trial?
You should be aware that a mattress guarantee is different from a mattress sleep trial.
A sleep trial allows you to try a mattress for a certain amount of time (usually between 90 and 365 days) to check if it suits your personal preferences. You can then usually return the mattress for free if you don't like it. Sleep trials have become a popular alternative to going in-store to try out different mattresses.
On the other hand, a mattress guarantee covers you in the event that the mattress has any faults or flaws. They usually last much longer than a sleep trial, assuming you do nothing to void the warranty. However, you cannot make a claim under a mattress guarantee simply because you decide you don't like it.
Why is a mattress guarantee important?
A guarantee gives you peace of mind knowing that your mattress will be repaired or replaced if there are any issues with it. This protects your financial investment and reassures you that you are buying a quality product from a reputable brand.
What does a mattress guarantee cover?
Most mattress guarantees will cover the following:
Faulty materials: Examples of poor workmanship and faulty materials include bent coils, broken handles, split seams, broken box springs and mattress bunching.
Sagging: A quality mattress should maintain an even sleeping surface for up to 10 years. Some sagging is expected with regular use but excessive sagging is a sign of a defect.
TIP: The conditions under mattress warranties differ between manufacturers and brands. Make sure that you read your mattress guarantee document carefully to check what is covered under the warranty.
Does a mattress warranty cover sagging?
Sagging is one of the most common issues found with mattresses. A sagging mattress will provide uneven spinal support which can harm your sleep quality and lead to several health issues.
Most mattress warranties cover sagging, although they won't cover sagging brought on gradually over several years. All mattresses experience minor sagging over time and this is considered normal wear and tear. However, premature or excessive sagging is a sign of a fault with your mattress.
How to measure mattress sag
Remove all bedding from your mattress and make sure the surface is smooth.
Lay string across the width of your mattress so it covers the deepest indent.
Measure the dip from the string to the mattress. Make sure you don't apply too much pressure or it could cause the dip measurement to be deeper than it actually is.
This measurement will tell you how much your mattress is sagging.
Suggested reading: How to measure mattress sag
What is not covered under a mattress guarantee?
Your mattress guarantee will not cover anything that is not considered to be a physical flaw or defect. This includes:
Damage caused by the mattress owner: The mattress guarantee will not cover accidental tears to the mattress or damage caused by pets, for example.
Stains and discolouration: You can not make a claim if you spill red wine on your mattress or cause any other marks or stains.
Dissatisfaction: A mattress warranty will not apply if you feel uncomfortable sleeping on your mattress or decide you don't like it when there is no physical fault.
Normal wear and tear: Normal wear and tear is expected and will not be covered by your guarantee. This includes minor sagging and an uneven surface after frequent use.
Things that can make a mattress guarantee void
Several factors can make a mattress guarantee void, so it's crucial you avoid them if you want to maintain your coverage. Here are some of the most common things that can make a mattress guarantee invalid:
Removing the mattress tag: The mattress tag provides proof of purchase for mattress manufacturers, so removing it will often void your warranty immediately.
Failing to rotate your mattress: Sagging will appear more quickly if you don't rotate your mattress every three to six months. This will not be covered by your guarantee.
Damaging your mattress with liquids: Fluids corrode mattress materials and those with irremovable stains can not be returned to warehouses for hygiene reasons.
Failing to provide the correct support for your mattress: Mattresses need specific foundations to carry their weight and reduce sagging. For instance, some mattresses require a platform base whereas others can be placed on adjustable bases.
Selling the mattress: A mattress warranty does not usually extend to a new owner. This means that the guarantee will usually become void if the mattress is sold or given to someone else.
How long do mattress guarantees last?
Every mattress guarantee is different so you should always check the warranty length before committing to the purchase.
What should I look for in a mattress guarantee? If you don't understand something in an extended warranty
Not all mattress warranties are the same and it's important that you find a guarantee with good coverage and conditions. Pay close attention to these terms:
Warranty length: The length of the warranty gives you an idea of the quality of a mattress. Though longer doesn't necessarily mean better. For example a warranty that only covers springs may not be as useful as a warranty that covers the whole mattress.
Coverage: Check what defects are covered in the mattress warranty. Most warranties will cover faults and poor workmanship, along with sagging outside of normal wear and tear. You also need to check whether the mattress guarantee covers repair, replacement, or refund of your mattress.
Voidance: Check what factors would make your mattress guarantee void e.g. removing tags. Keep in mind that some retailers and manufacturers have stricter criteria.
How do I make a claim under my mattress guarantee?
You should contact the mattress retailer straight away if you notice any issues or faults with your mattress. Follow these steps if you want to make a claim under your mattress guarantee.
Step 1: Read your mattress warranty – The first thing you should do is read the terms and conditions of your mattress warranty carefully. Making a claim can be a long and stressful process, so make sure the defect is covered before you file a claim.
Step 2: Contact the mattress retailer – Contact the customer support department at the mattress retailer and make them aware that you want to submit a claim. You will be asked to provide information such as your order number, order date, a copy of your warranty, and photos/videos of the defect.
Step 3: Fill out the required paperwork – You may need to fill out paperwork and provide supporting evidence to submit a claim. Some mattress retailers will send an inspector to your home to assess the defect and verify the claim. You should be aware that it may take several weeks for the claim to be inspected and verified.
Suggested reading: Making a claim using a warranty or guarantee
Can I buy a mattress without a guarantee?
We do not recommend buying a mattress without a guarantee because it means that you will have no protection if the mattress is found to have a fault or flaw. This means you risk losing a significant amount of money if there is an issue with the mattress.
Are mattress warranties worth it?
Absolutely! A mattress warranty will protect you from having to pay for a faulty product. It will also give you peace of mind and show you that the retailer you choose is confident in the quality of their product.
6 tips to increase the lifespan of your mattress
Buying a high-quality mattress is a big investment, so you want to do everything you can to increase its lifespan. These tips will keep your mattress in top condition and improve your sleep quality and overall health.
Buy a mattress protector: Adding a mattress protector is the easiest way to protect your mattress from stains and discolouration. They can also provide an extra layer of comfort and help keep you cooler at night.
Clean stains immediately: Don't ignore mattress stains – the quicker you act the easier they are to remove! Check out how to remove mattress stains.
Rotate the mattress regularly: As a general rule, you should rotate or flip your mattress every three to six months to ensure equal wear and minimise sagging. However, not all mattresses require rotating or flipping, so check the manufacturer's guidelines carefully.
Use the correct foundation: Different mattresses require different foundations so make sure you use the correct one for your mattress type. Common mattress supports include box springs, platform beds, and adjustable bases.
Avoid jumping on the mattress: If you have children, try to stop them from jumping on the bed as this can cause coils and springs to break.
Vacuum your mattress: We recommend vacuuming your mattress once or twice a year to remove the buildup of dust, skin cells, and bacteria.
Suggested reading: How to deep clean a mattress at home
Final thoughts
There are several types of mattress warranties available and not all warranties are made equal! Always choose a reputable retailer and read the terms of the warranty carefully before committing to a purchase.
If you're looking for a new mattress, check out our collection of high-quality pocket spring mattresses. Reach out if you have any questions, we're always happy to help!
Related articles