Do you give much thought to the material inside your mattress? You should! The material you choose can have a big impact on your overall sleep quality, so picking the best option is a must.
Wool has become a very popular mattress material today thanks to its fire-proof properties and superior comfort. If you're considering whether a wool mattress is right for you, you've come to the right place.
This blog will look at the pros and cons of wool mattresses and the things you should consider before buying one.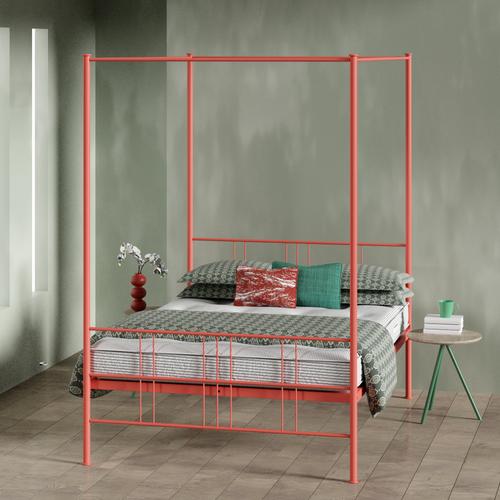 Toulon bed with Juno Wool mattress
Pros and Cons of Wool Mattresses
Pros of a wool mattress
Natural: Wool is a 100% natural fibre that is also hypoallergenic. This means wool mattresses are the perfect choice for people who suffer from allergies.
Fire resistant: Wool is naturally flame resistant because of its high water and nitrogen content. This makes it safer than cotton which is known to catch fire easily.
Temperature regulation: Wool is great at regulating temperature while you sleep. The wool fibre helps to keep you warm in the winter and cool in the summer.
Durable: Wool is more durable than other mattress materials like cotton and cashmere. In fact, wool fibres can bend back on themselves over 20,000 times without breaking .
Eco-friendly: Did you know that Brits throw away 7 million mattresses every year? This is causing significant environmental pollution. Wool is entirely biodegradable which means it's an eco-friendly option that does not contribute to our growing landfills.
Cons of a wool mattress
Firm: Wool mattresses tend to have a firmer feel so may not be suitable for people who like a soft sleeping surface. A well designed wool mattress can, however, be made to feel soft enough for all people by combining wool with other materials.
Cost: Natural wool mattresses are typically more expensive than synthetic materials.
Are Wool Mattresses Good?
Wool mattresses are great for people who want a natural, eco-friendly mattress that is durable and offers excellent temperature control while they sleep.
However, this type of mattress won't suit everyone and you must consider the options carefully and pick the best mattress for you.
Are Wool Mattresses Comfortable?
Sleeping on a wool mattress feels firm and supportive, while still relieving pressure on key pressure points. A wool mattress will also help you maintain a comfortable temperature during the night as it is good at regulating temperature.
If you find a wool mattress too firm, you could opt for a cotton and wool mattress or a cashmere wool mattress to maximise comfort while you sleep. You could also add a wool mattress topper instead of buying a wool mattress.
Suggested reading: Mattress firmness guide – How firm should your mattress be?
Buying a Wool Mattress
Picking the perfect mattress is an important decision and you need to get it right! A wool mattress is a great choice for most people, but not all wool mattresses are created equal.
Here are a few things to consider when buying a wool mattress:
–Budget: Make sure you have a budget in mind before you start shopping for a new mattress. We would always recommend going for the best mattress you can afford.
–Mattress firmness: As mentioned, wool mattresses tend to be firm so you may decide to opt for a cotton and wool mattress or a cashmere and wool mattress if you prefer a softer feel.
–Mattress warranty: Buy your mattress from a reputable company that offers a generous mattress warranty e.g. 5 years.
Juno Wool Pocket Sprung Mattress
The Juno Wool is a pocket-sprung mattress with 1,500 individual cased springs.
The mattress features multiple layers made of cotton and wool to ensure optimal comfort, temperature regulation, and fire resistance. A bamboo top layer has also been added to prevent wool and other fibres from migrating out of the mattress.
Our budget-friendly Juno Wool mattress is handmade in the UK and features all-natural fillings.
TIP: We're committed to helping you find the best mattress, which is why we offer a 100 nights comfort trial. If you have any doubts about the comfort of your mattress within this timeframe, we'll take it back no questions asked!
Wool Mattress Alternatives
Cotton vs Wool mattress
Cotton is one of the most popular mattress materials today thanks to its comfort, durability, and availability. However, cotton mattresses can be affected by dust mites and bed bugs and the material is also extremely flammable.
A cotton and wool mattress is a great option if you want to reduce the fire risk associated with cotton and enjoy the benefits of a wool mattress outlined above.
Suggested reading: Cotton Mattresses Pros & Cons: Are They Good?
Silk vs wool mattress
A silk mattress is a luxury option that will give you a smooth, silky feeling when you lie down. It's an ideal choice if you want to truly pamper yourself and enjoy an indulgent night's sleep.
We will explore the pros and cons of silk mattresses in a future blog post.
Cashmere vs wool mattress
A cashmere mattress is the most luxurious option available. Cashmere combines the softness of silk with the resilience of wool.
We will explore the pros and cons of cashmere mattresses in a future blog post.
Final Thoughts
Wool mattresses are becoming more popular and they offer a host of natural benefits. A wool mattress will keep you warm and cosy, but the sustainable material is also breathable, making it suitable for all seasons.
A wool-filled mattress is a great option for most people but there are some pros and cons to consider. Make sure you explore the different mattress materials available and choose the best option for you.
Check out our extensive range of high-quality bed frames to go with your new wool mattress. If you would like help choosing the best mattress, get in touch with our friendly team. We're always happy to help!
Related articles