Looking for inspiration for a grey and white bedroom decor? Wondering what colours go with grey and white? Should you go for a black bed or a white bed? Maybe add a yellow element? All of these are valid questions.
Let's take a look at some grey and white bedroom ideas to help solve your queries.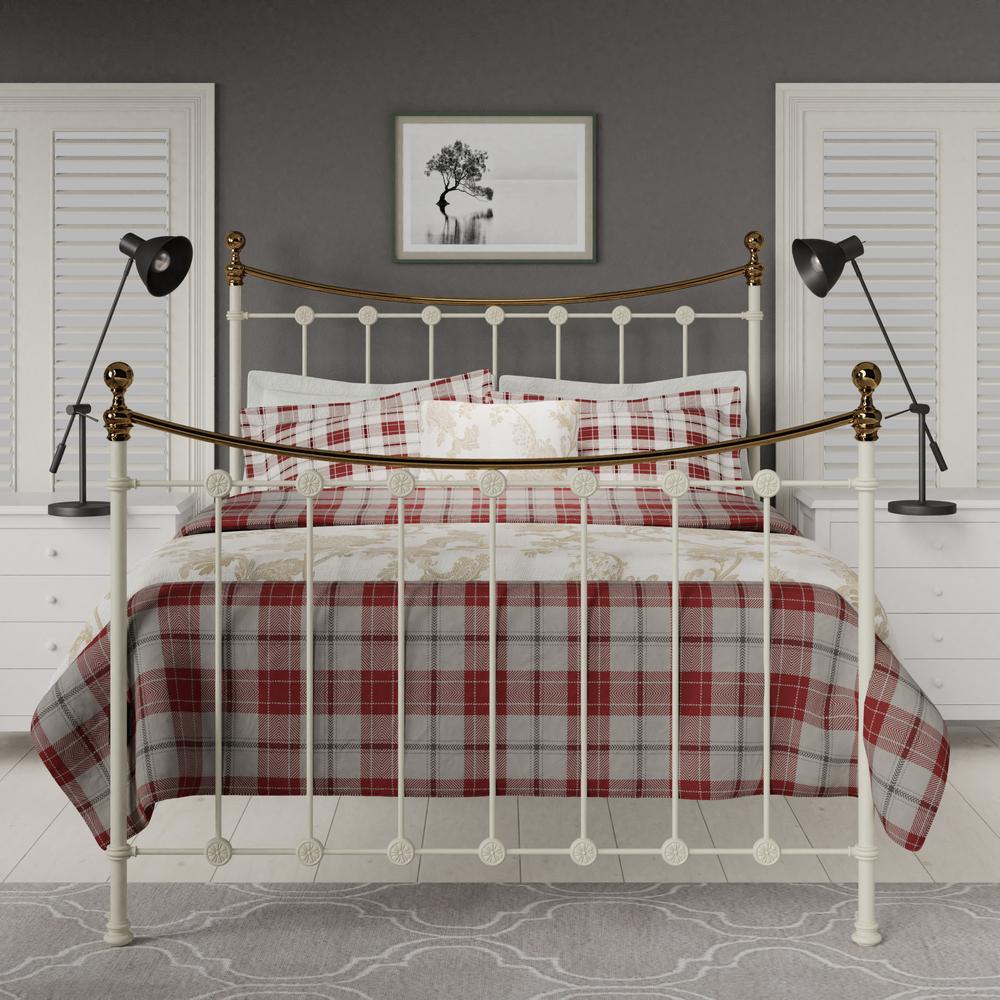 bed: Carrick Iron Bed
GREY'S ANATOMY (WITH COLOUR)
Grey is associated with neutrality, balance but can be a bit dull on it's own. It evokes an image of a cold winter day when you just want to lay in your bed curled between your blankets.
As we move from a light grey colour to darker shades, it becomes more masculine.
AS WHITE AS SNOW
White is a colour of positivity, purity and freshness. It is serene, calming and reassuring. It can be cold and isolated when given a negative context. White is the colour of light. It has no hue.
Fun Fact: Snow white is actually a bit of blue mixed in white, so it's technically off-white!
THE GREY TO MY WHITE?
Greys and whites combined present a sophisticated, chic look which form a great base for any interior style you want. Grey and white bedrooms can be monochromatic or be paired with complimentary colours to add some pizazz.
Contrary to what one expects from these neutrals, grey and white have the ability to create a bold look just as well as a laid back, minimalist bedroom style.
bed: Athalone Iron Bed
Throw in some black to add dimension and depth to the tones. A four poster white, pewter, glossy ivory or satin black iron bed frame can create a focal point.
A TIP FOR YOU: Pick the right white for your bedroom as not all whites and off whites match all greys like silver. Choose your greys and then match a white.
PINK GREY & WHITE BEDROOM
Blush pink and other pale pinks pair naturally with grey and white. This combination gives your bedroom a gender neutral look. You can use many interior styles with pink, grey and white bedrooms.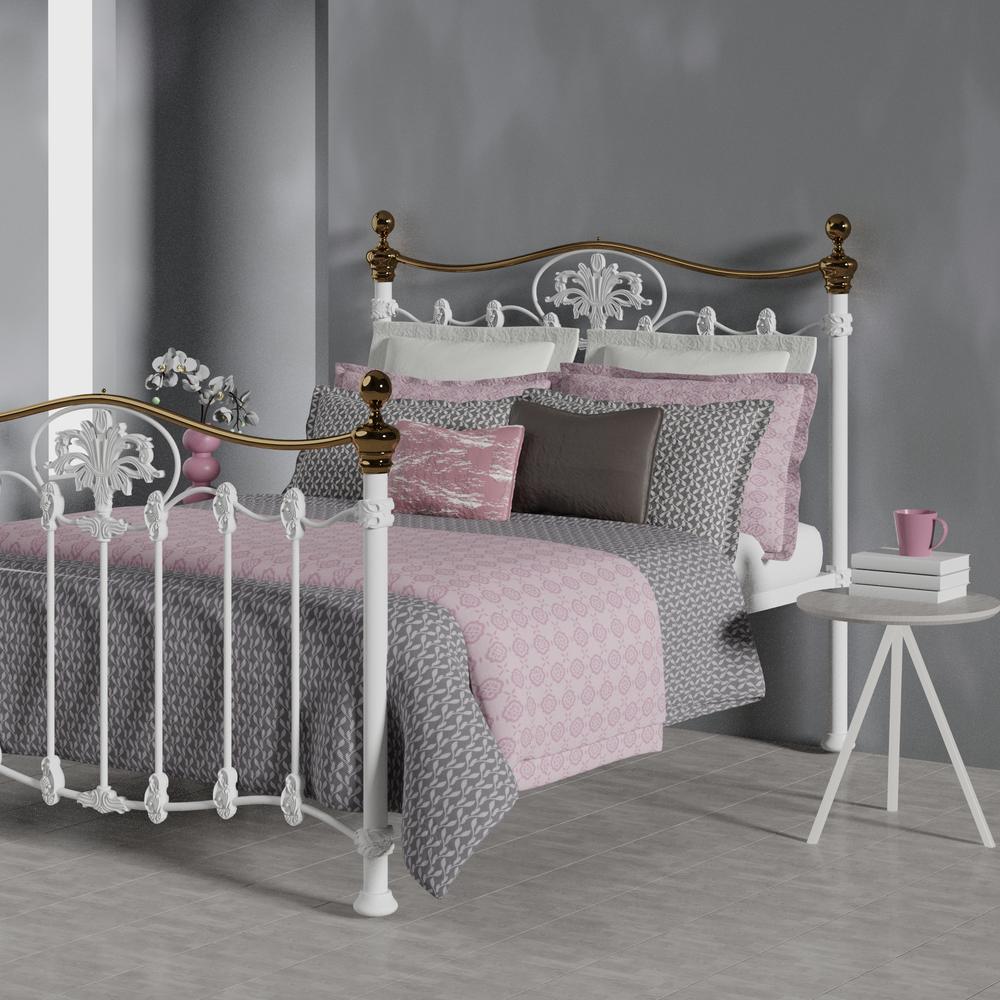 bed: Camolin Iron Bed
For instance, if you want a Scandinavian style, a gorgeous metal bed frame in white, grey or a matching shade of pink will emphasize the clean and minimal character of the bedroom decor.
A sleek furniture piece like a bedside table or a hint of black or grey through picture frames will provide contrast to the neutrals.
A white or grey upholstered bed will add sophistication and make your bedroom look cozy.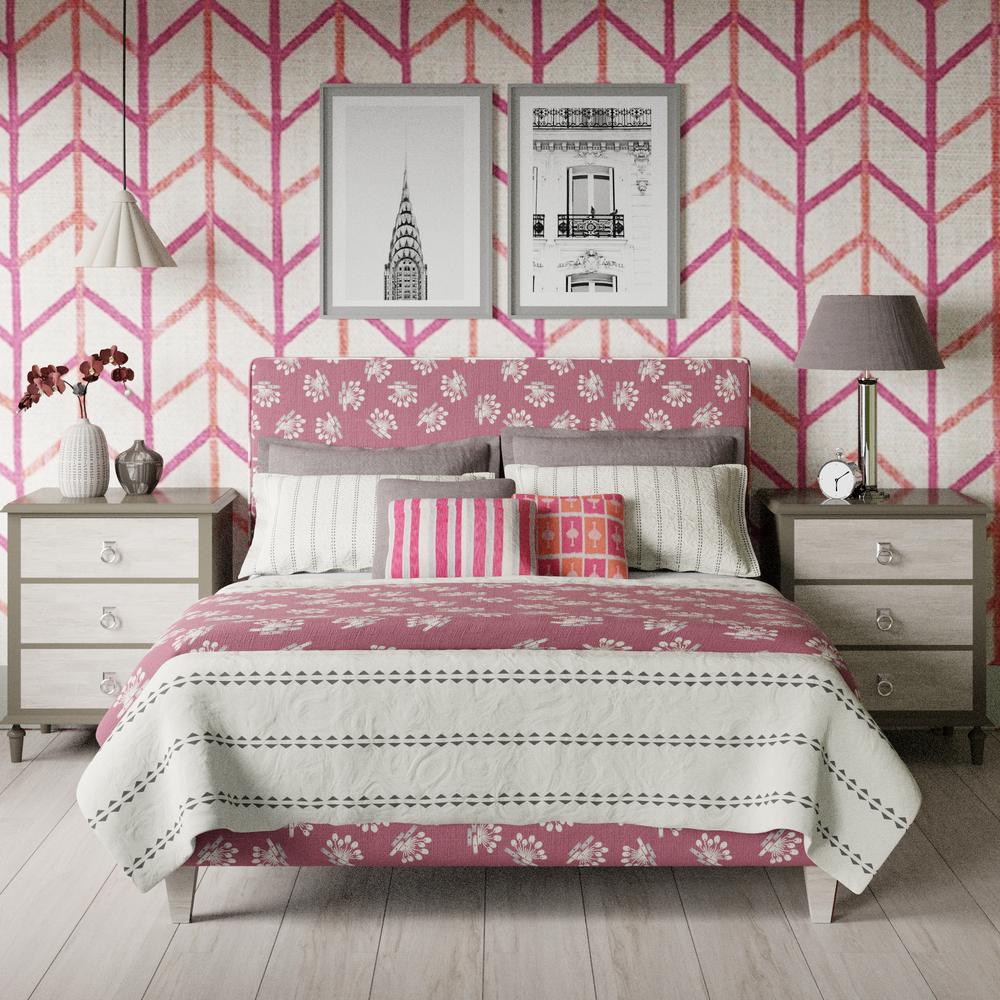 You can take a look at our blog on "pink and grey bedroom ideas". Head over there for a deeper dive into the world of pink and grey.
YELLOW GREY & WHITE BEDROOM
Ochre and mustard yellow accents add a punch of boldness to a grey and white backdrop. White and grey absorb the warmth of the yellow shades.
For example: You can use elements like white or grey curtains, mustard lampshades, grey bed linens, ochre carpets, cream linens to add this colour scheme.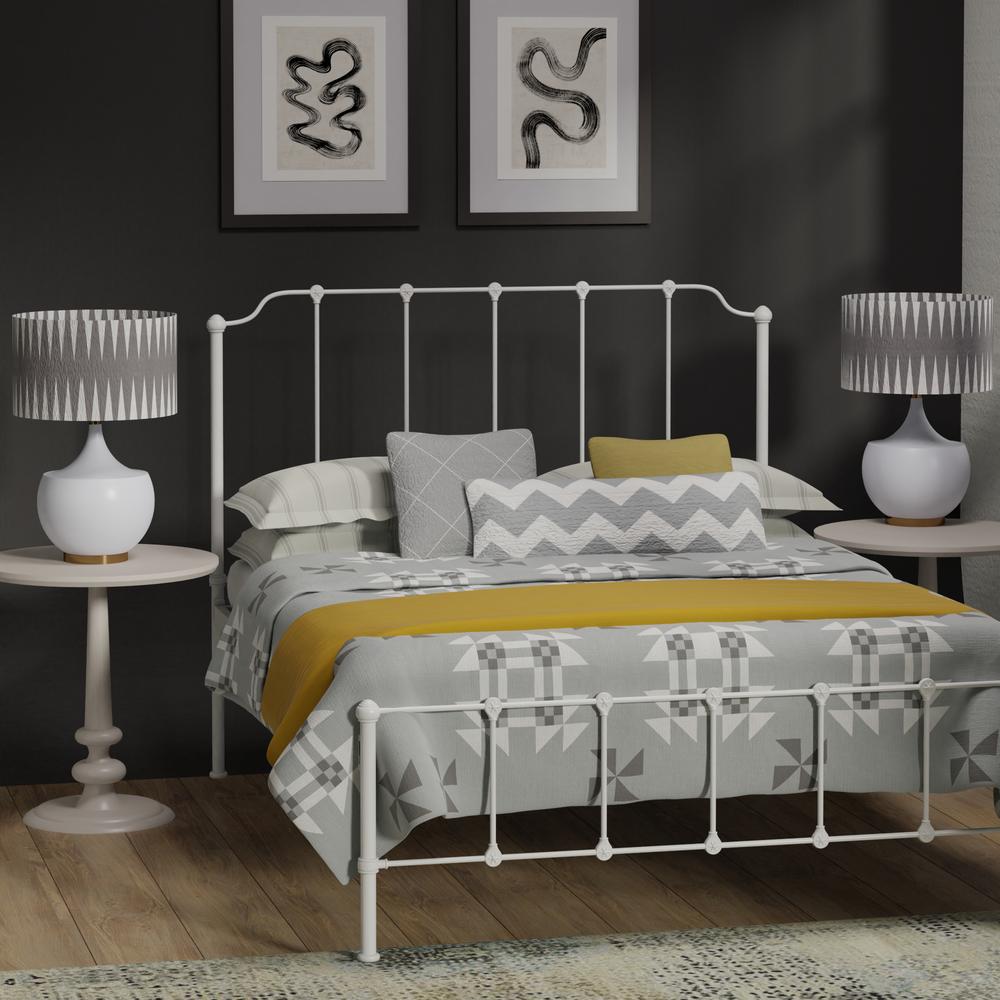 bed: Julia Iron Bed
You can't go wrong with a black metal bed to add contrast to the light greys, yellows, creams and whites.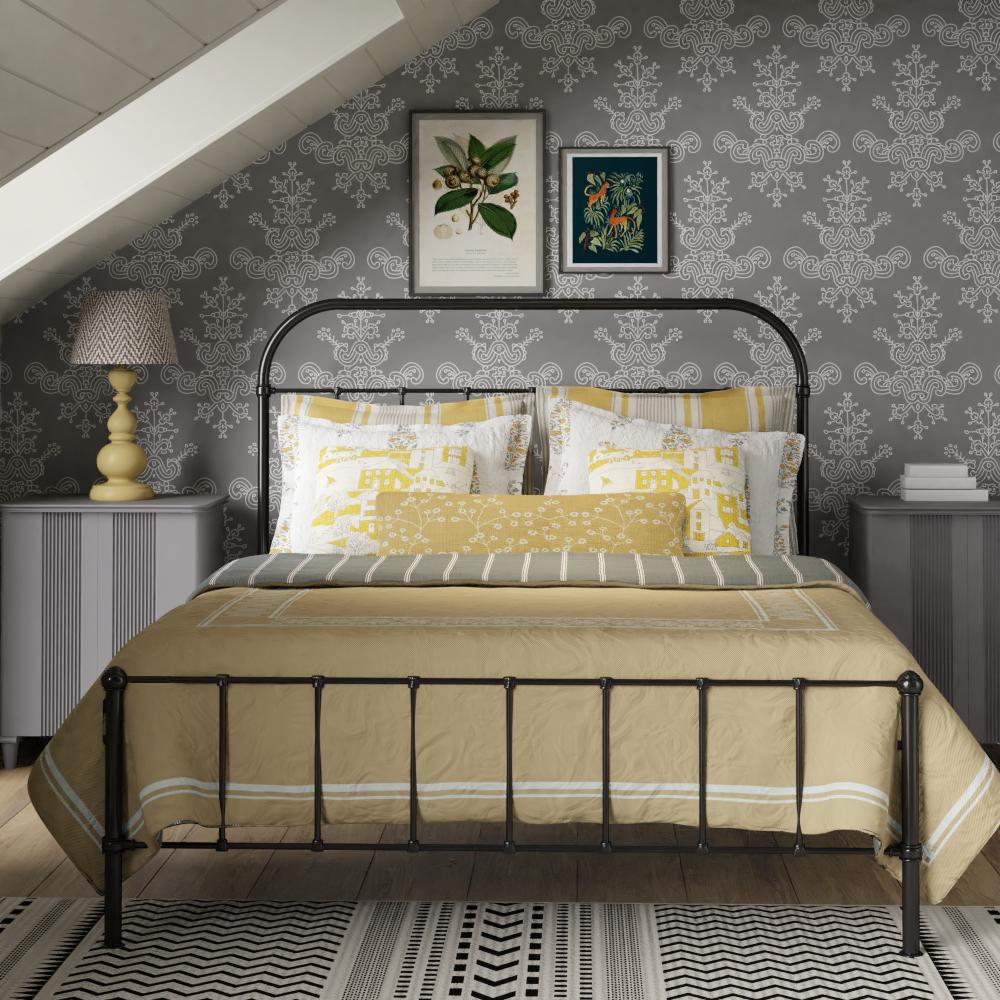 bed: Solomon Iron Bed
Find out more through our article "yellow and grey bedroom ideas".
ORANGE IS THE NEW BLACK
We all know black, grey and white play nice with each other. But, orange is an equally beautiful addition to grey and white. This combination has a summer-spring feel to it that provides a burst of freshness.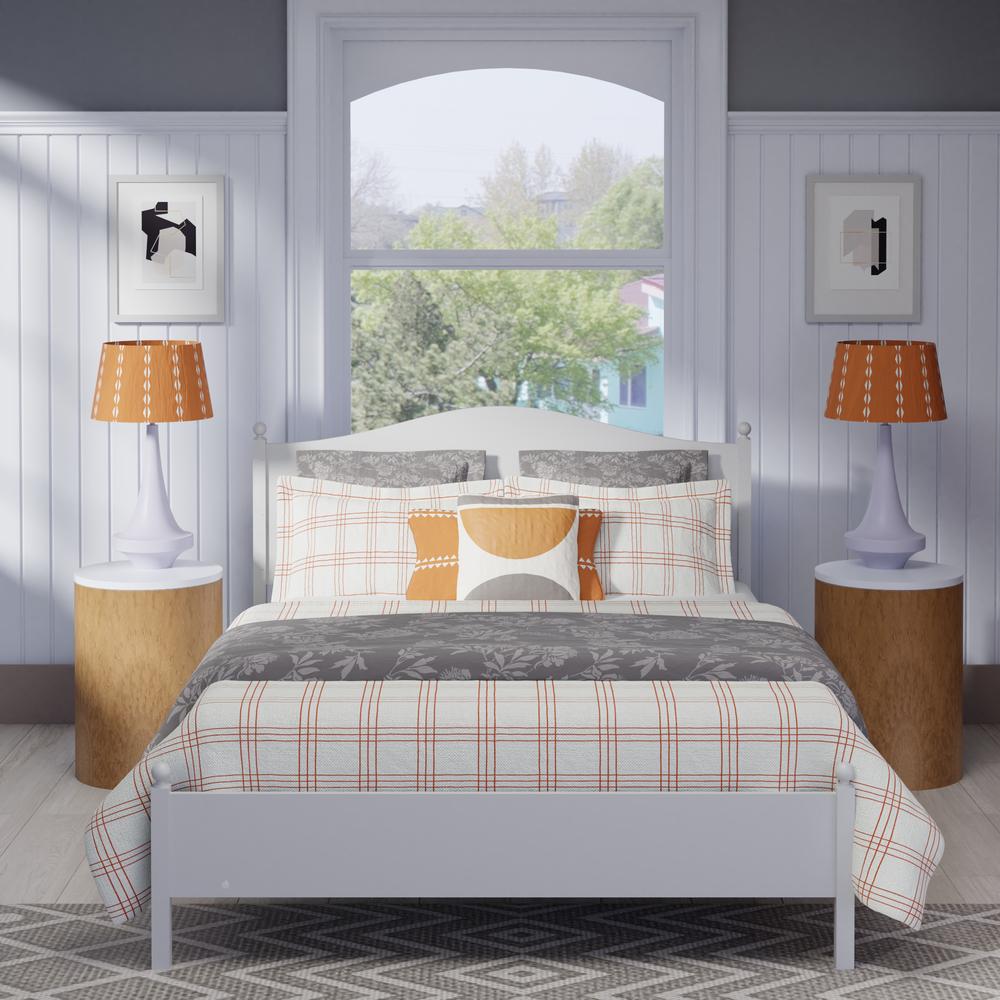 bed: Brady wooden bed
Vibrant orange shades bring the bedroom alive when used with greys. White can make the orange pop out even more. A chic statement piece in the form of a vibrant white painted wooden bed or an upholstered bed with orange, grey and white fabric can transform your space.
NAVY BABY
Navy blue is another popular choice with a lighter grey and bright white. It adds a perception of height to your bedroom.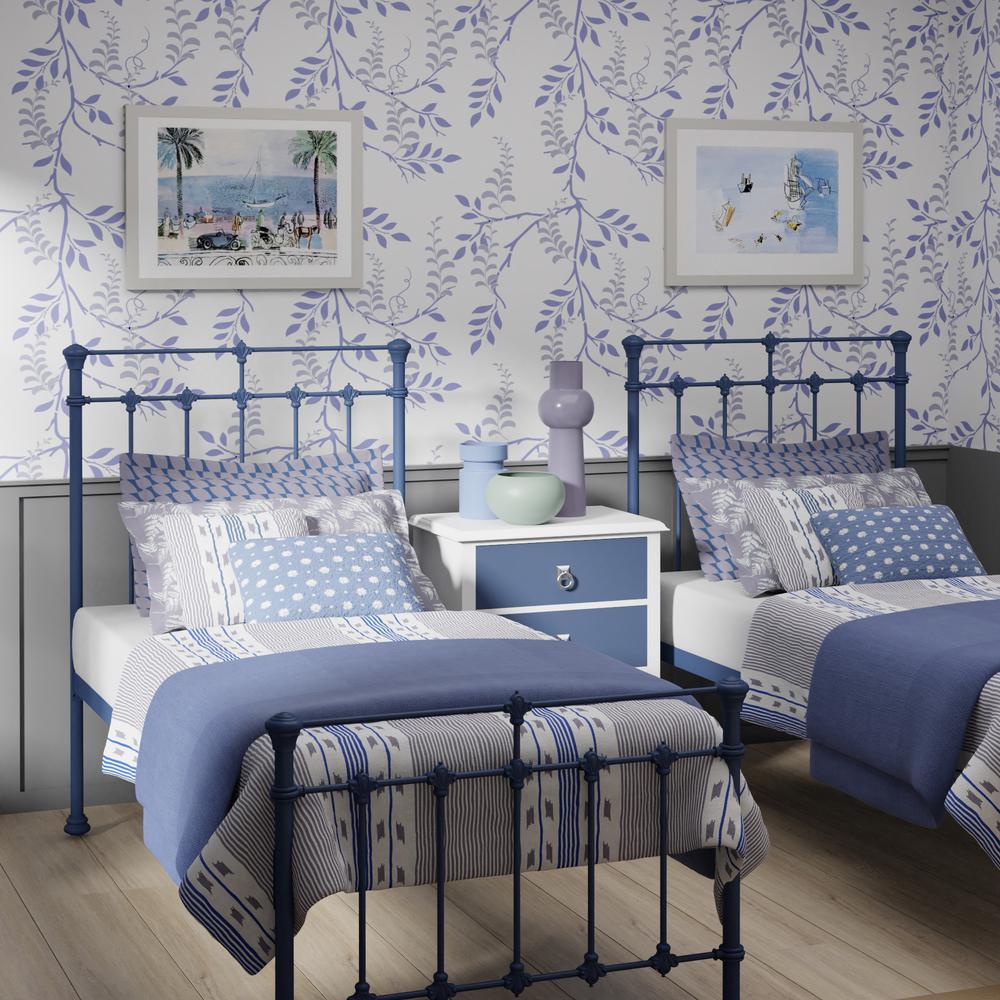 bed: Edwardian Iron Bed
Don't shy away from trying other blues like indigo, midnight blues etc. The trick is to choose a blue which provides enough contrast to the shade of greys and whites/off whites you are choosing.
We hope this article on grey and white bedroom ideas helps you to get started on your dream bedroom project.
You can check out our collections of iron, wooden, upholstered and brass beds along with our Juno collection of pocket sprung mattresses. We accommodate customisations as well to help you find a perfect fit for your bedroom style.
Feel free to reach out to us for any questions and suggestions.
Other Blog Articles