Are you looking for bedroom makeover ideas that will transform your space into a sanctuary of comfort and elegance? Honey gold bedrooms radiate warmth, cosiness, and style. This stunning new colour trend is currently sweeping through Pinterest and it's easy to see why.
Subtle accents with beddings and pillows
Your choice of bedding can set the tone for the entire room. When embracing the honey gold theme, think soft and inviting hues that mimic the golden glow of honey in the morning sun.
Choose sheets and other bed linen in warming shades ranging from buttery yellows to rich amber. Decorate your bed with cushions and throws in complementary tones and incorporate a mix of textures to add depth.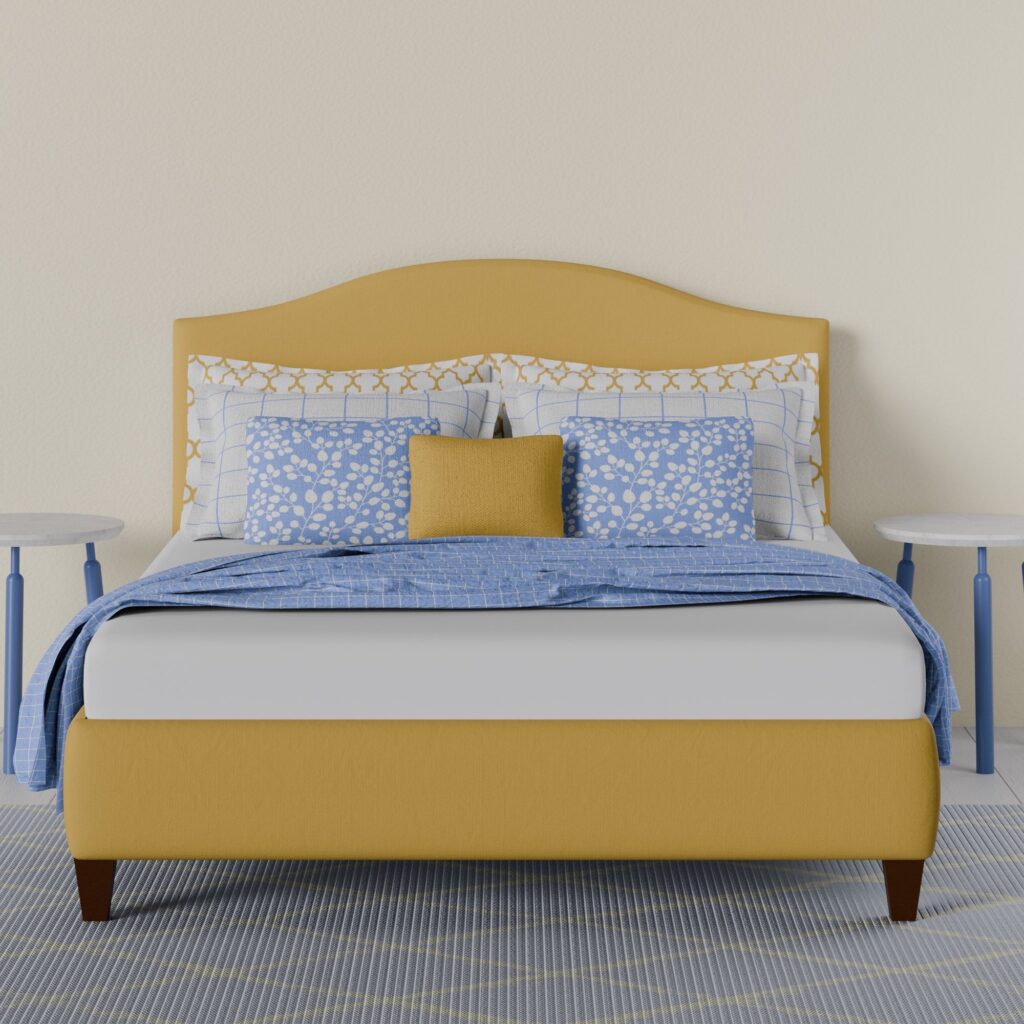 Pro Tip: Don't be afraid to introduce patterns into your bedroom decor, such as subtle honeycomb designs, to tie everything back to the honey gold theme.
Accent wall
One of the easiest ways to make a honey gold statement is through an accent wall. Whether you choose to use paint or wallpaper, an accent wall will create a stunning focal point and add charm and glamour to your space.
Try placing a pendant light or a row of golden fairy lights down the wall. When the sun sets, your honey gold sanctuary will transform into a cosy retreat bathed in a soft, welcoming glow.
Accessories
Now that the backdrop is set, it's time to take your bedroom decor to the next level with honey gold accessories. Here are some ideas to consider:
Hang sheer curtains in a pale gold tone that will flood your room with natural sunlight while adding an ethereal touch.
Introduce eye-catching metallic accents through hardware such as lamp bases, photo frames, and drawer handles.
Place mirrors with golden frames around your bedroom to reflect natural light and create a sense of openness.
Natural elements
Bringing a touch of nature into your honey gold haven adds an element of serenity. A potted plant on your bedside table or a hanging planter near the window can infuse life and energy into the space.
Wooden furniture also complements honey gold bedroom decor perfectly. From a wooden bed frame to a reclaimed side table, these pieces harmonise effortlessly with the overall ambience.
Suggested reading: If you're looking for more nature-inspired bedroom decor, check out the blog Amazing Natural Bedroom Ideas
Final thoughts
A delicious honey gold colour palette can transform your bedroom into an oasis of warmth and glamour. Remember to let your preferences guide you and create a decor that reflects your unique style while embracing the golden beauty of the theme. So, go ahead and embrace the honey gold allure – your cosy and stylish bedroom awaits!
Check out our range of metal beds, wooden beds, brass beds, upholstered beds and mattresses that will complement your new honey gold bedroom decor.
Looking for more bedroom ideas? Find inspiration below: