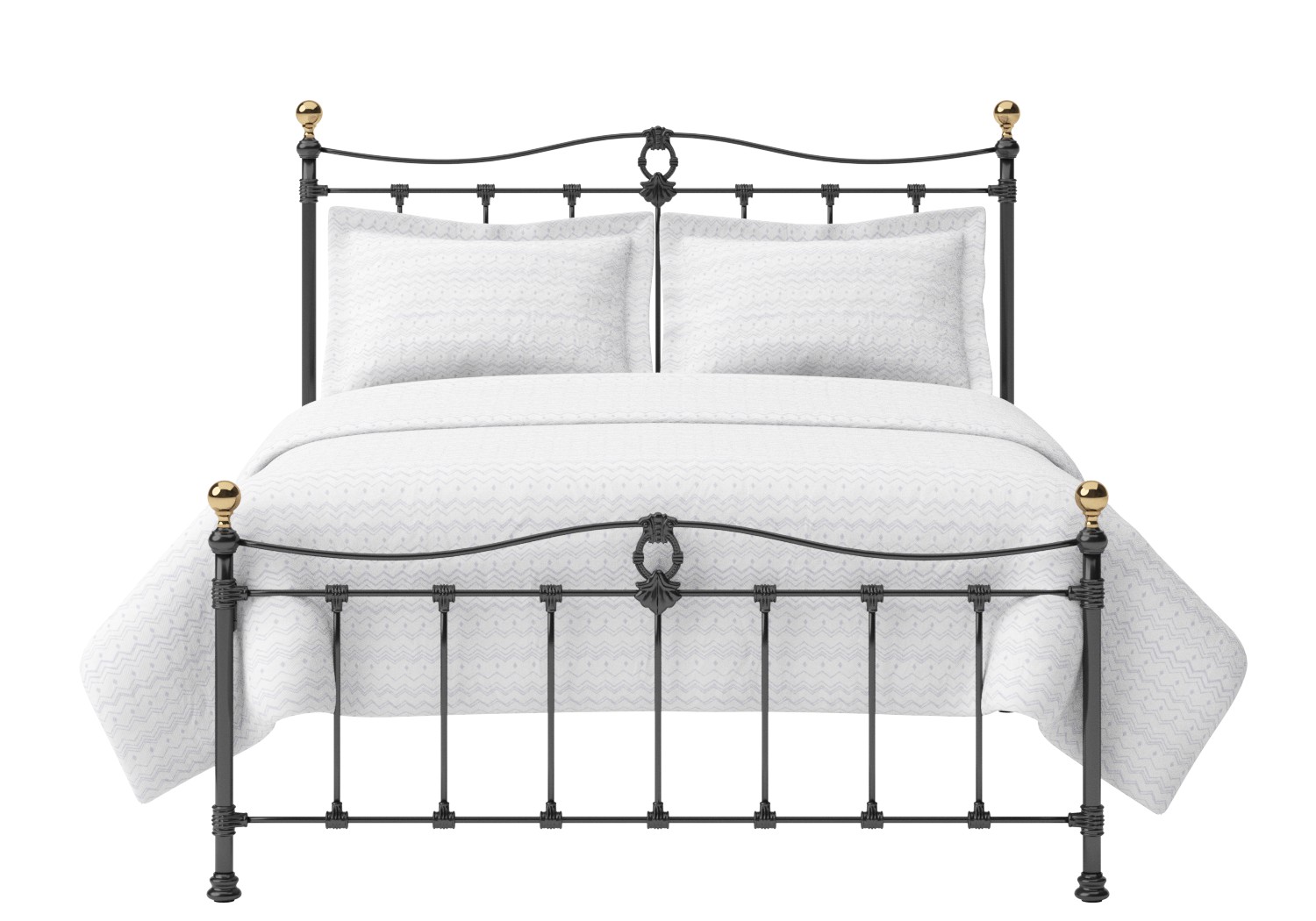 Tulsk Low Footend Iron/Metal Bed in Satin Black with Brass details
Tulsk Low Footend Iron/Metal Bed in Satin Black with Brass details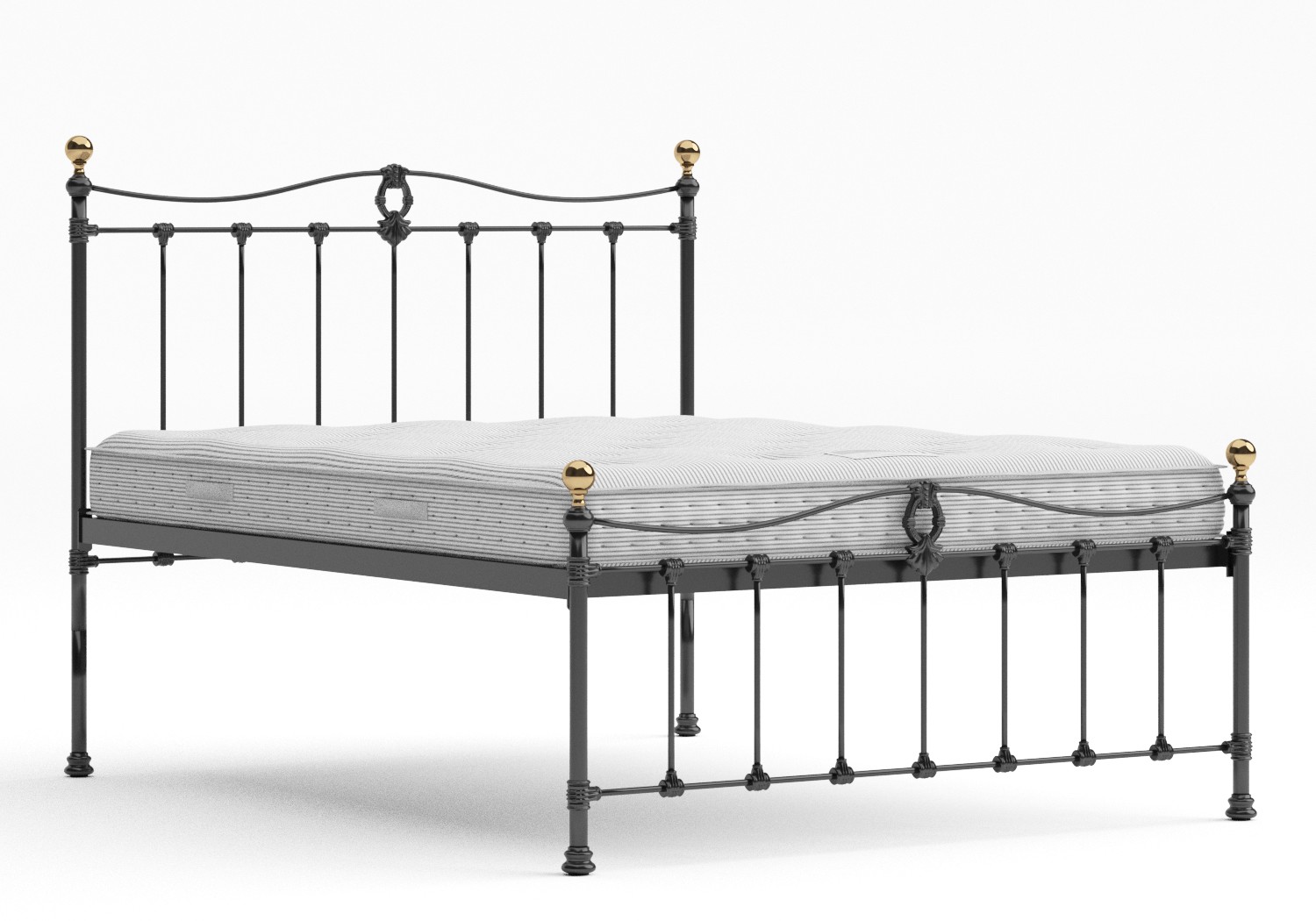 Tulsk Low Footend Iron/Metal Bed in Satin Black with Brass details shown with Juno 1 mattress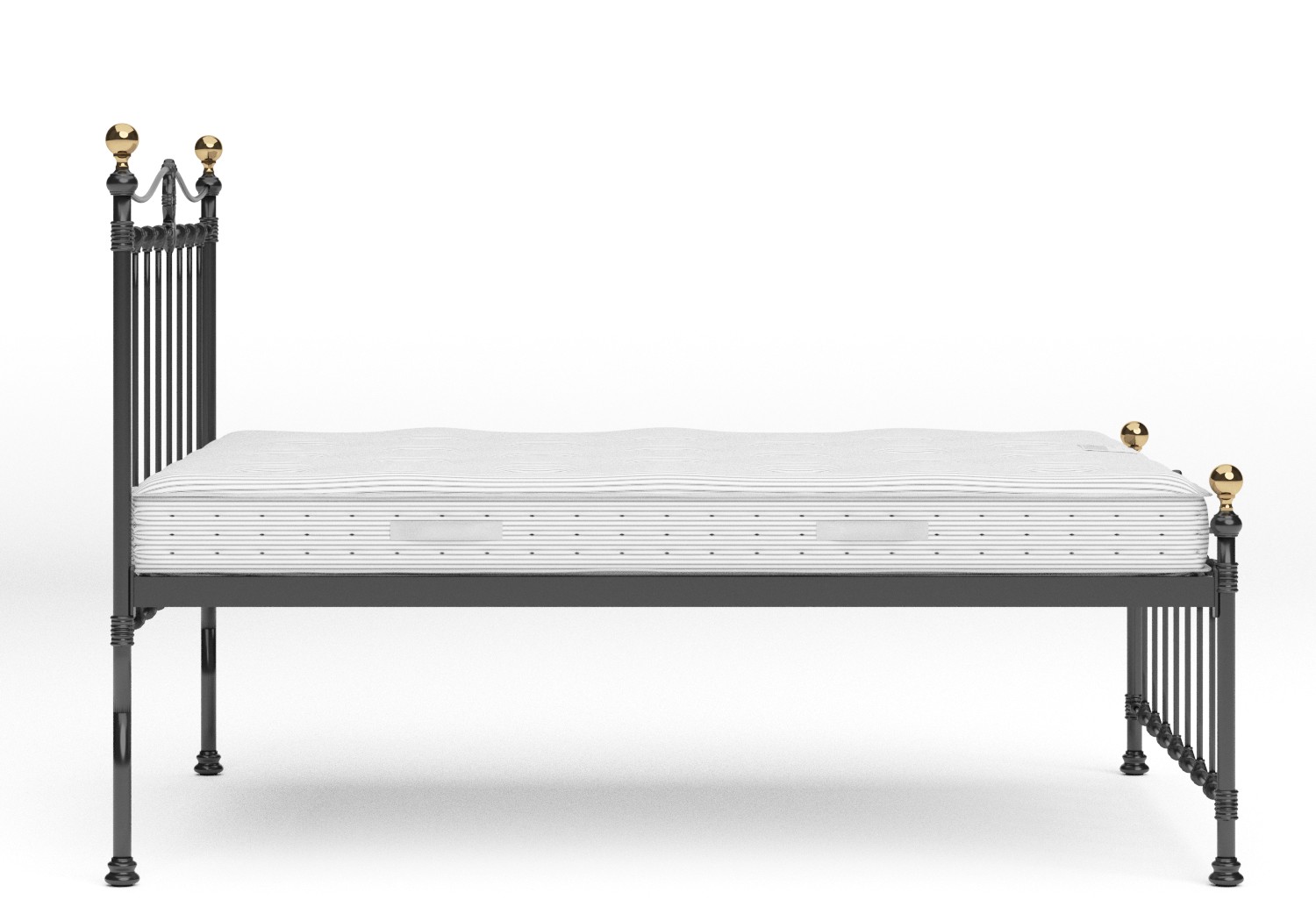 Tulsk Low Footend Iron/Metal Bed in Satin Black with Brass details shown with Juno 1 mattress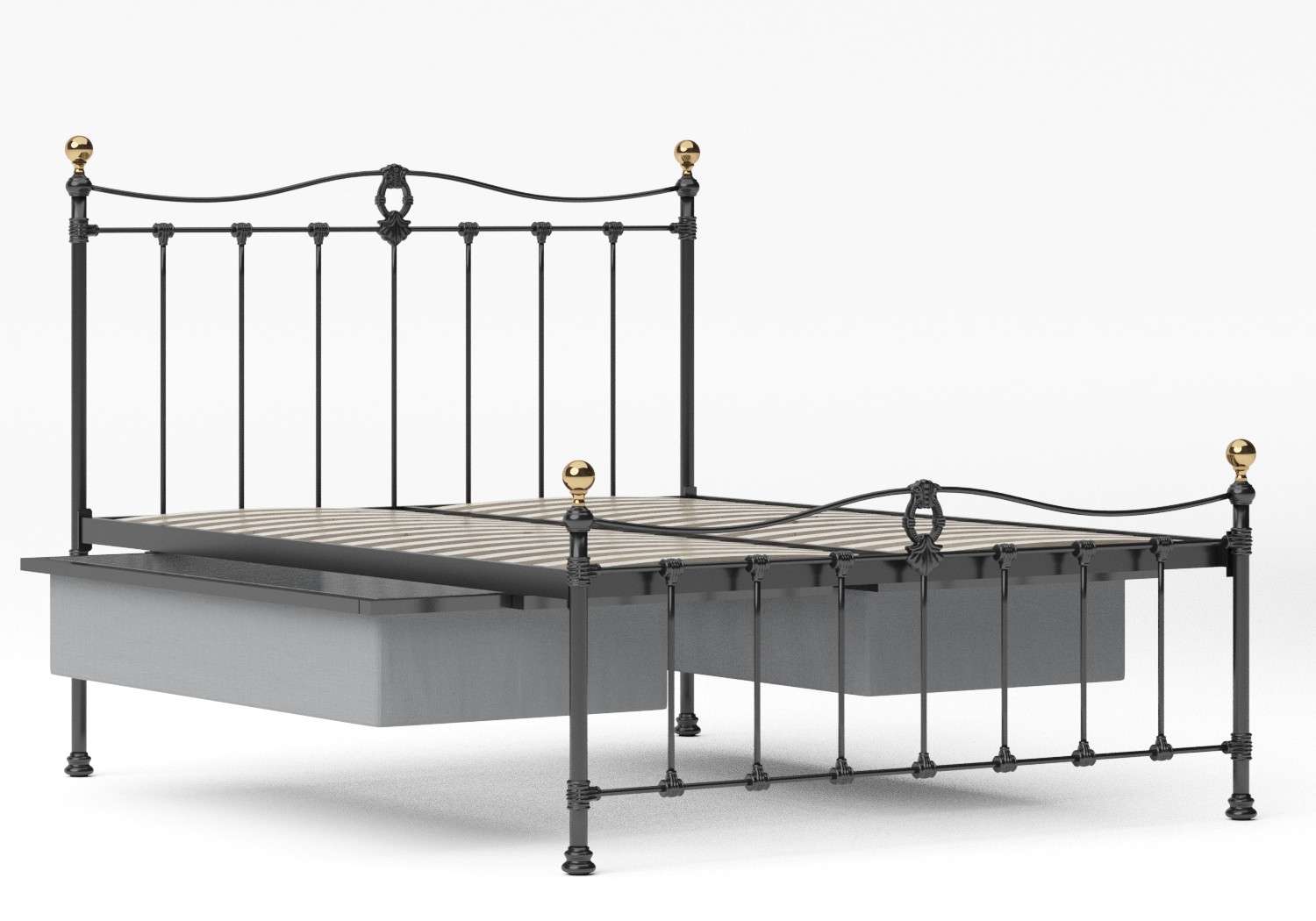 Tulsk Low Footend Iron/Metal Bed in Satin Black with Brass details shown with underbed storage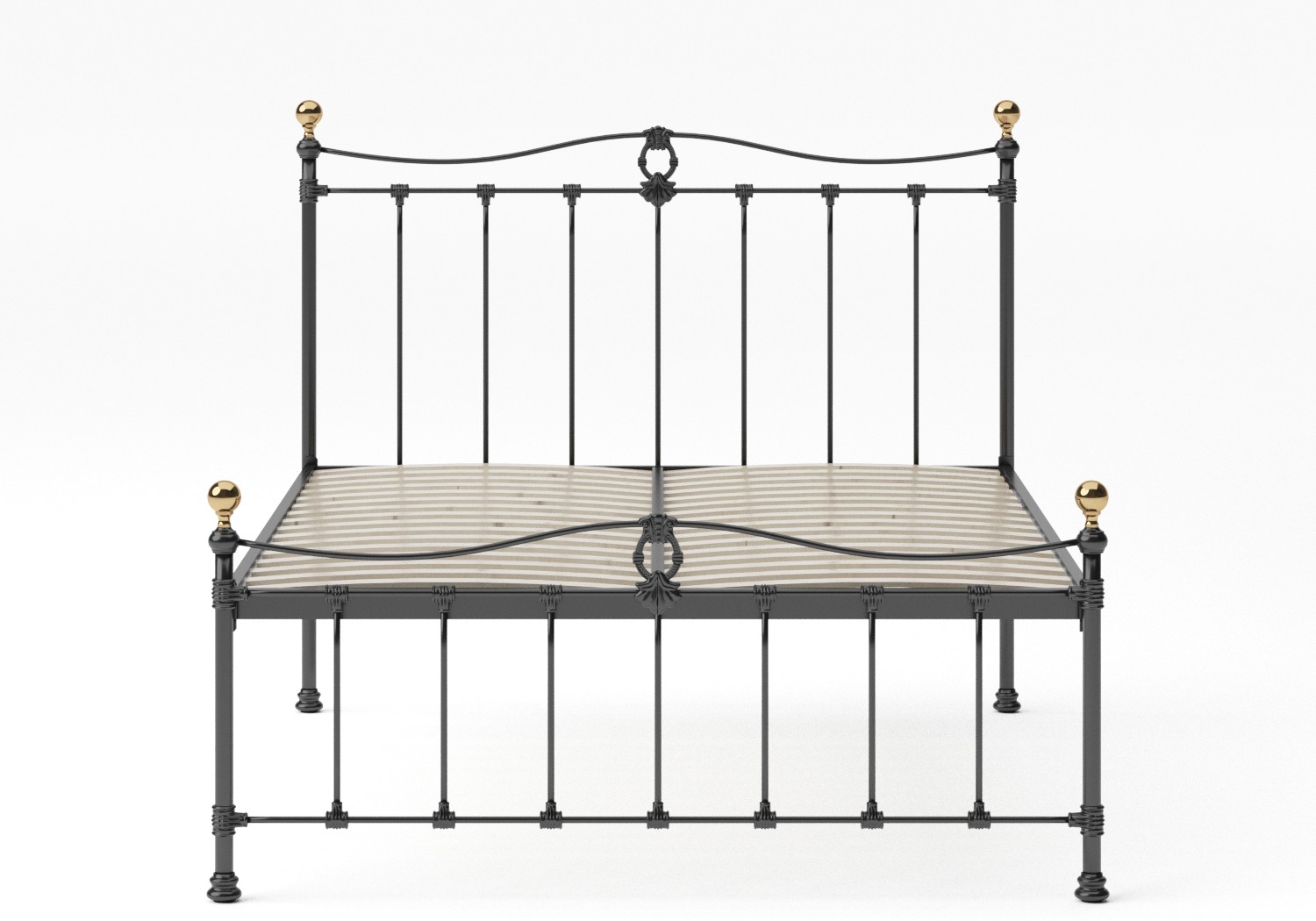 Tulsk Low Footend Iron/Metal Bed in Satin Black with Brass details shown with slatted base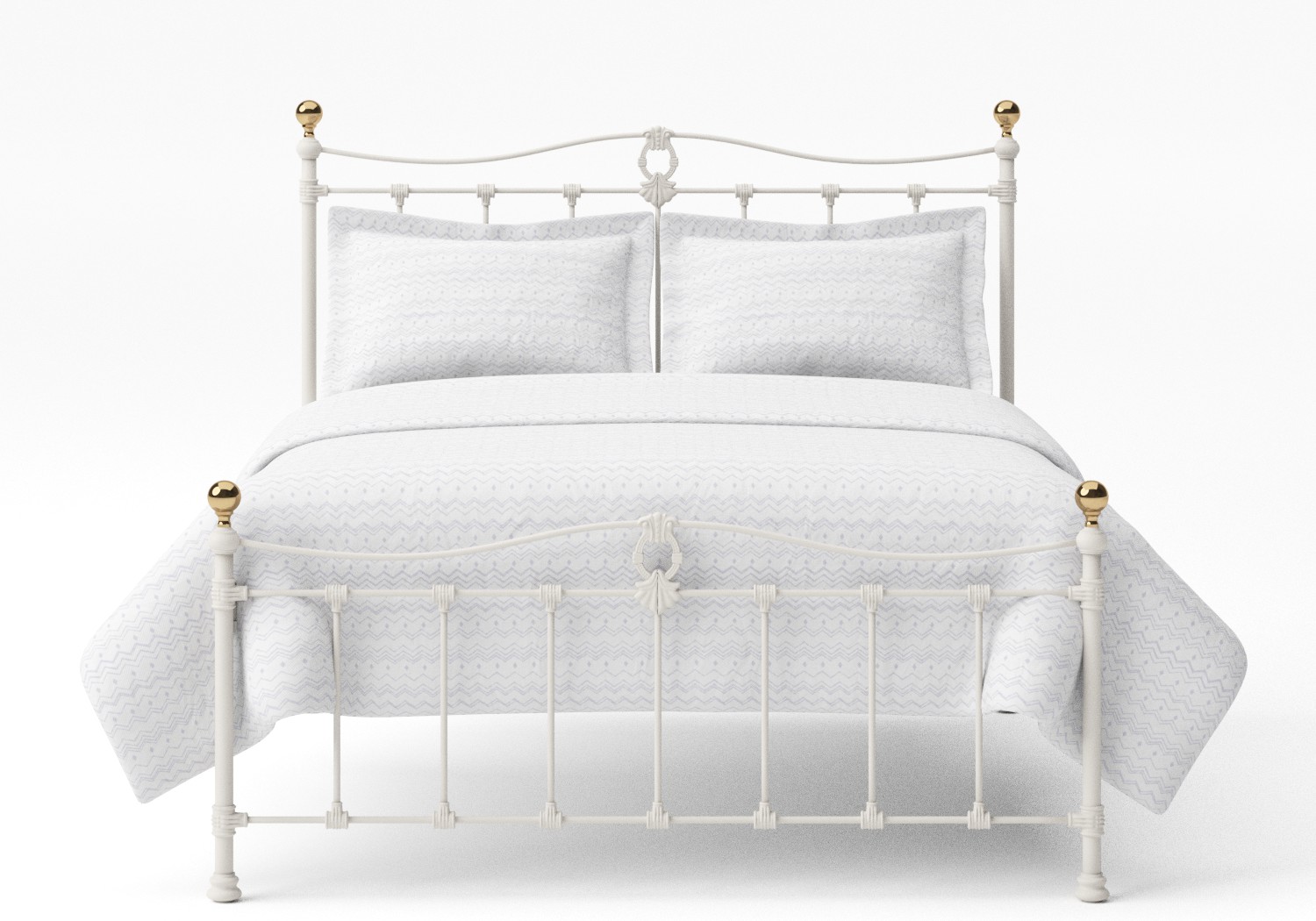 Tulsk Low Footend Iron/Metal Bed in Glossy Ivory with Brass details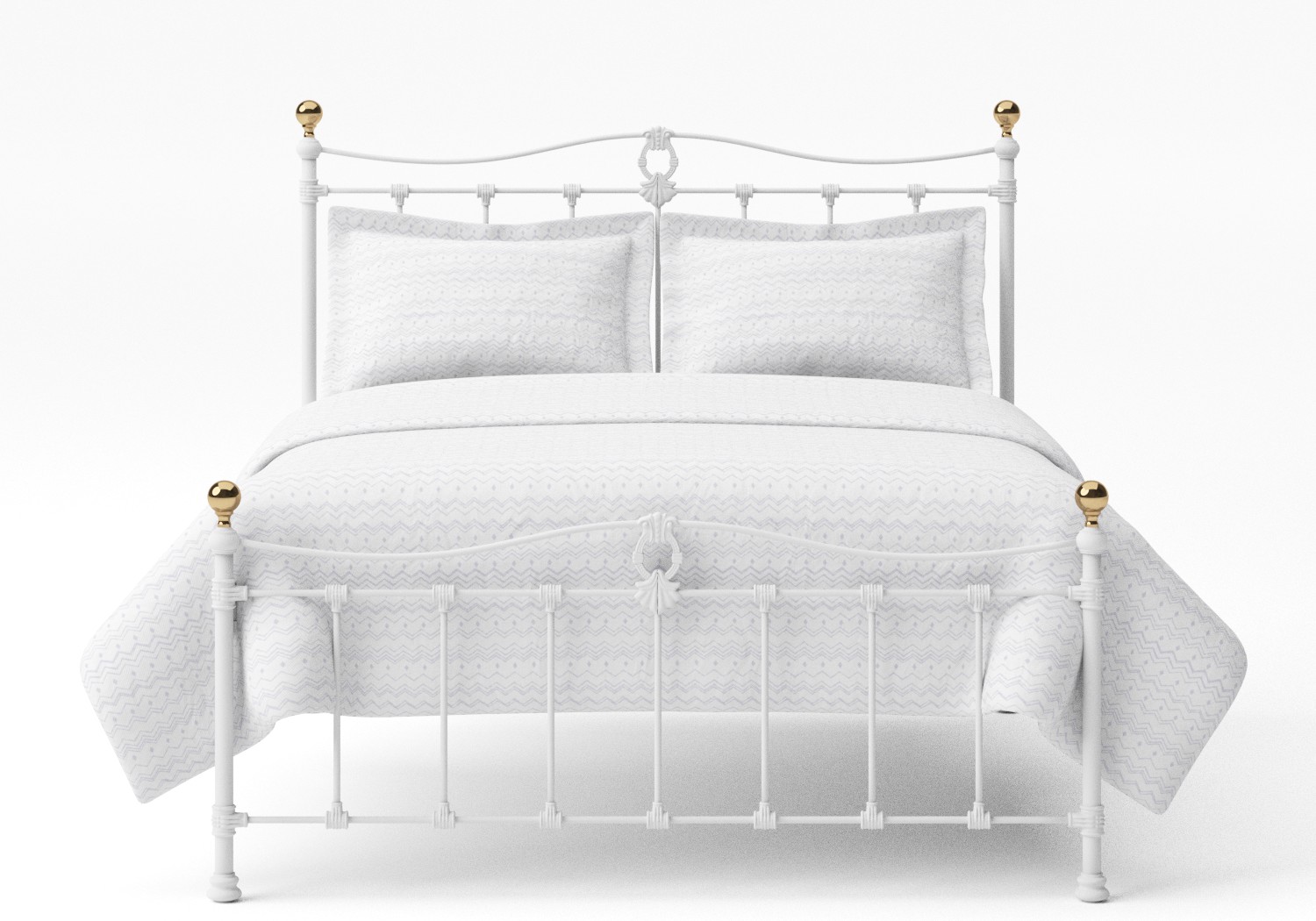 Tulsk Low Footend Iron/Metal Bed in Satin White with Brass details

The delivery time for our underbed drawers for metal beds is currently 8-10 weeks. We do apologise for the inconvenience.
Stock Colours
Standard Colours
Designer Colours (+£99)
Our colour matching service allows your bed to be painted in any colour from Dulux, Farrow & Ball, English Heritage Collection, Little Greene, Sanderson or Paint & Paper. Please provide the colour reference and name below. We will colour match your bed to this colour.
Delivery cost
The cost of delivery for each mattress is £20.
Mattress Specifications
Juno Cashmere
The best in natural comfort

Springs
1500 Pocket springs
Ticking
100% Cotton ticking
Fillings
Cotton, wool, bamboo, cashmere & horse hair fibres
Juno Silk
More springs & fillings, more comfort

Springs
1400 Pocket springs
Ticking
100% Cotton ticking
Fillings
Cotton, wool, bamboo & silk fibres
Juno Wool
Comfortable with natural fillings

Springs
1300 Pocket springs
Ticking
100% Cotton ticking
Juno Cotton
Comfortable with mixed fillings

Springs
1300 Pocket springs
Ticking
100% Cotton ticking
Fillings
Soft white fibre, Cotton & Wool
Juno Original
Comfortable, man made fillings

Springs
1000 Pocket springs
Ticking
100% Cotton ticking
Fillings
Soft white fibre
Promotion
Free shipping if you order any bed with mattress (Only valid for orders to be delivered to Mainland UK)
Price
| Size | Bedstead |
| --- | --- |
| Single (3'0") | £349 |
| Double (4'6") | £399 |
| King (5'0") | £449 |
Delivery
The cost of delivery for each bed is £20.
Our beds are delivered flatpacked and unassembled.
Standard deliveries are done on Monday to Friday between 8AM and 6PM.
Deliveries are door to door only. For special arrangements please contact us.
Our quoted delivery charges only include delivery to mainland UK, excluding the Scottish Highlands. For delivery to parts of the UK which are not in the mainland please email us for a quotation.
We do provide a full delivery and assembly service for an extra charge. Contact us for more information.
Dimensions & Customisations
| Size | Width | Headboard Height | Footboard Height | Length |
| --- | --- | --- | --- | --- |
| Single (3'0") | 38" | 53" | 28" | 79" |
| Double (4'6") | 55" | 53" | 28" | 79" |
| King (5'0") | 61" | 53" | 28" | 83" |
These dimensions are the outer dimensions of the bed frame. There may be variation of upto an inch on the dimensions stated here. Please get in touch for accurate dimensions of our beds.
Customisations Possible
Your option not shown? We can customise our products to match your needs. Please email us to discuss the customisations you want and we will try and help you as best as we can.
There will be a charge of 20% of the value of the bed (with a minimum of £79) for any customisations on our iron or brass beds.
Features
Long lasting base frames
Our beds come with a base frame as standard which is designed for a long life and are meticulously tested to British Standards. Find out more about our bed frames.
High quality materials
Our beds are made of thick gauge steel tubing which are welded and casted into place using traditional techniques. All our material is chosen so that they ensure our beds last a long time and we thoroughly inspect all material that before we use them in our products. Any brass that we use is genuine solid brass castings and pipes rather than steel coated to look like brass.
Wooden sprung slat system
Our base frames come with sprung wooden slats which are 20% thicker than slats provided by other manufacturers. The gap between slats is 65mm and compatible with most mattresses available on the market.
Two height settings available
This bed frame comes with two standard frame height configurations, 14" and 17". You can choose the height setting at which you set the bed at the time of assembly. You may change the height setting at a later date if you choose to.
Headboard only available
This bed frame is available to be sold as only a headboard which can be used with a divan bed base frame. This is done either by mounting to a wall or attaching to a standard divan frame with fixings that are provided by us.
5 year warranty
We provide a 5 year warranty against manufacturing defects. If you have any issues with your product please get in touch with us and if it's a manufacturing defect then we will fix your issue free of charge. If you are outside of this warranty period we still service our products and try to keep our beds functioning for as long as we can. Check our terms & conditions for more details.
30 days no fuss returns
If you want to return or exchange your product for any reason within the first 30 days of receiving your products we will accept a return for either a full refund or a replacement product. Buy with peace of mind.
Storage
Our iron beds have an optional storage option available at an extra cost.
The storage for our iron beds have a black frame and a grey cloth bag. They sits under the frame of the bed and slide in and out on bearings. Each drawer has a dimension of 120cm x 54cm x 16cm and is capable of carrying upto 30kgs.
A single bed frame can only have 1 storage drawer whereas all our double beds can have 2 storage drawers.
Finish
All our iron beds are painted in a durable powder coated finish that has been tried and tested over the years. Below are our standard finishes, some of which are available from stock while others made to order specifically for you.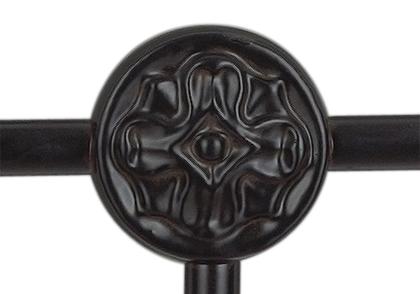 Satin Black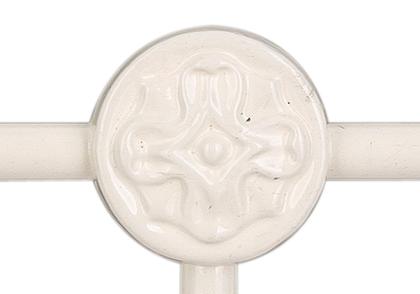 Glossy Ivory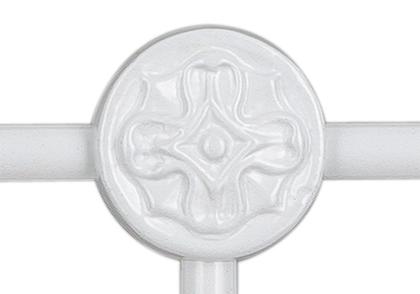 Satin White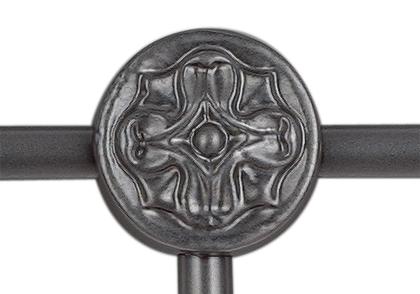 Pewter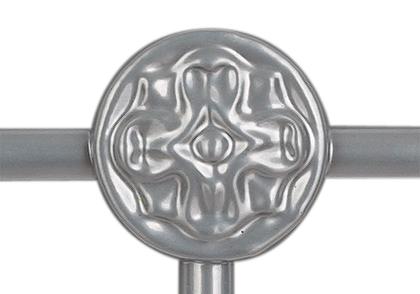 Glossy Silver
Apart from our standard range of colours, our beds can also be painted in a wide range of designer colours for an extra £99.
Stock
Lead times for built to order items are 8-10 weeks.
The following sizes and colours are ready for delivery from stock.
| Size | Colour | Lead Time |
| --- | --- | --- |
| King (5'0") | Satin Black | 1-2 weeks |
48 hour delivery is available on request if asked before 11AM BST.