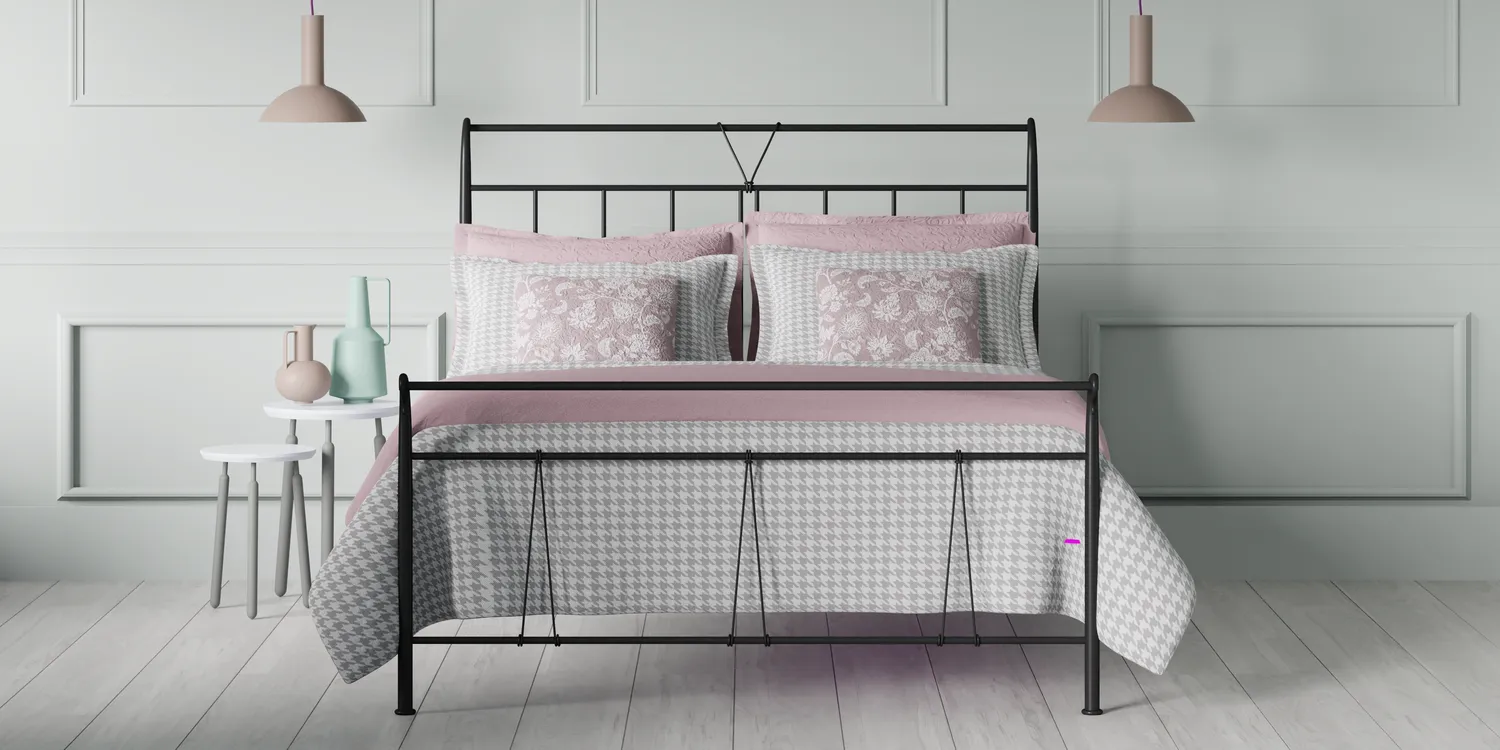 Made in India,
Sold wordwide
Modern & Contemporary Bed Frames
Modern bed frames are simple and elegant, fitting well with minimalists or maximalists who want a understated bed frame
Explore our Beds & Mattresses
About our contemporary & modern bed frames
While a large part of our range is more ornate, we've designed a collection of modern iron, wood & upholstered beds for contemporary homes.
What is a modern bed?
Modern beds are simple and understated in their design. A modern bed can be made to fit well in many design philosophies, whether minimalist or maximalist. A modern bed might not be a statement piece but provide a good base from which you can build the look for your bedroom.
That isn't to say modern beds aren't good looking, they are. But the bed frame isn't the centre of attraction. They work in harmony with the rest of the decor in your room to create some absolutely stunning looks.
What are modern bedroom styles?
A modern bedroom is not one particular style, but a number of styles which share the same modern design ideas. Design philosophies like minimalism, simplicity, function before form and clean/uncluttered looks are usual. But a modern interior does not have to include all of these ideas and often include a few of them with their own individual characteristics. Contemporary and modern are terms often used interchangeably, although theoretically they are slightly different styles.
While modern beds and contemporary beds are not only for modern interiors, they work well in modern interiors. If you're interested in the modern styled interiors such as the examples listed below it's worth considering one of the beds in our modern range.
Scandinavian - From the Nordic countries, this style is characterised by simplicity, minimalism and function. It features straight lines and a natural palette with bits of colour.
Mid-century modern - Started in America in the 1940's, this style is characterised by simplicity, organic lines and use of a variety of colours, materials and finishes.
Japanese - This style is characterised by minimalism, cleanliness and nature. It features a neutral palette and usually the furniture is low to the ground, like our Mortlake, Meiji and Fuji beds.
Can your modern bed range work with other styles?
Absolutely! Beds in this range have been placed in grandmillennial or granny chic, shabby chic, bohemian and even vintage cottage bedrooms. These contemporary beds are very unopinionated in their design. They fit in a wide range of design styles.
What sizes are modern beds available in?
Our modern beds are available in most british sizes including single, small double, double, king and super king. Mostly popular for larger rooms, the king size and super king size are the more popular sizes. Double modern bed frames are now also becoming more common. Especially with newer interior ideas which help the large bed be the centre of the bedroom but not in an over imposing manner. For more information visit our bed sizes page.
Our other ranges
As a customer looking for a new bed, you may also like to see our other range of bed designs including our featured metal bed frames, upholstered beds, brass beds or wooden beds.